Xbox 360 320GB Limited Edition Halo 4 Console

The Xbox 360 320GB Limited Edition Halo 4 console is a must have for Halo fans worldwide. Designed by the award winning publisher 343 Industries and Xbox 360, this bundle ships with an exclusive, customized designed console, two customized Halo 4 controllers, a standard edition copy of the game, a massive 320GB hard drive and exclusive content. Plus, this exclusive console comes with Wi-Fi built-in for easier connection to the world of entertainment on Xbox LIVE.
Click Image To Enlarge

Features:
Exclusive Console Design: This Limited Edition one-of-a-kind console has been custom designed by the Halo team and Xbox 360 with the Halo fan in mind. Sounds from the Halo 4 game play when you start up the console and when you push the Eject button. The console runs whisper quiet, letting you play games and watch movies without interference. Easily connect to Xbox LIVE, play with friends all over the world and experience a world of entertainment.
Two Customized Xbox 360 Wireless Controllers: This award-winning, high performance wireless controller features the Xbox Guide Button for quick, in-game access to friends and music. It has a range of up to 30 feet and comes with a rotating D-pad and blue LED lights.
Halo 4 Standard Edition Game: Enjoy the Halo experience with the Halo 4 game. Included in this bundle is the Standard Edition of the game to play as soon as you get home.
Largest Hard Drive Available: The Limited Edition console comes with a 320GB hard drive, the largest hard drive available for Xbox 360, allowing for more game add-ons, more downloads and more space to store all your entertainment.
Xbox 360 Black Headset: Chat with friends on Xbox LIVE, or team up and jump in with multiplayer game play.
Custom Content: Receive a token for downloadable Halo 4 content to enhance your gaming experience.
Built-in Wi-Fi: The Xbox 360 is the only console with 802.11n Wi-Fi built-in for a faster and easier connection to Xbox LIVE. Stream HD movies and TV or download games from Xbox LIVE in 1080p and 5.1 surround sound from anywhere in the house. Compatible with b/g/n networks.
Xbox LIVE: Xbox LIVE brings a world of entertainment to you. Instantly stream movies and TV from Netflix in crystal-clear HD, or download game add-ons like new levels, characters, maps and songs. Easily jump right into online multiplayer fun and play along with friends around the world. Plus, get your favorite music from Last.fm, connect with friends on Facebook® and post Tweets on Twitter. Xbox LIVE is your connection to more games, entertainment and fun.
Kinect Ready: The console features a dedicated, specialized port to connect seamlessly with the Kinect Sensor.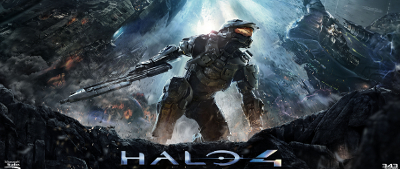 Set almost five years after the events of "Halo 3," "Halo 4" takes the series in a bold new direction and sets the stage for an epic new sci-fi saga, in which the Master Chief returns to confront his destiny and face an ancient evil that threatens the fate of the entire universe. In addition to a rich story and campaign, "Halo 4" introduces a groundbreaking new multiplayer offering, called "Halo Infinity Multiplayer," that builds off of the "Halo" franchise's rich multiplayer history and promises to continue to innovate and redefine the way people think about storytelling and multiplayer experiences.
Introducing "Halo Infinity Multiplayer"
The hub of the "Halo 4" multiplayer experience is the UNSC Infinity – the largest starship in the UNSC fleet that serves as the centre of your Spartan career. Here you'll build your custom Spartan-IV supersoldier, and progress your multiplayer career across all "Halo 4" competitive and cooperative game modes. Surrounded by the sights, sounds and crew of the biggest vessel in the UNSC fleet, your multiplayer experience will be embedded in the fiction of "Halo" like never before, where your progress and game choices affect your appearance, arsenal, and role on the battlefield.
War Games: The competitive multiplayer modes of "Halo 4," known as War Games, take place on the combat deck of the UNSC Infinity and revive the visceral and immersive experiences that "Halo" multiplayer is famous for. "Halo 4" introduces fresh, immersive new game modes and strategies to help you progress your Spartan-IV career, while also delivering an experience that's still distinctly and uniquely "Halo." More details on all the modes of War Games will be released at a later time.

Total Combat Freedom and Player Progression: "Halo 4" features a vastly expanded suite of new multiplayer modes, weapons, vehicles, armour abilities, a new loadout and player progression system, and a new armour modification system that introduces gameplay-enhancing customisations for the first time in a "Halo" game. These advancements can be used in both Spartan Ops and certain War Games matchmaking playlists, empowering player choice, vastly expanding their creative options, and make the experience deeper for core fans and more approachable for newcomers.

The "Halo 4" player progression system goes beyond simple aesthetic upgrades, encouraging players to invest time and effort to create a Spartan that looks and plays the way they want. Players can earn and activate combat enhancements called "Specialisations" based on the style of play they engage in, from stealth to all-out assault, and everything in between.
Click Images To Enlarge