Order the Independence Day – Attacker Edition Blu-ray from Thursday 19th May!
Originally released in 1996, Independence Day has been restored for Blu-ray and re-released in special 'Attacker Edition' packaging. The exclusive double-disk edition consists of an extended theatrical cut, as well as a new retrospective documentary. The new release also contains an alien attacker replica, the attacker used to take down the mother ship in the classic movie.  Especially developed by Snap Creative, and based entirely on the film's original model designs, the replica attacker is the must-have collectible for every ID4 fan.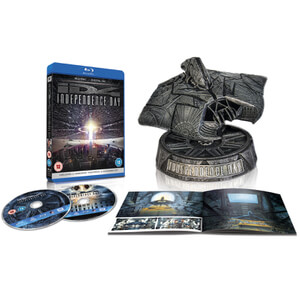 The Film: An all-star cast including Will Smith, Jeff Goldblum and Bill Pullman attempt to save planet earth from vicious extra-terrestrial attacks. The alien mother ship, over 340 miles in diameter, orbits around Earth deploying flying-saucers to destroy major US cities. The destiny of the world rests on a weakened US Government, and the few surviving human remaining.
The Director:  Roland Emmerich – the undisputed king of the action movie, a German director whose films have generated more than $3 billion at box offices worldwide. Notable works include: The Day After Tomorrow, Godzilla and White House Down.
You'll like this if: You love an old-school Hollywood action movie. Non-stop action, gripping plot lines and mass special effects. If films like Law Abiding Citizen and Olympus Has Fallen take your fancy, you're in for a treat.
With the sequel,  Independence Day: The Resurgence, due to hit the cinema this coming June (twenty years after the release of the original!) there's never been a better time to get excited for what's bound to be another Emmerich masterpiece….
The Attacker Edition re-release is limited to 1000 copies, so order on Zavvi.com before it's too late. View the original trailer below:
*Artwork subject to change