Today we'll be taking a look at a very intriguing upcoming indie game slated for release later this year called Aztez, and developed by the two-man Team Colourblind. It will be available on Steam (PC/Mac/Linux), Xbox One, PS4, Vita, and Wii U. The game will also support Oculus Rift PC support. 
Other than a couple of spectacular gifs on their website, not a great deal has been revealed about the game. This is how they describe the game themselves:
In Aztez, you are responsible for expanding and maintaining the Aztec empire with turn-based strategy gameplay, and managing violent outbreaks with real-time beat 'em up gameplay segments. But your actions in one gameplay type directly affect the other! A game of Aztez doesn't take to long to play, but it is designed to be hugely replayable, as every game of exciting empire management is different from the last; different events will occur, different challenges will emerge, and different spoils will be taken every time you play. Inspired by the timeless surprise gameplay of Weird Worlds: Return To Infinite Space and the deeply and expressive action gameplay of Bayonetta, Aztez is like no other game you've ever played.
Combining a turn-based strategy with a beat-em-up is certainly an interesting and refreshing new game idea. It does, however remain to be seen whether the game will be able to pull this off successfully. There doesn't appear to be any gameplay trailers of the strategy section of the game – the best we could find is the gif below: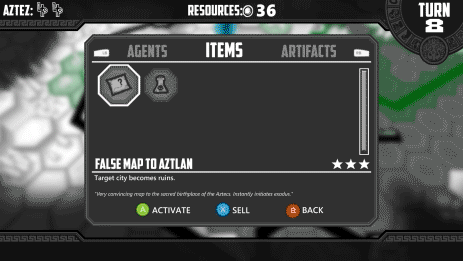 Regardless, the game certainly seems like an interesting and ambitious project that we here at Zavvi.com are intrigued to see more of.
Have you got any indie games you're looking forward to? Let us know in the comments below!