Embark on a quest from the gods of rock with heavy metal heroes Axl, Lars, Freddie and Ozzie in Super Dungeon Bros, a fast paced, action focused, rock themed dungeon brawler!
Play on your own or with up to 4 friends in couch or online co-op as you raid the deepest dungeons of Rökheim in search of epic loot, hordes of evil undead and the legends of long lost fabled rock stars! Wield wicked weapons with devastating destruction or exploit the punishing puzzles and terrifying traps that will slice and dice foes and bros alike. Fling your friends onto far off ledges and distant trap triggers, hurl your bros at advancing attackers or unleash your tag team tactics with the ultimate bro-op offensive!
If really you're up for the challenge, test your heavy metal in the deadly daily dungeon or master the way of the wicked weekly dungeon and climb to the peak of the global leaderboards.
Just remember; always put your #BrosB4Foes!
Meet the Bros
Axl is the muscle of the group and isn't afraid to remind everyone. A 'fight first, ask questions never' type of guy, Axl will get the job done. Justg as long as huge piles of Bonie bones and A LOT of property damage isn't an issue
Freddie
You know that guy in a group of friends that does the stupidest and most insane things because they believe it could be funny, even if no one else will? Freddie is that guy. To say he is dumber than a bag of rocks would be an insult to the rocks
Lars
Lars believes himself to be quite the ladies man within the group. It's a shame then, that he becomes cripplingly incoherent once he starts talking to the opposite sex. Still, at least he has the completely unrealistic goal of trying to hook up with the queen of Chilliheim to fall back on.
Ozzie
Ozzie is a genius. It's just a shame that his genius is used for causing mischief and mayhem on an unbelievable scale rather than making Rokheim a better place. There is a fine line between genius and insanity, we're just not sure what side of the line Ozzie is on.
Features
Locations
Cryptheim
An underground dungeon complex where the dead are received and processed. Souls are separated from their skeletons; the skeletons are used for hard labour and connon fodder, and the souls converted to mana for sorceres. Filled with the Bonies and ruled by Duke Spook'em.
Chillheim
Huge brewery built upon a natural brew geyser, surrounded by rugged ice covered peaks. The brewery bottles up the brew and distributes it to all 5 corners of the land. The Brew Queen rules as the Queen of Chillheim, and roams the halls singing twisted ballads from her frozen throne that controls her huge Ice Golem pet. She commissions a league of Gnomes for brew development. These Gnomes manipulate Ice Trolls to do the manual labour and basic janitorial duties.
Bogheim
Sprawling jungles filled with poisonous plants and animals, home to a death cult of demonic Frog men who worship a massive ancient flower. The flower secretes an enchanted spice that controls the Frogs men to do its bidding. The spice is wildly sought after substance for spells, potions, and the best brewing in the land. It is here where the stolen Rock Stars are being held.
Click Images to Enlarge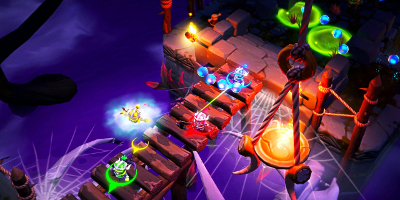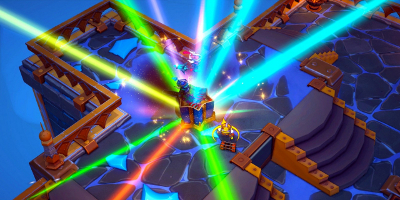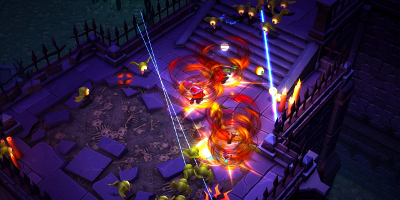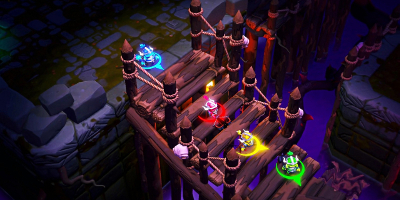 Up to 4 player couch and online co-op gameplay
Brotastic single player campaign
Cross platform co-op multiplayer
Endless proedurally generated dungeons
16 weapons to unlock
3 unique worlds to explore
Bro based co-op attacks such as the Bronado & Brocano
Daily and Weekly challenges
Global leaderboards
Epic boss battles and cast of foes
Rocking soundtrack
Developed in Unity 5