Ten years after the events of Chaos Rising and the fall of the Blood Raven's Chapter Master to the forces of Chaos, Sub-Sector Aurelia remains in a constant state of warfare. The pirate Freebooter Orks have arrived to take advantage of this and loot the sector, the vile forces of Chaos continue to spread their blasphemy, the Eldar of Craftworld Alaitoc work to recover key artifacts from their past, and the feral Tyranids remaining from the failed Hive fleet invasion have suddently reestablished contact with the Hive mind.

Choose your race and determine the final fate of the entire sector in Dawn of War II: Retribution, the next installment in the critically acclaimed Dawn of War real-time strategy franchise.
Click Image To Enlarge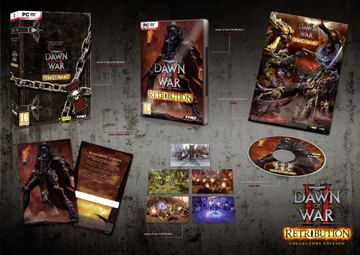 Collector's Edition includes:
Retribution PC game
Race artcards
Poster
Unlockable bonus items
Multi-Race Campaign
For the first time in the Dawn of War II series, choose from 6 different playable races and play through a customized single player campaign for each.
Army Builder Metagame
Upgrade your heroes and unlock new buildable units as you progress through the single player campaign.
New Super Heavy Units in Multiplayer!
Take the battle online once again in 1-6 player matches and field your new Super Heavy Units, unique to each of the 6 playable races.