Includes Exclusive 'Transporter Pack' DLC:
Includes: The Devil's Red, The Blue GT, The Green Drifter and the Chibi Chibi Bang Bang Car)
The Devil's Red: Increased max speed and faster acceleration - Everyone knows red paint makes you go faster and this car is no exception. Pick up the keys to The Devil's Red and hold on to the seats!
The Blue GT: Enhanced handling - Dodging down side streets and weaving through traffic is inevitable in those heated moments. The Blue GT will never let you down with its improved handling and stability.
The Green Drifter: Expert car able to drift - Some like to live life on the edge. The Forest Green is a car for the thrill-seekers. Drift your way through Greenvale in this expert car for maximum respect.
Chibi Chibi Bang Bang Car: Skin only - Not all cars were made equal and this car is certainly in a league of its own. Become an ultimate fan with this chibi decorated Deadly Premonition police car.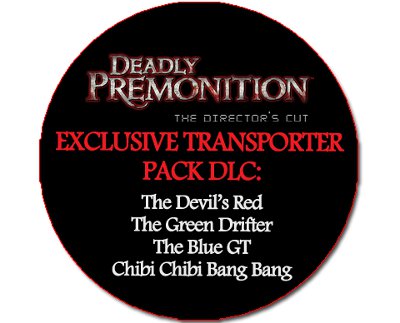 The most controversial game in recent year's returns in this special Director's Cut. Unofficially the best game of the year (2010) according to fans and critics alike, Deadly Premonition split the gaming community right down the middle and earned itself cult status for its memorable cast and story.
Now given the special edition make-over, this Director's Cut features a new branching ending as well as numerous bonuses guaranteed to relight the match on this debate. The ultimate cult favourite returns bigger and better than ever!
Features:
Brand new scenarios from the mind of Director Swery
Graphics and UI presented in beautiful HD
Re-designed controls with added 'Move' support
Stereoscopic 3D support
Trophies and DLC support