Assassin's Creed 3 is the fifth instalment in the saga that has drawn inspiration from incredible moments in history, allowing you to live through members of the past. This is the third numbered title in the legacy, and engulfs you in the past once more with stories steeped in history just begging for you to explore them. Welcome to an entirely new age of Assassin's Creed, where war will shadow your every footstep.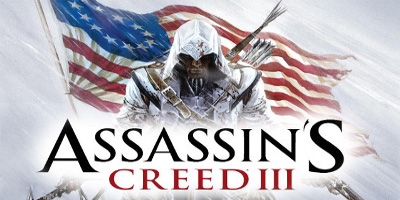 Assassin's Creed 3 Trailer - E3
The game has old character favourite Desmond behind the scenes in the present, using the new Animus 3.0 to explore this new chapter in his ancestry. This chapter is set between the years of 1753 and 1783 in Colonial America, amidst the American Revolution. You will play as Ratohnaké:ton, named otherwise as Connor; a man born of both direct Native American and English descent who has been raised with the Mohawk tribe. When your home is razed to the ground by invaders, vengeance fills you and boils in your blood, spurring you to join the fight. Bring forth justice, and the end to the war that has raged between Assassins and Templars for generations. You are the new hero, with the responsibility of liberty and freedom weighing greatly on your shoulders. Prepare for blood to be shed.
History is your playground once more, with new worlds open for you to explore and brought to life in visually stunning, breathtaking graphical detail. This is implemented greatly by the new Ubisoft Anvil Engine, which engineers seasonal changes: the sun will shine throughout summer, and snow will blanket the landscape during winter; these seasons will greatly affect gameplay in the means of combat and the areas you will be exploring. The main area you will find yourself traversing is the Frontier, the humongous span of wilderness and countryside that bridges the cities of Boston and New York. Alongside the Frontier, you will also be able to explore these commotive colonial towns with new and particularly fun ways, as free running has been improved. Connor possesses the ability to run and climb up trees and branches, as well as slingshot through and around them. You will also be able to find a wide variety of animals in this wilderness, including bears, wolves, rabbits, elk, and deer; you will be able to sell the pelts of these creatures should you be able to hunt and kill them skilfully enough. Should the sheer size of these areas daunt you then fear not, as Fast Travel has been re-introduced for your convenience.
In order to keep up with the incredible game that is Assassin's Creed 3, combat has also been completely revamped and revitalised. A new wide range of weapons to keep in touch with the time period and the character's own personal history are now at your disposal, varying from the signature Hidden Blade, flintlock pistols, bow and arrow, knife, and the deadly tomahawk. The ability to wield dual weapons has now been introduced, which goes hand in hand with other innovative new combat features including multiple take-downs, chain kills, and double counters. Your speed and agility will become great assets once more, and combat dynamics have been completely overhauled with an automated enemy selection system. Assassin's Creed 3 has completely outdone itself with sheer quality, with no stone left unturned without being polished to a gleam. Revolutionary gameplay fit for a Revolution. (Cat Emerson)
Click Image To Enlarge