Duke's got them, now you can too with the Duke Nukem Forever® Balls of Steel edition. This collectable edition is a must have for all of those who await the return of the King.

This edition contains a copy of the game in Balls of Steel exclusive packaging along with the following:
Collectible bust of Duke Nukem
Numbered limited edition certificate of authenticity
100-page hardcover book: History, Legacy & Legend: Duke Nukem Forever Art from the Vault
Duke Nukem Forever postcard series
Duke Nukem Forever radioactive emblem sticker
Duke Nukem Forever collectable comic book
Duke Nukem Forever foldable paper craft
Duke Nukem Forever poker chips
Duke Nukem Forever mini-card deck
Duke Nukem Forever radioactive emblem dice
Click Image To Enlarge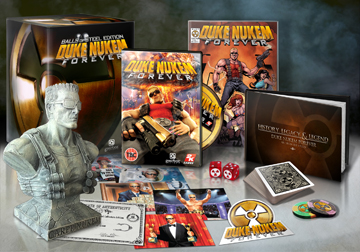 Heroes Come & Go, But A King Reigns Forever.
Duke Nukem is one of the biggest and most recognizable brands in gaming history. irreverent, un-PC, and uber-macho, Duke Nukem is the perfect antidote to the overdose of today's clichéd gaming archetypes. The game's cocktail of alien invasion, busty babes, bawdy comedy and big guns never gets old. The highly anticipated Duke Nukem Forever is a celebration of what video games are really about: AN OUT LOUD GOOD TIME!
The game is HUGE. With hours and hours of over-the-top single player action, and a range of bodacious multiplayer modes like Duke Match, Capture the Babe and Hail to the king, players can rest assured knowing that the fun will last.

Features:
Ego, and then Some: Step into the shoes of Duke Nukem, the steroidal One-Man Army who never fails and always gets the Babes
Bust a Gut: Duke pulls no punches. He does and says the things you are thinking. Duke's constant stream of hilarious one-liners throughout the game will have gamers rolling
World Interactivity: Spend as much time as you want shooting hoops, lifting weights, playing pinball, pool, air hockey, and slots. — even the urinals are interactive
Scale & Variety: This game has it all; packed with explosive FPS action, outlandish settings, vehicle driving, and puzzle solving — gamers will never tire of the endless FUN
Multiplayer Like No Other: Duke re-envisions classic modes of play in his own hilarious and humiliating way. Shrink your opponent and squash him with your foot. Freeze and shatter him. Attach explosives to his back. Roll a pipe bomb between his legs, or just frag him old-fashioned with a rocket