Halo 4 is the incredibly anticipated eighth instalment in the legendary Halo franchise, featuring the signature first person shooter science fiction gameplay, and released exclusively for the Xbox 360. It is set in the wake of Halo 3, and was developed by 343 Industries and published by Microsoft. Halo 4 is designed to be the first of three in a new trilogy in the Halo series, entitled the Reclaimer Trilogy.
Click Banner To Enlarge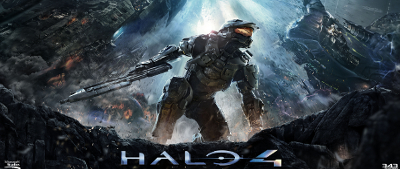 Halo 4: Red vs Blue: Remember to Not Forget Trailer
The game takes the series in an innovative new direction, and re-introduces the previous Spartan super soldier protagonist Master Chief (John-117) as Halo 4's hero, along with his AI companion Cortana. We re-encounter the pair adrift on the wreckage of the UNSC frigate Forward Unto Dawn, near an unexplored Forerunner planet they will soon know as Requiem that plays home to deadly secrets. Halo 4 continues on from the aftermath of Halo 3, four years after the pair helped humanity achieve victory against the Covenant, after thirty years of seemingly never-ending warfare, but at a cost. Halo 4 dictates the results of how its prequel's events unfolded, and allows for the conclusion of a 100,000 year story to take shape.
Halo 4 offers an immersive experience, with graphically and visually stunning environments just begging you to explore them, with the game's graphic engine allowing for more detail and better lighting effects, showing improvements everywhere you look. Halo has also evolved in order to expand in both scope and scale, allowing for more discovery and mystery to be uncovered and found. Forerunner elements play a crucial part within the game, with humanity and the USNC finding their bearings and attempting to adjust to the galaxy now that they are no longer at war with the Covenant, and incorporating Forerunner technology into their new lifestyles.
The game also offers a wide range of artillery and armour, for example the next generation of Mjolnir Powered Assault Armour, GEN2. This high tech armour boasts technological and ad hoc modification systems, which alongside Armour Abilities, allows Tactical Packages and Support Upgrades, amongst various other enhancements. These enhancements permit you to improve, tailor, and personalise your actions and combat, and also guarantee that you are the most reinforced, and the most deadly out there in the field.
Halo Infinity Multiplayer has the incredible starship the UNSC Infinity as the hub for all of Halo 4's innovative multiplayer challenges, where you can start and progress your very own custom Spartan-IV super soldier's career. The campaign continues online, with the game modes War Games, which is competitive multiplayer battles that incorporate varied maps and modes, and Spartan Ops, which gives you weekly co-operative episodes from the Spartan Ops briefing room, which will give you five brand new co-operative missions. The multiplayer modes and campaign mode are linked, meaning that your progress and game choices will affect your appearance, arsenal, and role on the battlefield.
Experience Halo as you've never seen it before, as the franchise takes on a new direction with the beginning of the Reclaimer Trilogy, guaranteeing to give you the most evolved Halo gameplay to date. (Cat Emerson)
Click Images To Enlarge