The critically acclaimed Naruto Shippuden Ultimate Ninja STORM series is back in 2013 on PS3 and X360. Featuring the most extensive character roster of any game so far in the series!
Introducing Masked Man and Nine-Tails assault on the Leaf Village, the story mode will let you live the most recent events of the anime with a degree of faithfulness never-before-seen. Players will be thrown into a series of thrilling adventures, while the game's electrifying fights will be punctuated with massive scale boss battles.
More immersive, more faithful and more extreme. Dattebayo!
The True Despair Edition:
Choose the path of darkness with the highly limited True Despair Edition, which includes:
The Game
Banpresto 16cm Sasuke Figurine
A2 double-sided poster
Game Soundtrack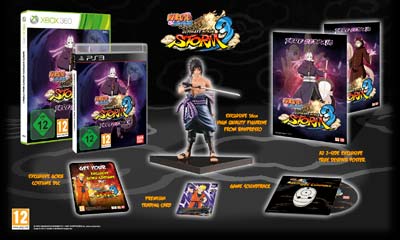 Absolute immersion: Naruto Ultimate Ninja STORM 3 scales up all you knew to offer you the most immersive and epic Naruto game ever created.

Nine-Tails attacks Konoha: Story mode starts out with the heated invasion of Nine-Tails! Help Hiruzen and Minato to defend the village against Masked Man and Nine-Tails.
Bigger Scale Boss Battles: Boss Battles are back and more impressive than ever depicted. Prepare to involve the entire village in a huge boss battle with Nine-Tails.
Click Images To Enlarge