FUNDING ENDS IN...
0
0
:
WEEKS
0
0
:
DAY
0
0
:
HOURS
0
0
:
MINS
0
0
:
SECS
TARGET IDENTIFIED
We've been hoping to make this project a reality for a long time and now, with your help, we hope to do just that.

Sentinels have been a part of the X-Men story since their first appearance in X-Men #14 (1965). From the MK I model built by Bolivar Trask to the menacing figures of modern comic storylines, Sentinels have been one of the most dangerous foes of the X-Men. And we wanted to reflect that towering and intimidating presence into the Marvel Legends line.

Along with the Sentinel figure, we're including a 6-inch Bastion figure to represent the humanoid face of the Sentinels. Bastion was created when Sentinel Master Mold absorbed the Sentinel prototype Nimrod. The X-Men forced it through the portal known as Siege Perilous and Bastion emerged: a human/Sentinel hybrid that eventually became as anti-mutant as the original Sentinels. And if you followed all that, this is the HasLab project for you.

We needed to hit 6,000 backers to fully fund this project, which has now been hit. But HasLabs didn't want to stop there. For each 1,000 additional backers, we unlocked more marvellous add-ons. All 3 tiers have already been hit, here are the awesome extras you'll receive…
A MASSIVE MUTANT HUNTER
This 26.3-inch (669 mm) Sentinel figure is the biggest Marvel Legends figure ever made, with its frame comprised of 260 individual pieces.

It has 72 points of articulation — 20 in each hand alone — which means it's incredibly poseable and will look awesome in any display.

We also included LEDs in the head and chest, so that the menacing glow of the Sentinels eyes and power source really shines through. It also comes with a Sentinel "tentacle" accessory, which attaches to its palm and is perfect to wrap around an unsuspecting Marvel Legends X-Men figure.

The Bastion figure 6-inch figure has 30 points of articulation and also comes with an alternate Sentinel Prime head.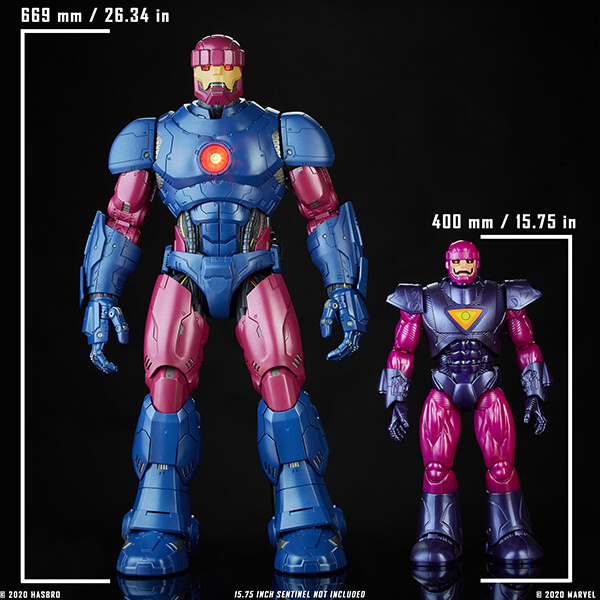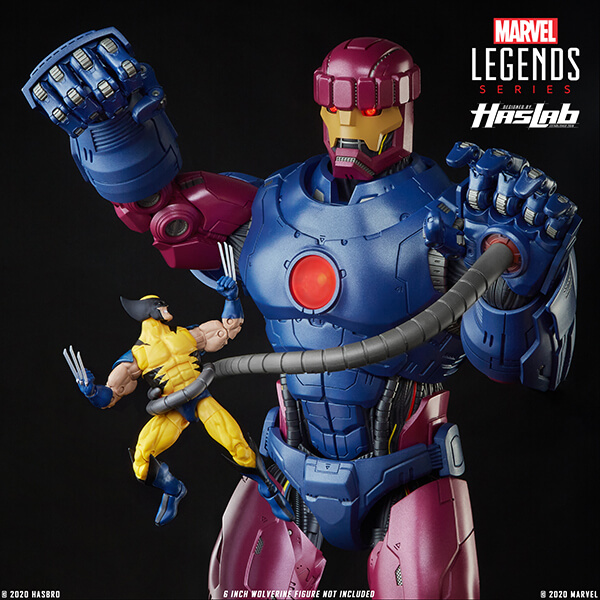 BUILDING THE MUTANT HUNTER
There have been several versions of the Sentinels over the last 55 years. When we were looking for inspiration, we pored over as much source material as possible before landing on the final design.

There are certain must-haves with a Sentinel figure from the chiseled jawline to the toes of the jetboots. We were heavily inspired by the recent House of X and Powers of X comics for the shape, features, and coloring. We took our ideas, sketched them out, and then build them, piece by piece, to create a working model that is truly massive when it stands next to a 6-inch Legends figure.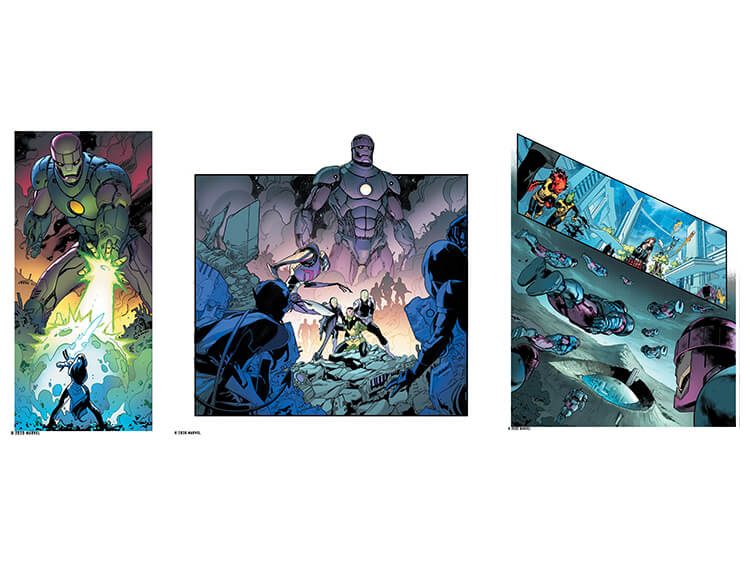 TERMS AND CONDITIONS & FAQs
When you back a Crowd-Funded Product, you are making a commitment to purchase the Crowd-Funded Product that will only be fulfilled if the minimum number of backings are met for the project during the Project Backing Period. Each Crowd-Funded Product will have its own duration when you can back the Crowd-Funded Product, each a "Project Backing Period." Once the minimum number of backings is met, your backing becomes an "Order" and your payment is collected at the completion of the Project Backing Period, then the Crowd-Funded Product will be made and ultimately shipped.
You will provide your payment information when you back a Crowd-Funded Product, but you will not be charged at that time. You are only charged if the project reaches the minimum backing goal during the Project Backing Period. The exact amount you back is the amount The Hut Group will collect. If the project has not reached its minimum backing goal during the Project Backing Period, you will not be charged, no funds will be collected, and no money will change hands. Check the main page for the Crowd-Funded Product you backed to see if the minimum commitment goal has been met.
In some cases, we will reserve the charge on your card. The Hut Group and its payment partners may authorize or reserve a charge on your payment method for any amount up to the full backing amount, at any time between your backing and the collection of funds. No payment will be taken before Project Backing Window has ended.
We are currently shipping to all UK & European addresses. Please note we cannot ship to any other country at this time. If you need to make changes to your shipping address after you have purchased, please contact our Customer Care Team via your account.
You can cancel your backing at any time before the completion of the Project Backing Period 25th August, 04:59 BST (5:59 CET), by following the standard cancellation process through your account, or contacting our customer service team via your account.
You will be charged on the 25th of August when this Crowd Funded Project has ended. If you need to cancel your order, you must do so within 30 days of the completion of the applicable Project Backing Period by contacting our Customer Service Centre via your account.
You WILL NOT be able to cancel your order after these 30 days.
We reserve the right to revoke your backing at any time in our sole reasonable discretion, including as a result of an actual or suspected violation of these Terms.
If your product arrives damaged due to transit, you may request a return within 30 days of delivery for a replacement or a refund by contacting us via your account. We cannot accept for return or replacement any item that has been opened, unless it arrived damaged. You will be responsible to pay the return shipping costs. All eligible refunds are made to the original form of payment. If your product arrives damaged due to transit or fails to comply in all material respects with the specifications for the product, please contact.

If you need to make changes to your order e.g. card details or shipping address, please contact our Customer Care Team via your account.