A new saga begins for one of the most acclaimed video game franchises in history. After narrowly escaping an attack on their village, JD Fenix and his friends, Kait and Del, must rescue the ones they love and discover the source of a monstrous new enemy.
Refined Gameplay

Pummel your enemies from cover by using new close-cover combat moves like yank, vault kick and a bloody new combat-knife execution. Dangerous new weapons, like the Buzzkill and Dropshot, can shoot around and over cover, raining destruction from all angles. Brace against deadly wind flares that bludgeon players, shake up the battlefield, and demand new combat tactics in this tale of Man vs. Monster. Chainsaw your way through the character-driven campaign with a friend over Xbox Live or locally via split screen co-op. Player 2 can select either Kait or Del.
Horde 3.0
Team up cooperatively with four others and battle wave after wave of increasingly difficult enemies by strategically building weapons or deploying fortifications anywhere on the map. Fight to your strengths by playing one of five classes, each with upgradeable critical abilities and skills needed to survive.
Fast and Explosive Versus Multiplayer
New and returning multiplayer game types reward social, competitive and professional players alike, all at 60FPS on dedicated servers. A new visible ranking system drives skill-based matchmaking and lets you stand out for your abilities. Fine tune your skills in Co-op Versus, where your match-made team of five players squares off against enemy AI teams with selectable levels of difficulty.
Next Generation Features
Buy the game once and play anywhere on both Xbox One and PC with Windows 10.* Windows Cross Play lets PC gamers play campaign, Horde and Co-op Versus modes with their Xbox One friends over Xbox Live. Shared progression lets you start a game on your PC, save it to the cloud, and finish it on your Xbox One!
For a limited time, Gears of War 4 includes the entire Xbox 360 Gears of War collection for use on Xbox One!**
Click Images to Enlarge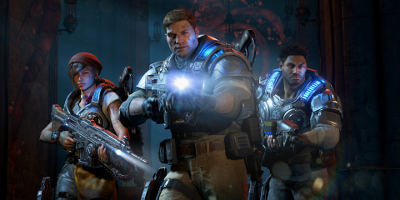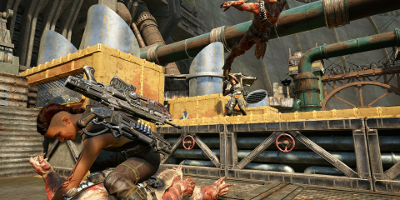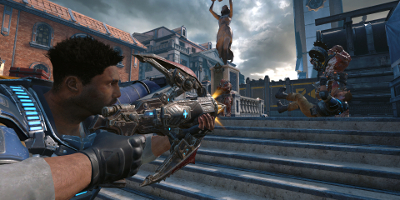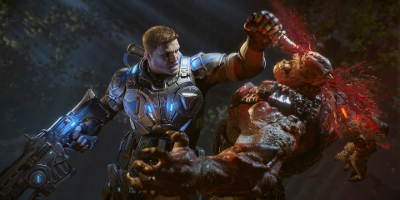 *Online multiplayer features require Xbox Live Gold membership (sold separately).
**Includes Xbox 360 titles Gears of War, Gears of War 2, Gears of War 3 and Gears of War: Judgment. 32GB of hard drive space required. Each title works as part of the Xbox One Backward Compatibility program. Xbox One, broadband internet (ISP fees apply) and Xbox Live membership required. Not available in all markets. See www.GearsofWar.com for the latest information.