Kinect Star Wars is the incredibly innovative new game brought to you by LucasArts and Terminal Reality, and published exclusively by Microsoft Studios for the Xbox 360 and the Kinect. The Kinect will intuitively mimic your actions, drawing you more into this game than any before. Throw yourself into the ultimate Star Wars fantasy, no controller required.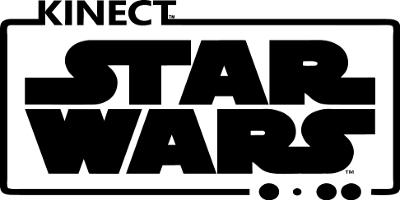 Step into the world of Star Wars, utilising the Force and wielding your own Lightsaber, as the Kinect picks up your actions allowing you to physically experience the action-filled life of a Jedi. Swing your arm to harness the ability of your Lightsaber, reach out to initiate the power of the Force, and use accompanying body movements to kick, jump, and dodge. Enjoy as your character re-enacts your every move on screen. The stunning environments will truly immerse you in the game, with the Kinect making you feel as if you are there, traversing through the expanded galaxy.
Kinect Star Wars offers you five different modes to play in, each with their own unique campaign, so you will never be short of things to do in this universe. These sections are Jedi Destiny: Dark Side Rising, Rancor Rampage, Podracing, Galactic Dance Off, and Duels Of Fate.
Jedi Destiny allows you to fully live up to your Jedi potential by training you to master the Force and harness the power of your lightsaber to be utilised in combat. Pilot speederbikes and land speeders on your travels, and take part in immense space battles against the Dark Side.
Rancor Rampage puts you in the body of one of the most fearsome creatures to ever be encountered within Star Wars – the Rancor. Play as one of four unique Rancors (each with their own special abilities), and go on a free for all rampage matching the destruction rate of Godzilla as you wipe out buildings and stomp your way through four different planets leaving a path of destruction in your wake.
Podracing puts you in the pilot seat of one of the most speedy and dangerous racing vehicles in the galaxy. Compete in a multitude of pod races, unlocking new racers and the ability to upgrade your pod as you go, and go racing across various planets, eventually making your way up to the infamous Boonta Eve Race.
Galactic Dance Off puts a whole new spin on Kinect Star Wars, as now you get to use the Kinect for more than just your lightsaber – dancing! Compete in various dance offs in four different locations for Jabba The Hutt and other iconic Star Wars characters, with fifteen tracks to choose from that include humorous Star Wars versions of popular songs.
Duels Of Fate allows you to go head to head with enemies from the Dark Side in one-to-one battles, each of your opponents growing in difficulty until you face Darth Vader himself.
May the Force be with you. (Cat Emerson)