This Castlevania: Lords Of Shadow Limited Edition Steelbook Collection, exclusive to Zavvi includes:
Castlevania: Lords Of Shadow
2 DLC Packs: Reverie and Resurrection - (Internet Connection Required to Download DLC)
Castlevania: Lords of Shadow - Mirror of Fate HD
Click Image To Enlarge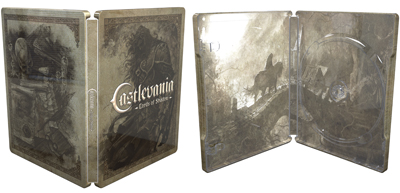 Castlevania: Lords Of Shadow takes place at the end of days. The Earth's alliance with the Heavens has been threatened by a dark and malevolent force - the mysterious Lords Of Shadow - darkness reigns the world. Across this shattered land, the souls of the dead wander unable to find peace, whilst creatures of evil roam free wreaking chaos and death upon the living.
Gabriel is a member of the Brotherhood Of Light, an elite group of holy knights who protect and defend the innocent against the supernatural. His beloved wife was brutally murdered by the evil forces of darkness and her soul trapped for eternity. Neither living nor dead she realises the horrific truth of what is at stake and guides Gabriel to his destiny - and hopefully salvation for the world... but at what cost?
Thus, Gabriel must travel the destroyed world, defeating the evil tyrants in order to use their powers to bring balance back to the world. Armed with the versatile Combat Cross - the world's last hope must encounter the three factions of the Lords Of Shadow and end their unholy rule.
Mirrors of Fate HD
Initially set 25 years after the events ofCastlevania: Lords of Shadow , Mirror of Fate will reveal the story of Gabriel's descendants, as they battle their own destiny in each era only to discover their true, shocking fate.
Trevor Belmont, a knight of the Brotherhood of Light sets out to avenge the death of his mother, at the hands of his own father, who has now returned from years of exile to take up residence in a mysterious castle. What was once Gabriel Belmont now stands a powerful vampire called Dracula. Dracula has declared war upon the Brotherhood and thus the scene is set for a cataclysmic showdown between Father and Son!