Words by Stefania Sarrubba
"I see me, and I like what I see" sings Meryl Streep's Madeline during the opening of Death Becomes Her, gearing up to subvert a tired, ageist trope.
The 40-something character belts out an unapologetic, self-celebratory hymn from a Broadway stage, wrapped in a plunging dress and feather boa. Meanwhile audience members walk out, horrified at the sight of an older woman who dares to embrace herself and her sexuality.
It's the old tale of the ageing woman: flaunting her body becomes an indecorous affair the moment she starts showing her age. It's as if someone has flicked the imaginary switch separating what's desirable and f*ckable from what's gross. What's a girl to do? Drink a potion to stay young and beautiful of course!
This is the plot of director Robert Zemeckis' 1992 cult classic, which reaches the ripe old age of 30 this month. If there's ever a time to assess where we're at with the patriarchal concept of ageing gracefully that's so deliciously questioned in the film, this is it.
Death Becomes Her stars Streep as faded actress Madeline 'Mad' Ashton and Goldie Hawn as aspiring writer Helen 'Hel' Sharp. These frenemies are involved in a relentless one-upping contest that spans decades and gets tangible in their territorial interest for plastic-surgeon-turned-mortician Ernest Melville (Bruce Willis).
Whilst in California, Mad and Hel — now in their 50s — cross paths with the mysterious Lisle von Rhuman (Isabella Rossellini) and her tempting youth tonic. But the brew doesn't work as planned, unleashing terrible side effects on the duo as they toy with life and death.
On the surface, Death Becomes Her operates within a male gaze type of narrative. Zemeckis directs a not particularly progressive script penned by Martin Donovan and David Koepp, peppered with catty fights, misogynistic remarks, as well as problematic depictions of mental health and fat bodies.
The movie is carried by the campy, layered performances of Hawn and Streep, giving life to what could've been yet another story of women pitted against each other.
Celebrating a ride-or-die friendship, Death Becomes Her holds up as a hilarious, grotesque antidote to our collective fixation on ageless beauty. It truly flips the horror genre's hagsploitation – equating old with monstrous – right on its nearly-severed head.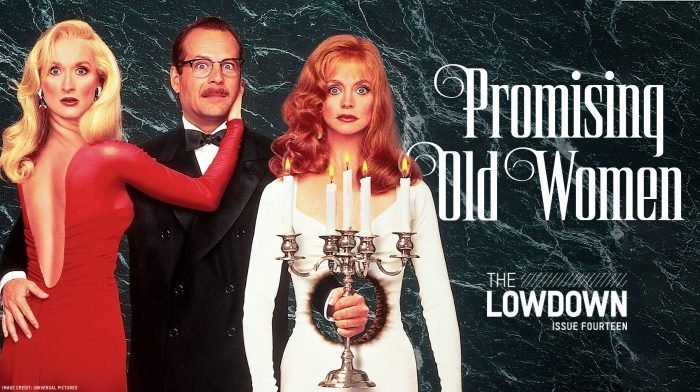 In the latest edition of our free digital magazine The Lowdown, we reflect on how the film's satire of world views on ageing women has only grown better with, well, age.