Mario Tennis Open is the brand spanking new tennis game by Nintendo, designed and made exclusively for the Nintendo 3DS handheld system in order to fully utilise the intuitive controls and aspects. Play against your friends or the computer in order to ace your way to the top, and be crowned Tennis Open champion in the graphically vibrant and visually enchanting Mushroom Kingdom.
Meet The Gang. Click The Image To Enlarge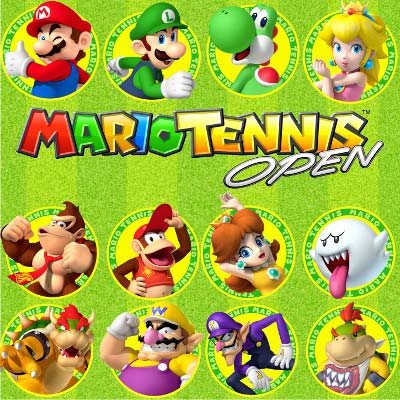 There are specific 3DS control options when it comes to playing a tennis match, with the gyroscope affecting how you view the court, amongst other things, depending on how you tilt it. Normal view shows the tennis court from a top down, birds eye view perspective, but tilting the system upward shifts the camera to an over the shoulder view of the court. This allows for a better view of the ball as it shoots towards you, and you can use the gyroscope in order to aim more accurately and serve that killer shot. Utilise strategic button-based gameplay using the face buttons, the intuitive touch screen, and combine it with the motion-oriented gyroscope aspects in order to rule the courts to the best of yours and the 3DS' ability. There are a whole host of new aspects introduced into the basic gameplay in order to make Mario Tennis Open as interesting and fun as possible. For example, Chance Areas appear on the court at random intervals whilst you are playing a match; if a player runs to them they can initiate a supercharged, devastating Chance Shot.
You can choose between a wide variety of playable Mario characters, or use your own Mii to play the game. The tennis matches are split between singles and doubles, with players able to connect with their friends in local or online multiplayer modes, and play with and against them. The Open Match mode can automatically pair players whose tennis skills are of an equal level, in order to present you with a better challenge. Alongside the basic matches, there is also a wide variety of mini-games and online play, meaning you will never be short of things to do in the Mario Tennis Open world.(Cat Emerson)