Soul Calibur V continues seventeen years after the events of Soul Calibur IV. It tells the tale of Patroklos, the son of Sophitia Alexandra, and his family's intertwined destiny with the Soul Swords. Be part of the ultimate face-off between good and evil, as both new and familiar heroes and villains return to the fray.

This incredible fighting game returns bigger and better than ever before, with dynamic 3D fights that are impossible not to enjoy. The graphics have improved and are positively breathtaking, with vibrant colours and exhilarating combat. A new charge up gauge has replaced the old, which when full allows your character to execute Brave Edge and Critical Edge attacks; extremely powerful moves that can completely decimate your opponent.

A vast array of new characters have come in to play, introducing the likes of Ezio Auditore from the popular Assassin's Creed series, who possesses a wide range of weaponry such as his iconic hidden blade, crossbow, longsword, hidden gun and more. As well as Ezio, new characters include Leixia, Raphael, Nightmare and Z.W.E.I., amongst others. With newly expanded online and character creation modes, this game allows you to tailor your persona to your exact specifications, so you can be the best warrior you could possibly be. (Cat Emerson)
Revolutionary 8-Way Run
Soul Calibur's revolutionary 8-way run system allows players to experience true 3D movement by using every axis possible to manoeuvre your character.
Enhanced A.I. and Refined Battle System
The addition of enhanced A.I. Players and the newly refined battle system allows for immense, immersive fights, the likes of which you have never experienced before.
Expanded Online and Creation Modes
With more online modes than ever before, there is a mode to suit everybody's taste. Enhancements to the Character Creation system allows you to create truly unique designs to fight it out on the battlefield.
23 Confirmed Characters Include:
Mitsurugi
Maxi
Voldo
Siegfried
Ivy
Edge Master
Nightmare
Astaroth
Cervantes
Raphael
Tira
Hilde
Algol
Yoshimitsu
Pyrrha
Patroklos
Z.W.E.I.
Viola
Natsu
Xiba
Leixia
Aeon
Ezio
Click Image To Enlarge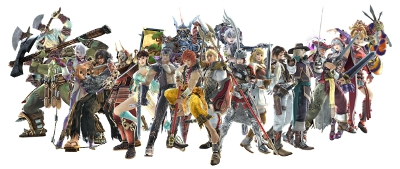 Ezio Auditore from the critically acclaimed Assassin's Creed® series will be a playable guest character in SOULCALIBURTM V for both PlayStation®3 and Xbox 360®. This monumental collaboration will let players control Ezio and his wide range of assassination tools including:
A Roman Longsword
Stiletto
Crossbow
Hidden gun
His trademark Hidden blade