Heart of the Swarm is the first expansion pack for the hugely successful real-time strategy game StarCraft II: Wings of Liberty. The former Queen of Blades is at the centre of the newest chapter of Blizzard Entertainment's sci-fi saga, as she embarks on a quest to reunite the Swarm and take her revenge.

Kerrigan's quest will take her – and you - across the galaxy in 20 new campaigns, each offering new and unique units and abilities as you evolve your swarm by incorporating different zerg species into your brood. As the hero and major major player in each of your battles, you can customise Kerrigan with a choice of new skills and powers as she takes on each mission.
Collector's Edition Includes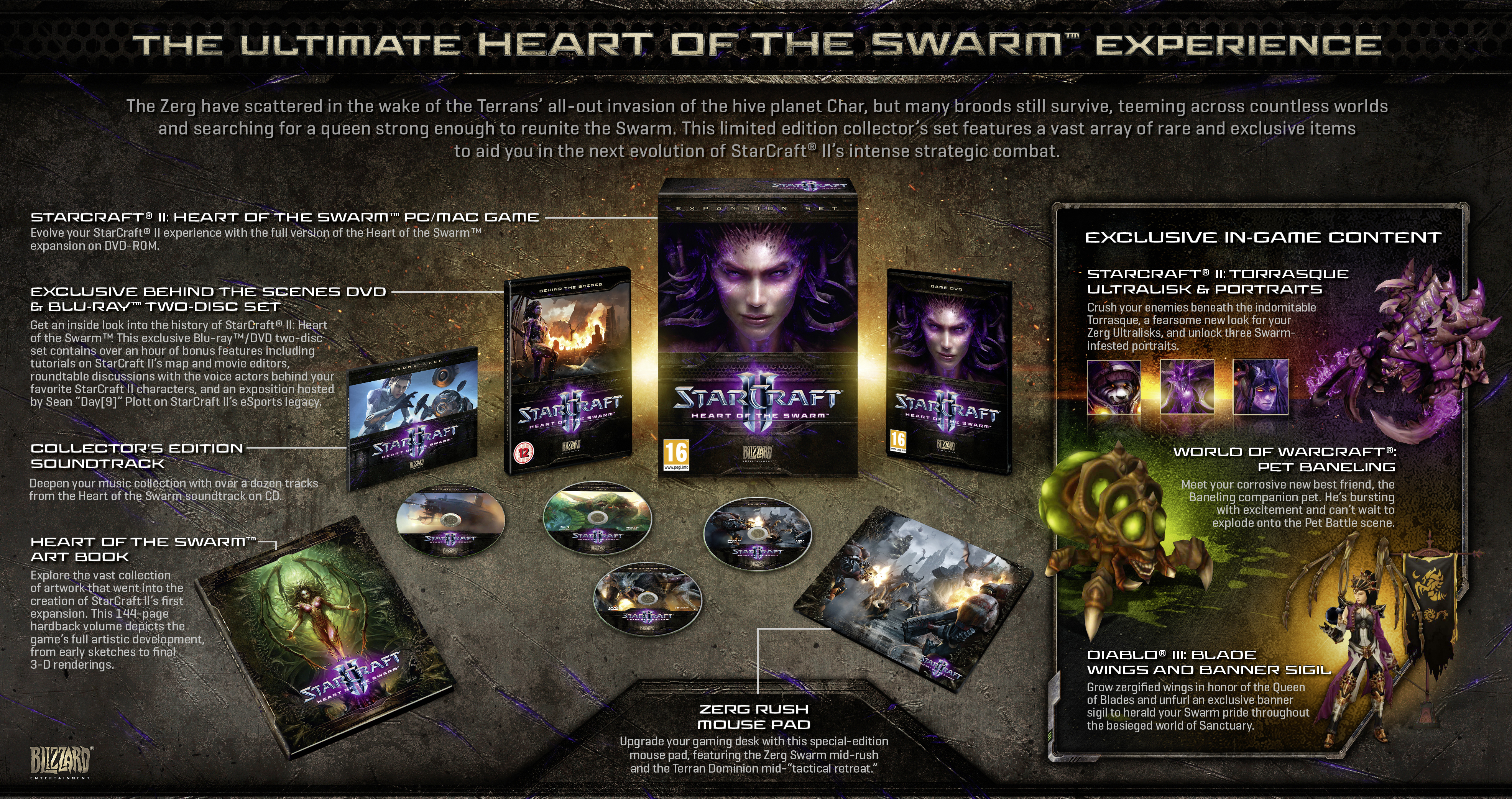 Full version of the game on DVD-ROM
Behind-the-scenes DVD and Blu-ray Immerse yourself in the StarCraft universe with developer commentary, interviews with voice actors, and an in-depth historical retrospective on
StarCraft's eSports legacy narrated by key members of the community
Collector's Edition soundtrack CD: Enhance your Heart of the Swarm musical experience with this collection of more than a dozen tracks from the game
Heart of the Swarm hardcover art book: This 144-page tome features never-before-seen art from the expansion, including early concept sketches and meticulous 3D renderings
Zerg Rush mousepad: This Collector's Edition mousepad depicts the Terran Dominion holding out desperately under the onslaught of the Swarm
Digital Content:
StarCraft 2 Torrasque: Crush the enemies of the Swarm with the indomitable Torrasque, a fearsome new look for your zerg Ultralisks
StarCraft 2 Battle.net portraits and decals: New Swarm-infested Battle.net portraits and decals help you customize the look of your online profile and in-game army
World of Warcraft in-game pet: The Baneling companion pet is bursting with enthusiasm and ready to explode onto the Pet Battles scene
Diablo III Blade Wings and Banner Sigil: Grow zerg-like wings in honor of the Queen of Blades, and unfurl an exclusive banner sigil to mark your allegiance to the Swarm in Sanctuary
Multiplayer gets a boost in Heart of the Swarm, too. An array of new multiplayer units like Hellbats and Zerg Swarm Hosts join the fray, while some existing units will be enhanced. There are new maps and a host of new features including new group, clan and customisation systems and even multiplayer replays. The Battle.net online platform also gets an upgrade, with new features and enhancements that will improve your custom-game experience, including the chance to play with different regions around the world with Global Play.
Features:
Continues the epic story of StarCraft II from where Wings of Liberty left off
Approximately 20 new campaign missions
New campaign gameplay mechanics, allowing players to evolve new abilities and units for their zerg army
Go into battle with Kerrigan as she tries to restore her strength and regain control of the Swarm
New multiplayer units and maps, expanding strategic choice and gameplay depth for each race
Expanded features and functionality for Battle.net to improve custom-game search, and new tools for map authors to create even more epic custom games
New pre-rendered and in-game cinematics bring the story of Heart of the Swarm to life
Click Images To Enlarge