The PlayStation 4 Slim - What's New?

Sony announced the PS4 Slim at the PlayStation Meeting in New York on September 7th 2016. The PS4 Slim is a redesigned PS4 which brings an all-new construction, all-new controller and sleeker design to Sony's existing PlayStation 4 console. The PS4 slim will soon be the most beautiful PlayStation on the market, it's cutting-edge aesthetic and modern feel is simply spellbinding. Despite the PS4 Slim's compact framework, there's no compromise when it comes to memory specifications and power. The new release boasts a 1TB hard drive - a drive which more than covers all gaming needs. When it comes to the PS4 Slim, it clear that big things really do come in small packages.

Reinvented Design

Echoing the angular look of the original PS4 design, the PS4 Slim boasts a much smaller design; confining the power of the PS4 into an even smaller, more beautiful, device. The sharp and distinct corners of the original console have been replaced with rounded, curved edges. Additionally, the standard surface grips have been switched with creatively designed rubber grip-pads, all in the shape of the infamous PlayStation symbols. The PS4 slim is available in a classic jet black grey colour.
Call of Duty: Infinite Warfare & Call of Duty: Modern Warfare Remastered
The Call of Duty®: Modern Warfare® 2 fan-favourite map returns in Call of Duty: Infinite Warfare!

This re-imagined take on Terminal transports players to a spaceport on the Moon, offering opportunities for new gameplay as well as visually raising the bar while playing true to the original.

Pre-order Infinite Warfare and get access to the Terminal Bonus Map on Day 1 (November 4)
Click Images to Enlarge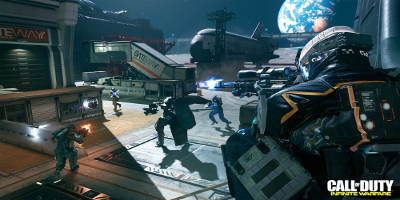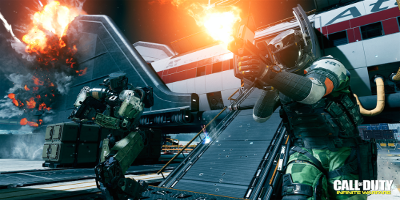 Infinity Ward, the award-winning studio that helped create the blockbuster Call of Duty® franchise, reaches new heights with Call of Duty®: Infinite Warfare. At its core, Infinite Warfare returns to the roots of the franchise where cinematic, immersive storytelling takes center stage as told through an unfolding large-scale war and epic battles that deliver an authentic Call of Duty experience.
Call of Duty: Infinite Warfare delivers something for every Call of Duty fan with three unique game modes: Campaign, Multiplayer, and Zombies. Delivering a rich and engaging narrative in a setting unlike anything to date in a Call of Duty game, the campaign is a return to the franchise's gritty, military roots throughout new environments never before seen in the franchise.
The player will embark on a classic war story about grand scale warfare; all set in a grounded future where human conflict has spread throughout our solar system. Multiplayer brings ground-breaking gameplay innovations to deliver the deepest and most engaging Call of Duty experience to date. The title introduces stunning, never before seen, multi-planetary environments, new weaponry, and all-new player abilities to Call of Duty. In addition, the new cooperative zombies experience will thrill players with an original direction featuring fun and unique gameplay, all wrapped into an entertaining narrative sure to excite fans.
Return To Classic, Large-Scale War
Call of Duty: Infinite Warfare will take players on an unforgettable journey as they engage in battles from Earth to beyond our atmosphere against a relentless, enemy faction that threatens our very way of life. It's grand scale war and hallmark Call of Duty action with memorable characters, rich emotional arcs, and stunning new environments, all within an epic new setting.
A Call Of Duty Campaign To Remember
Call of Duty: Infinite Warfare puts storytelling front and center, in a deeply engaging narrative. It features jaw-dropping set-pieces and blockbuster cinematic moments, while also delivering a gripping portrayal of war that harkens back to the roots of the franchise. Infinity Ward also breaks new ground by thrusting the player into wartime leadership as Captain Reyes, a Tier 1 Special Operations pilot, who takes the helm of the Retribution, one of Earth's last remaining warships. In a time of unthinkable hardships, Reyes must lead the remnants of coalition forces against a relentless foe in a war that spans our solar system.
Fighting a Fanatical Enemy
The Settlement Defense Front (SetDef) represents a splinter group of insurgents that broke away from the United Nations Space Alliance during a war of secession, years ago. In the world of Call of Duty: Infinite Warfare, our planet has been stripped of its natural assets through population growth and industrial expansion. The people of Earth now rely upon colonies throughout the solar system to mine planets and asteroids for necessary fuel and other resources. The SetDef is a fascist power, comprised of brutal and militant radicals, toughened by the extreme conditions of offworld environments. They seek to control those outposts and their wealth, putting a stranglehold on the countries of Earth. After years of uneasy stalemate, diplomatic relations are strained, and it will take only the slightest nudge to lead to full-scale war.
Gear Up For Intense Multiplayer
Call of Duty: Infinite Warfare will feature an evolution of Call of Duty's movement system with an emphasis on front-line engagement. Maps are designed to further leverage the movement system and immerse players into fast, fun, and frenetic gameplay that players have come to expect from Call of Duty. With its new approach to play, multiplayer will bring innovative gameplay that challenges players to achieve their goals in creative ways based on their specific play style.
Battle The Living Dead in a Zombies Thriller
Infinity Ward introduces a fresh take on the nightmarish Zombies mode in Call of Duty: Infinite Warfare. With an all-new, immersive zombies storyline for players to uncover and explore, players are thrust into a spine tingling adventure not for the faint of heart. The new zombies experience will take players on a wild ride with a multitude of new features, while thrilling players with the core mechanics that fans have come to expect from the mode.
Call of Duty: Infinite Warfare raises the bar yet again, delivering three stellar experiences in one exceptional package. Pre-order your copy today! Available November 4, 2016.
© 2016 Activision Publishing, Inc. ACTIVISION, CALL OF DUTY, and CALL OF DUTY INFINITE WARFARE are trademarks of Activision Publishing, Inc.
Click Images to Enlarge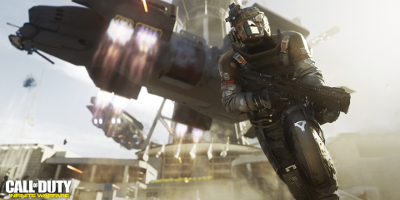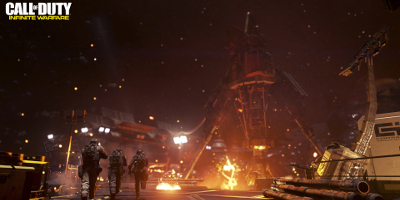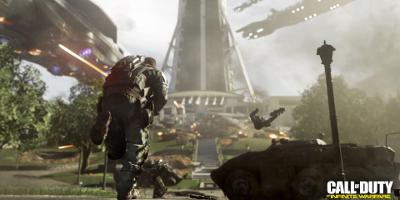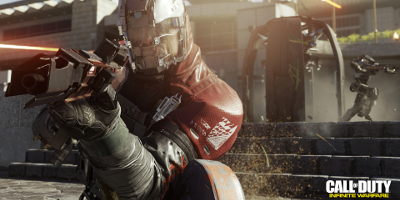 Powered by Frostbite, FIFA 17 transforms the way you play, compete, and emotionally connect with the game. FIFA 17 immerses you in authentic football experiences by leveraging the sophistication of a new game engine, while introducing you to football players full of depth and emotion, and taking you to brand new worlds accessible only in the game. Complete innovation in the way players think and move, physically interact with opponents, and execute in attack lets you own every moment on the pitch.
What is FIFA Ultimate Team (FUT)?
EA SPORTS FIFA 17 Ultimate Team is a massive online community of fans building, managing, and competing with their ultimate football team from the world's best players in FIFA 17. Join over 15 million fans and take on the challenge of building football squads of the world's best players by earning, buying, selling, and trading players with the Ultimate Team community. Play with your dream team and put them against your friends' teams whenever you want. Create and manage multiple squads and take them into competition in online and solo single-player tournaments, all dynamically updated each week.
What is a FIFA Ultimate Team Loan Player?

Ever wonder what it's like to have a top footballer on your team? You'll be able to try out some of FIFA Ultimate Team's most sought after players for a limited amount of matches.
What is a FIFA Ultimate Team Draft?
FUT Draft is a new way to play FIFA Ultimate Team! Draft a squad and challenge opponents in a tournament to win coins, packs, and more. Test your team building skills and pick the best player for each position from a five player draw. Make key choices based on player quality or team Chemistry. Earn bigger match prizes as you progress – win all four games in a row to earn the best rewards!
What is the EA SPORTS Football Club (EASFC)?
Experience football's social network. Earn rewards, level up, enjoy live Challenges, and connect with friends. Everything within FIFA 17 is measured and communicated through EA SPORTS Football Club. Fans can earn rewards to unlock items from the Football Club Catalogue, and build their status as they climb 100 levels. Real-world storylines drive EA SPORTS Football Club through regular challenges so that FIFA 17 will look, feel and play like the real-world season.
Click Images to Enlarge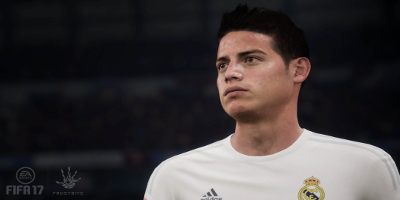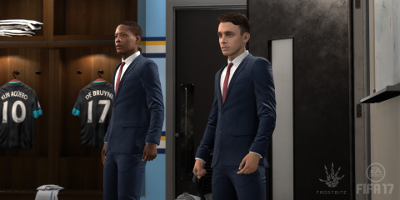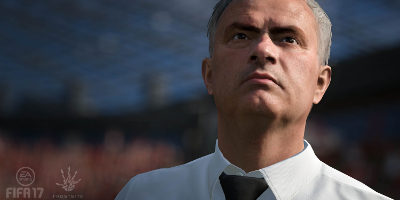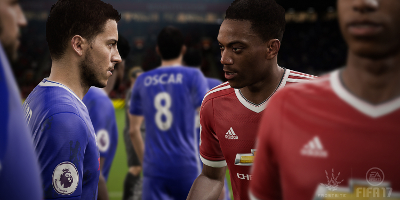 Terms & Conditions:
*ADDED VALUE CALCULATED BASED ON EA'S RRP FOR 1,500 FIFA POINTS AT LAUNCH. FUT DRAFT TOKENS ALSO AVAILABLE FOR COINS. PRICES MAY CHANGE.THIS STANDARD EDITION PRE-ORDER OFFER IS BEING ISSUED TO YOU FOR PROMOTIONAL PURPOSES ONLY AND DOES NOT CONSTITUTE A CREDIT, CHARGE, DEBIT OR GIFT CARD. OFFER EXPIRES SEPTEMBER 27, 2016. GOOD ONLY FOR NEW PURCHASES OF "FIFA 17" ("PRODUCT"). CODE INCLUDED WITH PURCHASE GOOD FOR 1 DRAFT TOKEN ENTITLEMENT EACH WEEK FOR USE IN FIFA ULTIMATE TEAM MODE ("FUT") FOR A TOTAL OF 5 CONSECUTIVE WEEKS. CODE MUST BE REDEEMED BY OCTOBER 16, 2016 TO RECEIVE ALL 5 DRAFT TOKENS AND WILL NO LONGER BE VALID AFTER NOVEMBER 13, 2016. LATE CODE REDEMPTION WILL RESULT IN FORFEITURE OF PREVIOUS WEEKS' DRAFT TOKEN ENTITLEMENT. DRAFT TOKEN WEEKLY OFFER IS VALID FOR 7 DAYS AND MUST BE REDEEMED WITHIN THAT TIME PERIOD. FAILURE TO LOG INTO FUT AND SELECT "MY PACK" TO REDEEM DRAFT TOKEN IN ANY GIVEN WEEK WILL RESULT IN FORFEITURE OF THAT WEEK'S OFFERING. FIRST DRAFT TOKEN, 1 LOAN PLAYER (FOR 8 MATCHES) AND FUT KIT WILL BE ENTITLED IMMEDIATELY UPON CODE REDEMPTION. VALID WHEREVER PRODUCT IS SOLD. OFFER MAY NOT BE SUBSTITUTED, EXCHANGED, SOLD OR REDEEMED FOR CASH OR OTHER GOODS OR SERVICES. MAY NOT BE COMBINED WITH ANY OTHER PROMOTIONAL OR DISCOUNT OFFER, UNLESS EXPRESSLY AUTHORIZED BY EA; MAY NOT BE COMBINED WITH ANY PREPAID CARD REDEEMABLE FOR THE APPLICABLE CONTENT. VOID WHERE PROHIBITED, TAXED OR RESTRICTED BY LAW. SEE FINAL PRODUCT DETAILS, EULA AND CONTENT PROTECTION TECHNOLOGY AT WWW.EA.COM/1/PRODUCT-EULAS, IF AND WHEN AVAILABLE. INTERNET CONNECTION, EA ACCOUNT, ACCEPTANCE OF PRODUCT AND ORIGIN END USER AGREEMENTS (EULAS), EA PRIVACY AND COOKIE POLICY AND TERMS OF SERVICE; INSTALLATION OF THE ORIGIN CLIENT SOFTWARE (WWW.ORIGIN.COM/ABOUT) AND REGISTRATION WITH SERIAL CODE MAY BE REQUIRED TO PLAY. EA PRIVACY AND COOKIE POLICY AND TERMS OF SERVICE CAN BE FOUND AT WWW.EA.COM. YOU MUST BE 13+ TO REGISTER FOR AN EA ACCOUNT. EA MAY RETIRE ONLINE FEATURES AFTER 30 DAYS NOTICE POSTED ON WWW.EA.COM/1/SERVICE-UPDATES.
FIFA 17 © 2016 Electronic Arts Inc. EA, EA SPORTS, the EA SPORTS logo and Ultimate Team are trademarks of Electronic Arts Inc. Official FIFA licensed product. © FIFA and FIFA's Official Licensed Product Logo are copyrights and/or trademarks of FIFA. All rights reserved. Manufactured under license by Electronic Arts Inc. The Premier League Logo © The Football Association Premier League Limited 2006. The Premier League Logo is a trade mark of the Football Association Premier League Limited which is registered in the UK and other jurisdictions. The Premier League Club logos are copyright works and registered trademarks of the respective Clubs. All are used with the kind permission of their respective owners. Manufactured under licence from the Football Association Premier League Limited. No association with nor endorsement of this product by any player is intended or implied by the licence granted by the Football Association Premier League Limited to Electronic Arts.