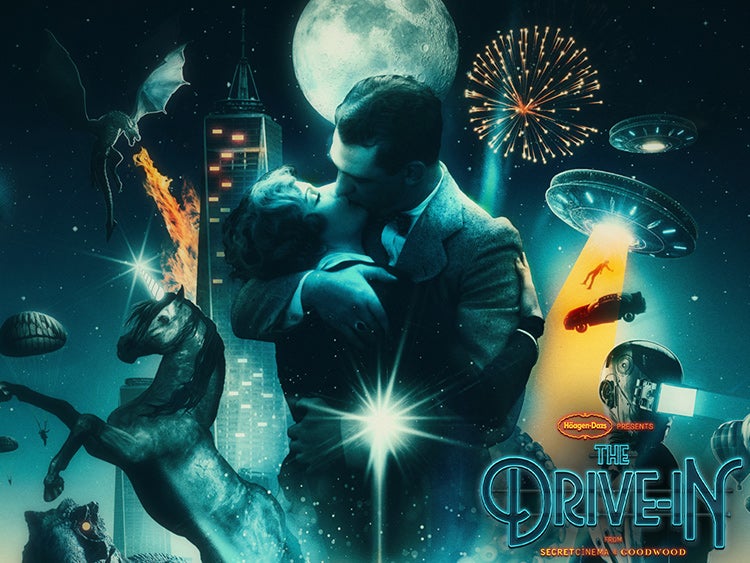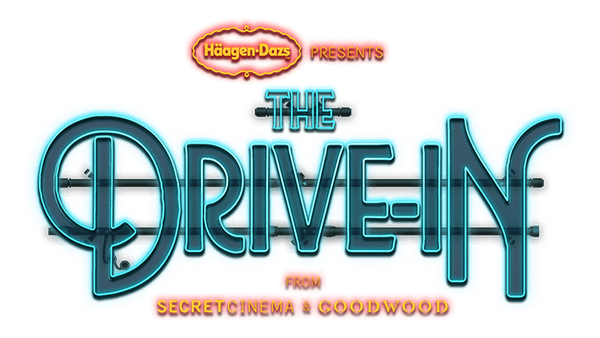 HÄAGEN-DAZS PRESENTS THE DRIVE-IN FROM SECRET CINEMA
Exclusives, Early Access & Give-Aways
Thank you for becoming a Red Carpet Member! Check below for Red Carpet Exclusive Products, Give-Aways, Early Access and Other Red Carpet Benefits! Don't forget, you now have Free Delivery on every order - whilst you're a Red Carpet Member!
TERMS AND CONDITIONS & FAQs
Prepare to escape 2020 as we bring you the classic Drive-In experience with a Secret Cinema twist. We have a memorable night full of entertainment planned, starting the moment you arrive with Frankie and Johnny Starlight's Original Travelling Drive-In. Get ready for an exceptionally fun day or evening out enjoying much loved classics and the biggest blockbuster
On arrival, our team will check your tickets, respecting social distancing guidelines, and provide you with a JBL portable speaker, which has been sanitised for your use.
After the safety briefing, sit back, relax and enjoy 30-minutes of entertainment by Frankie and Johnny Starlight and their travelling cinema. Order food and drinks via our online platform from a menu inspired by the much-loved American Diner, featuring Goodwood's own organic produce and a specially curated selection of luxury ice cream from our friends at Häagen-Dazs. This will be delivered to your car by our extended family of waiters who will also respect social distancing guidelines

Our guests and our team's safety is our primary concern at the Drive-In. You will find an overview of the COVID-19 measures we will implement
COVID Safety Statement
. These include social distancing for both guests and staff, regular cleaning of all facilities, contact-free food and beverage orders online, as well as socially distanced deliveries. You will also be reminded of the mandatory safety measures via email and on-screen. With the exception of trips to the bathroom, we ask you to stay inside of your car and keep the windows closed. If you drive a convertible, please close the roof before you enter the Drive-In site and keep it closed until after you have left
Update 26th June 2020: Following government guidance published in late June, you may open your windows and drive a convertible car with the roof down at the Drive-In, however please bear in mind that there may be noise and sound bleed from the surrounding areas. We recommend to open windows facing the empty lane next to your car, only. Please respect other guests and continue to check this page for updates as government guidance may change ahead of your attendance.

All tickets are Standard entries for 1 car with up to 5 passengers per car and you will be asked to confirm the number of passengers during checkout. Tickets are limited to 1 per ticket type per transaction. If you would like to book additional tickets, you are able to process a second order for the same day or another day. For optimised viewing we recommend 2 passengers per car as visibility may not be ideal in the back seats of smaller cars.
Ticket prices start at £50 (+ bkg fees) per car for off-peak tickets. Screening times vary by weekday, so please check carefully when booking. Gates open 45 minutes before the start of the event and arrival times will be staggered in the 45 minutes before start. The ticket buyer will receive an email with further details on their allocated time.
Tuesday - Thursday - 19:00

Friday - 14:30, 19:00
Saturday and Sunday - 11:30, 15:30 & 20:00
(Variations apply to the final week owing to the Summer Bank Holiday)

To keep the Drive-In safe and fun for everyone, the following vehicle restrictions apply.
Not permitted are:
Bicycles
Motorcycles or scooters
Convertibles without roof
Cars with trailer attachments
Minibuses (7+ seats)
Buses
Caravans
Long wheelbase vans
HGVs
Update 26th June 2020: Following the latest government guidance, convertibles without roof can be admitted to the Drive-In, however please bear in mind that there may be noise and sound bleed from the surrounding areas. If you choose a convertible to join us at the Drive-In, please respect other guests and continue to check this page for updates as government guidance may change ahead of your attendance.

Hot and cold food, as well as soft and alcoholic beverages will be available to buy at the Drive-In events. Menus and availability may vary by session. The Drive-In Häagen-Dazs ice cream trolley will accept card payments on the day.
To order, please see our online menu (which will also be emailed to the ticket buyer before your attendance). All orders will be prepared and delivered to your car by staff wearing PPE. Our staff will place your car bay number on your windshield when you are parked in front of the screen at the Drive-In so that you know where you are located and we can find you.

Orders for your screening will be open until25 minutes before the end of the film (to give us enough time to get it to you and you enough time to enjoy it). When you place your order, please include your car bay number

You will be able to pre-order snacks as well as drinks for your screening. Hot food is available to order once you have be allocated your car bay number at the Drive-In. Pre-orders will open 3 days prior to your screening and remain open until you have received your car bay number. If you have placed a pre-order, you will receive an email telling you how to update our delivery team on your parking bay number once you have parked at the Drive-In.
To place your pre-order please open the online menu and select your date, the film you are seeing, and then pre-order.