Discover a wealth of exciting new ways to enjoy home entertainment with Wii U, Nintendo's next home console. With a revolutionary new touch screen controller, precision motion controls, and full HD graphics, a whole new world of play styles and gaming possibilities is on the horizon. The time is coming to truly expand your idea about what a game console is - and can be. The system launches in 2012 and includes the new Wii U console and amazing new controller.

Wii U Console: 8GB Basic Pack will Include:
8 GB memory
Wii U Console in White
Wii U GamePad in White
Wii U AC Adapter
Wii U GamePad AC Adapter
High Speed HDMI Cable
A New Wii Console Experience:
According to Nintendo President Satoru Iwata, "Wii U redefines the structure of home entertainment by fundamentally changing how the TV, the game console and the Internet function and interact together", he continues, "The experience enabled by Wii U and its new controller takes players deeper into their games, while reaching out wider than ever before to be inviting to all kinds of gamers".
Wii U combines motion-sensing gameplay with the ability to support full HD graphics. Each Wii U console will be paired with a new groundbreaking controller, with its 6.2-inch wide screen. Previously, video games played on home consoles have been confined to the TV and offered identical viewpoints to each player in a multiplayer environment. The Wii U controller enhances that experience with different viewpoints available in-game and in differing games/game situations. Also, watching TV and playing console games have been completely separate experiences. The new controller removes these boundaries, creating a more dynamic and fluid gaming and entertainment experience. Examples of this new functionality include:

Within Single Player Games:
While in-game, the new controller can display information on its screen that does not appear on the TV. The information and viewpoint can also change in the new controller based on the orientation of its gyroscope.
Within Multiplayer Games:
The player using the new controller can have a different experience than those looking at the TV creating a wider variety of competitive and cooperative opportunities.
The New Controller:
In addition to its 6.2-inch screen, the new controller also features an accelerometer and a gyroscope, a rumble feature, an inward-facing camera, a microphone and speakers. Adding these features to the Classic Controller button scheme -- two analogue Circle Pads, +Control Pad, A/B/X/Y buttons, L/R buttons and ZL/ZR buttons -- will enable a breadth of gameplay experiences while appealing to both casual and dedicated video game players. The Wii U system can also use up to four additional Wii Remote or Wii Remote Plus controllers and is backward compatible to all Wii games and all Wii accessories. The Wii console has sold more than 86 million units globally and greatly expanded the overall audience for video games. Wii U aims to expand that audience even further.
Super Smash Bros.
Famous names from favourite Nintendo franchises and guest characters come together in a high-definition fighter filled with spectacular action. With unique modes, online multiplayer, the ability to customise your fighter and the series' biggest roster of playable fighters ever, Super Smash Bros. for Wii U is truly a clash for the ages. Mega Man, Little Mac, PAC-MAN and more new challengers join the longest roll call of famous fighters the Super Smash Bros. series has ever seen. You can even take on these gaming greats yourself as your Mii character – become a Sword Fighter, Gunner or Brawler and see how you stack up in a scrap! Whoever you choose, customise their special moves and equipment to make them your own. Collect equipment during gameplay and equip them to strike the perfect balance of attack, defence and speed, or maximise one attribute to suit your personal play style. Special moves can be collected and customised too, enabling you to craft your perfect fighter to bring into battle. The Wii U game offers more stages, with more variety, than any game in the series. There is now an expanded version of the original Battlefield stage named Big Battlefield. The Great Cave Offensive, based on the underground labyrinth found in Kirby Super Star, challenges players to avoid potentially lethal danger zones – or throw their opponents into them. The Jungle Hijinxs stage, based on Donkey Kong Country Returns, features dual-plane battles with a foreground and background, and blast barrels that shoot players from front to back and vice versa. After launch, a new Miiverse stage will feature players' posts from Miiverse, where posts will appear in-game to cheer on the fighters.
In Super Smash Bros. multiplayer games, characters from all Nintendo universes meet up in Nintendo locales to duke it out. Bring together any combination of characters and revel in the ensuing chaos that we have come to associate with the game. An action-packed fighting game, Super Smash Bros.features a ridiculous number of characters that have appeared on Nintendo platforms, from Mario to Link to Pikachu to the Wii Fit Trainer! As they square off in famous locales drawn from the rich history of Nintendo, literally anything can happen in Super Smash Bros. - and usually does. With limitless customising options, items and weapons that boggle the mind and a wealth of modes, Super Smash Bros. has truly infinite replayability. Use your chosen character's unique attacks and special moves to damage your opponent, then hit 'em with a smash attack to send them flying off the stage! The higher your opponent's damage – represented as a percentage – the farther they'll fly when launched, so pummel away until you see them steaming, then unleash your strongest smash attack and watch your target skyrocket off the stage. Take on nearby challengers in local multiplayer, or bring the battle to faraway friends and foes in online matches.
Features:
Wide range of new characters to play as - Compete with classic players from the Super Smash Bros. series, along with new challengers like Mega Man, Little Mac or newly announced Palutena, the Goddess of Light from the Kid Icarus games. For the first time, players can even compete as their own Mii characters.
Number of control methods - Use a variety of control methods during the high-energy and action-filled battles, including Nintendo GameCube controllers – the longtime controller of choice for hard-core Super Smash Bros. players. Use a combination of controls to smash your opponent out of the arena to be crowned the Super Smash Bros. Champion!
HD for the first time ever! - For the first time ever Super Smash Bros. can be played and watched in amazing High Definition graphics. Battle your friends and Smash opponents out of the arena in smashing High Definition. Beating your friends never looked so good.
Multi-player mode - In a first for the series, a special mode lets eight players fight simultaneously in local multiplayer. This option appears only in the Wii U version, and lets players compete on special, larger stages to accommodate all the characters.
Custom stage creation - Super Smash Bros. for Wii U allows you to build your own personal stages for you to do battle with your friends! Make the stages as difficult or as hectic as you like. The touch screen of the Wii U GamePad makes it easier than ever for players to build their own stages and, after a future update, share them with friends and other players around the world.
Click Images to Enlarge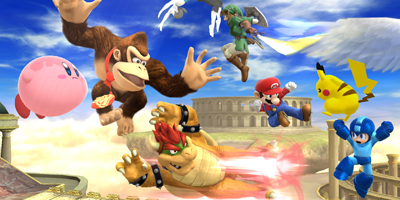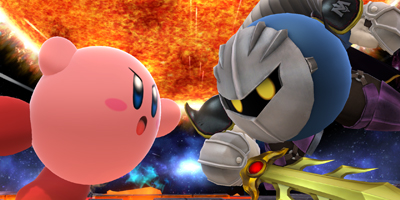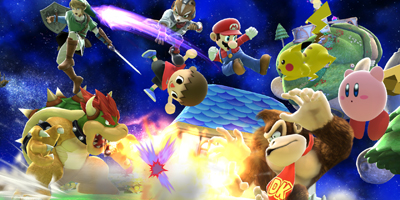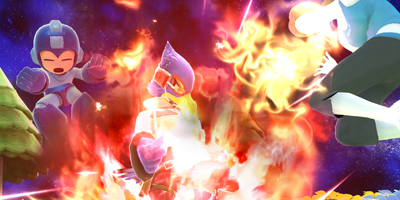 Compatible with Amiibo
Super Smash Bros. will be the first Nintendo game made to be fully compatible with amiibo. Use amiibo in Super Smash Bros. Wii U in a number of ways and even train it to become better in the game!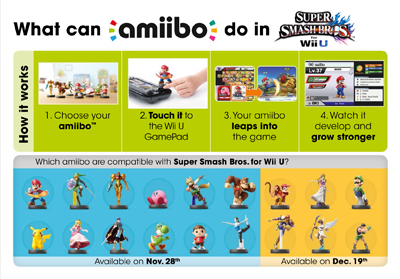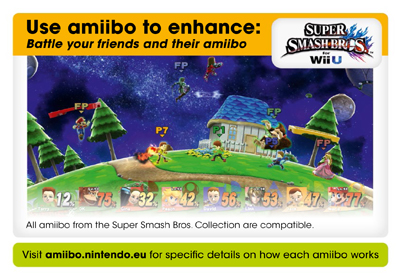 Click Here to view our full range of Amiibo products!