Rise of the Tomb Raider:
In her first adventure, Lara Croft was forged into a true survivor, but she glimpsed a deeper, secret world. In the next chapter of her journey, Lara must use her survival skills and wits, learn to trust new friends, and ultimately accept her destiny as the Tomb Raider.
"With the power of the new generation, and our proprietary Foundation engine, our high octane action moments will be even more epic. Multiple locations around the world will be filled with exploration spaces that are some of the most beautifully hostile places on earth and over three times larger than we could achieve before," said Darrell Gallagher, Head of Product Development and Studios at Square Enix. "Our digital actors will rival CG quality, and after hearing the cry from our fans loud and clear, we will put the tombs back into Tomb Raider, all in our gritty survival-action style."
Rise of the Tomb Raider builds upon the formula that made Tomb Raider a success, and features the return of Camilla Luddington as Lara Croft. Camilla will take character performance to new heights as Lara pushes herself beyond human limits and is confronted with what it means to become a hero. Once again, Crystal Dynamics is proud to have the award-winning author Rhianna Pratchett as a key member of the writing team, helping craft a story that delves into Lara's inner turmoil and motivations in this critical second act of her journey.
Click Images to Enlarge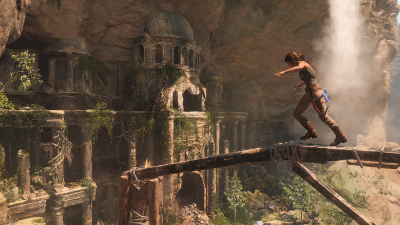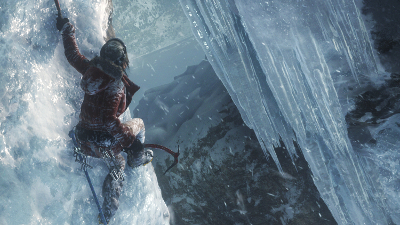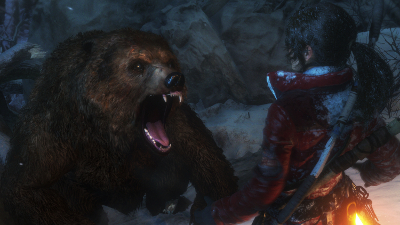 Mirror's Edge Catalyst
Mind, hands and controller working in perfect unison, the impulses from your brain effortlessly translated into fluid movement on the screen. This is the main experience of Mirror's Edge Catalyst. Faith is your extension into Glass city, she is your avatar in this world, and through her you will learn to master the urban landscape, allowing you to directly partake of all the thrills and elegance of parkour running. Faith's agility is yours, as is her speed and proficiency. As your skills grow so does your reach and gadgets will expand it even further, making seemingly impossible locations available to the daring. If you're good enough all of the city will eventually become your playground.
This is a game about skill, but accessibility systems allow it to be enjoyed by novices and masters alike. Go for a quick Dash across the rooftops and try to beat the latest high score, or explore those hard-to-reach locations and see if you have the patience and tenacity to figure out how to get there. The storyline leads you across the city, pushing you to scale the greatest heights and explore deepest tunnels, while you quickly weave in and out of all kinds of buildings.
But though the main experience is centered around fluidity of movement Faith does have enemies and she is a skilled fighter. Combat too is focused on movement and agility, and Faith has no use for guns, having vowed long ago never to use them again. Instead her own body is the projectile, and properly guided she cuts through enemies like a sweeping scythe, dropping them left and right, while never staying still long enough for them to be able to hit her. Combining momentum, timing and your mastery of the environment is the key to claiming victory.
Faith's eyes are yours and all of it is seen through a first-person perspective. Run free and quicken your slumbering potential, the city of Glass awaits.
Features:
First-Person Action — Get up close with your enemies. Use your freedom of movement and martial arts combat in conjunction with the environment to experience fluid first-person action unlike any other.
Explore the City of Glass — Roam the beautiful, high-tech city at your own pace, and unlock its many different districts. Run free and explore every corner from the highest, glass made skyscrapers to the hidden underground tunnels.
Witness the Rise of Faith – Brought up on her own on the margin of the totalitarian society, Faith found refuge amongst an outsider group called the Runners. Learn about her origin story, and take part in her journey as she stands up against oppression and becomes the catalyst that can change the City of Glass forever.
Mirror's Edge Catalyst Gameplay Trailer
Click Images to Enlarge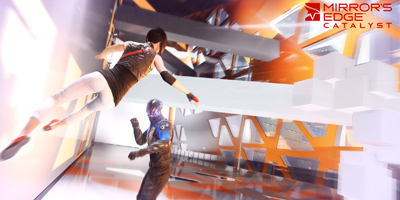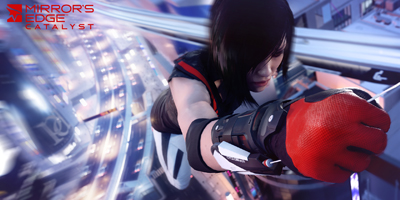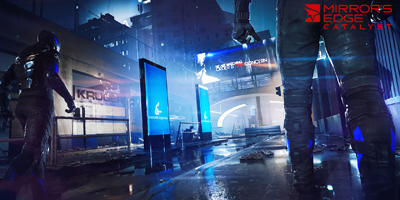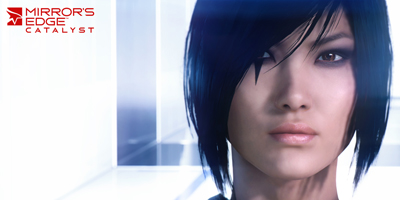 Xbox One 1T Console:
There's only one place to play the best exclusives and biggest blockbusters this year, like Halo 5: Guardians, Rise of the Tomb Raider, and Forza Motorsport 6. Experience the most advanced multiplayer on Xbox Live, powered by hundreds of thousands of servers that maximize performance while reducing lag and cheating. And quickly switch back-and-forth between games, live TV, and apps. Now includes a 1TB hard drive for storing games and media, a controller with a 3.5mm headset jack.
Feature:
Store games and media with a 1TB internal hard drive
The only one where you can play Halo 5: Guardians, Rise of the Tomb Raider, and Forza Motorsport 6 this year
Experience the most advanced multiplayer on Xbox Live
Quickly switch back-and-forth between games, live TV, and apps
Includes a controller with a 3.5mm headset jack, so you can plug in any compatible headset
What's in the Box?
Black Xbox One Console with 1TB harddrive
Black Xbox One Wireless Controller with 3.5mm headset jack
14 day Live Trial
Chat headset, HDMI, power supply