All the Bond films are gathered together in this one-of-a-kind boxed set– every gorgeous girl, nefarious villain and charismatic star from Sean Connery to Daniel Craig. Experience BOND with this fitting tribute to the most iconic and enduring secret agent in movie history.
Collection Contents:
23 films on Blu-ray™ from Dr. No to Skyfall plus space reserved for SPECTRE™
Doctor No
His name is Bond, James Bond, and here, in his explosive film debut, Ian Fleming's immortal action hero blazes through one of his most spectacular adventures. Sean Connery embodies the suave yet lethal cool of agent 007 as he battles the mysterious Dr. No, a scientific genius bent on destroying the U.S. space programme.
From Russia with Love
Sean Connery returns as James Bond in this thrill-a-minute adventure featuring remarkable villains, beautiful women and exotic locales! This time, Bond squares off against the evil spectre organisation in a race to seize the Soviet Lektor decoding machine, thrusting him into a thrilling boat chase, a brutal helicopter attack and a deadly brawl aboard the Orient Express.
Click Images to Enlarge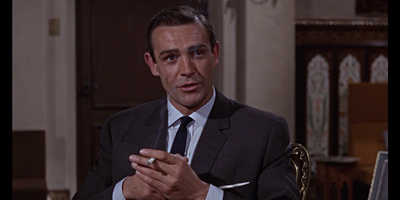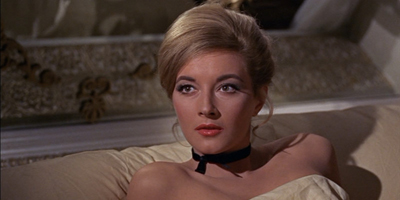 Goldfinger
From the opening bomb blast outside a steamy nightclub to a last-minute escape from the president's personal jet, James Bond's third screen adventure is an exhilarating, pulse-pounding thrill ride! Sean Connery returns as Agent 007 and faces off with a maniacal villain bent on destroying all the gold in Fort Knox - and obliterating the world economy! Goldfinger is 'the best...of all the Bonds' (Roger Ebert, Chicago Sun-Times)!
Thunderball
The thrills never let up as James Bond drives into this riveting adventure filled with explosive confrontations and amazing underwater action! Sean Connery brings his characteristic style and magnetism to agent 007 as he travels to Nassau to track down a villainous criminal who is threatening to plunge the world into a nuclear holocaust.
You Only Live Twice
A disaster in space pushes humankind toward World War III, and only James Bond can prevent it in this magnificent, pull-out-all-the-stops movie spectacular. Sean Connery returns as Agent 007, who travels to Japan to stop the evil spectre organisation and its diabolical leader, Ernst Stavro Blofeld (Donald Pleasence), from instigating global warfare from his massive headquarters in an inactive volcano.
On Her Majestys Secret Service
James Bond goes undercover in the treacherous Swiss Alps in this action-packed epic filled with artillery-laden ski pursuits, incredible stunts and nonstop thrills! George Lazenby leaps into the role of Agent 007 with supreme confidence and undeniable charisma, even finding love with the beautiful and seductive Tracy Di Vicenzo (Diana Rigg). But first Bond must stop evil genius Blofeld (Telly Savalas) from realising a germ warfare plot that could kill millions!
Diamonds Are Forever
A fortune in stolen diamonds thrusts James Bond into action in this thrilling adventure! Sean Connery returns as Agent 007 and teams up with the beautiful Tiffany Case (Jill St. John) to prevent his nemesis Blofeld (Charles Gray) from using the diamonds in a deadly laser satellite.
Live and Let Die
James Bond battles the forces of black magic in this high-octane adventure that hurtles him from the streets of New York City to Louisiana's bayou country. With charm, wit and deadly assurance, Roger Moore steps in as Agent 007 and takes on a powerful drug lord (Yaphet Kotto) with a diabolical scheme to conquer the world.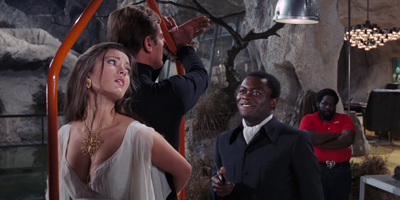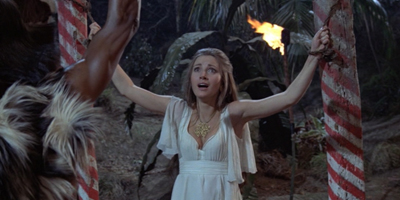 The Man with the Golden Gun
James Bond has been marked for death, and he'll need all his lethal instincts and seductive charm to survive in this action-packed adventure! Roger Moore returns as Agent 007 and faces off in a deadly game of cat-and-mouse with assassin Francisco Scaramanga (Christopher Lee). Featuring a wild automobile chase through Bangkok and Bond's stunning confrontation with an entire martial-arts school, The Man with the Golden Gun delivers nonstop excitement!
The Spy Who Loved Me
Nobody does it better than Bond, and he proves it once more in this explosively entertaining adventure that takes him from the Egyptian pyramids to the ocean floor and to a gravity-defying mountaintop ski chase! Roger Moore brings inimitable style to Agent 007 as he teams with beautiful Russian agent Anya Amasova (Barbara Bach) to stop the megalomaniac Stromberg (Curt Jurgens) from unleashing a horrific scheme for world domination.
Moonraker
James Bond blasts into orbit in this pulse-pounding adventure that takes him from Venice to Rio de Janeiro and to outer space! Roger Moore stars for the fourth time as Agent 007 and joins forces with Nasa scientist Holly Goodhead (Lois Chiles) to prevent a power-mad industrialist (Michael Lonsdale) from destroying all human life on Earth.
For Your Eyes Only
James Bond is thrust into one of his most riveting adventures in this jam-packed free-for-all of outrageous stunts, passionate encounters and exciting confrontations. Roger Moore portrays Agent 007 with lethal determination in a plot that finds him infiltrating the Greek underworld to locate a stolen device capable of controlling a fleet of nuclear submarines.
Octopussy
From a thrilling jet chase to a climactic countdown to nuclear disaster, James Bond is back in an electrifying adventure that pushes the limit for nonstop excitement. Roger Moore portrays the immortal action hero, perfectly capturing Agent 007's deadly expertise, acerbic wit and overpowering sex appeal as he investigates the murder of a fellow agent who was clutching a priceless Faberge egg at the time of his death.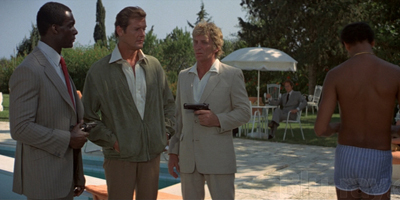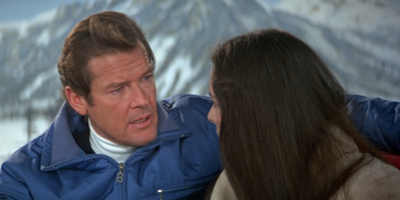 A View to a Kill
Roger Moore lends humour, elegance and lethal charm to his final performance as James Bond in A View to a Kill. Bond confronts Max Zorin (Christopher Walken), who has devised a plan to corner the world's microchip market, even if he has to kill millions to do it! But before Bond can stop the madman, he must confront Zorin's beautiful and deadly companion, May Day (Grace Jones).
The Living Daylights
Armed with razor-sharp instincts and a licence to kill, James Bond battles diabolical arms merchants bent on world domination in this thrilling, lightning-paced adventure. Timothy Dalton brings energy, humour and ruthless cunning to his debut performance as Agent 007.
Licence to Kill
James Bond turns renegade to hunt down a master criminal in this pulse-pounding thrill ride that's packed with awesome stunts, subtle humour and explosive confrontations. Timothy Dalton brings urgency, charm and deadly determination to his portrayal of the superagent, who leaves the British Secret Service and begins a fierce vendetta after his friend Felix Leiter (David Hedison) is brutally attacked by drug lord Franz Sanchez (Robert Davi).
GoldenEye
The effortlessly suave and sophisticated Pierce Brosnan makes his acclaimed debut as Agent 007 in this rip-roaring espionage thriller featuring the most eye-popping opening sequence yet! When an MI6 agent (Sean Bean) turns rogue and plans world domination with a terrifying satellite-borne weapon, Bond must pursue his former ally to Cuba, Monte Carlo, Switzerland and even Russia, all whilst dodging a sexy, deadly femme fatale (Famke Janssen) who will stop at nothing to put the 'squeeze' on the intrepid spy!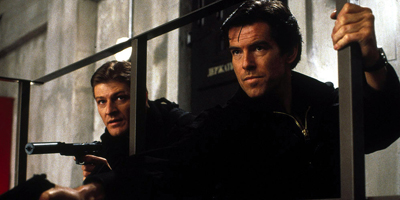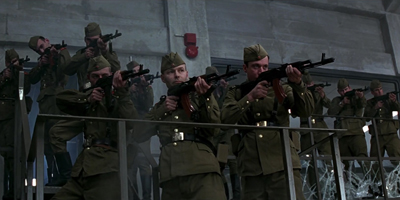 Tomorrow Never Dies
Pierce Brosnan returns as the fearless, cunning and devastatingly cool Secret Agent 007 in this thrilling adventure! When a ruthless media tycoon (Jonathan Pryce) tries to destabilise the world economy by orchestrating a deadly standoff between world superpowers, in an attempt to achieve high ratings for his media conglomerate, Bond must step in to prevent World War III! Co-starring the gorgeous Teri Hatcher and Michelle Yeoh, this high-tech action-adventure will exhilarate Bond fans of all ages!
The World Is Not Enough
Pierce Brosnan returns as sexy super-spy James Bond. The agent's assignment is as follows: he must protect Elektra King (Sophie Marceau), the sole heir of a British oil tycoon, from the influence of terrorist Renard (Robert Carlyle). Unfortunately, she double-crosses him and the world's oil supply is put in peril. Now, he must take on Renard, a villain who feels no physical pain, with the help of do-gooder scientist Christmas Jones (Denise Richards).
Die Another Day
James Bond (Pierce Brosnan) pulls out all the stops to take you on an unforgettable, adrenaline-pumping ride across the globe in this action-filled adventure! From a dark cell in a north Korean prison to the beautiful beaches of Cuba, 007 is on the trail of a diabolical genius who's hell-bent on slicing up the earth - literally.
Casino Royale
Daniel Craig stars as the latest incarnation of James Bond in the 21st instalment of the franchise. Based on one of the original Ian Fleming novels, the story follows a young Bond at the beginning of his career having just received his double-0 status. For his latest mission, 007 travels to Montenegro to investigate the highly exclusive Casino Royale where Le Chiffre (Mads Mikkelsen), a money man for an international terrorist group, is raising funds for their misdeeds through high-stakes gambling. The rookie MI6 agent, aided by British Treasury agent Vesper Lynd (Eva Green), is tasked with infiltrating the group and ultimately defeating the rogue player, both on and off the tables.
Quantum of Solace
On a nonstop quest for justice that crisscrosses the globe, Bond meets the beautiful but feisty Camille (Olga Kurylenko), who leads him to Dominic Greene (Mathieu Amalric), a ruthless businessman and major force within the mysterious Quantum organisation. When Bond uncovers a conspiracy to take control of one of the world's most important natural resources, he must navigate a minefield of treachery, deception and murder to neutralise Quantum before it's too late!
Skyfall
James Bond (Daniel Craig) finds his loyalty to M (Judi Dench) tested as her past returns to haunt her. When MI6 comes under attack from a cyber-terrorist, 007 must do everything it takes to track down the threat. Javier Bardem (No Country for Old Men, Vicky Cristina Barcelona) is superb as the sinister villain, Raoul Silva, and as the film unfolds you discover his dark past.