This exclusively created film cell from X-Men: First Class has been digitally reproduced from the original film footage. Numbers are strictly limited and it's only available when enough people purchase the Blu-ray to unlock this exclusive product. Mounted in an exquisitely crafted frame to show the film cell in the best possible light.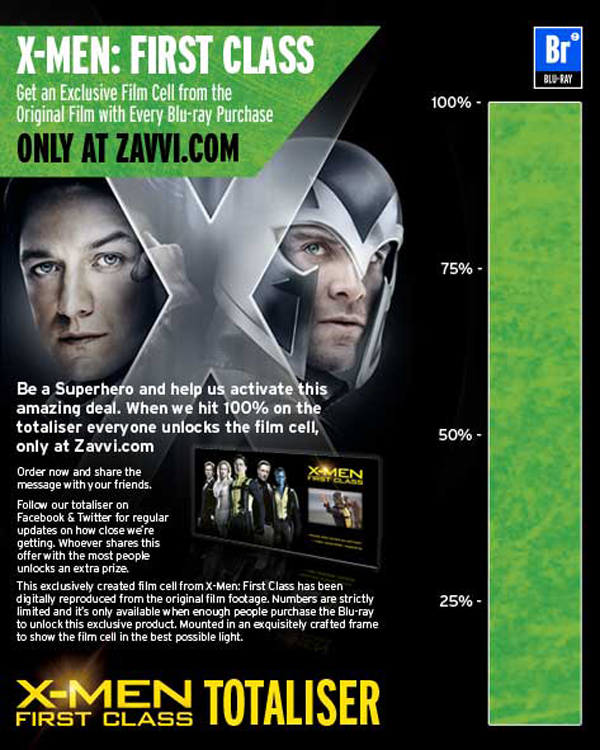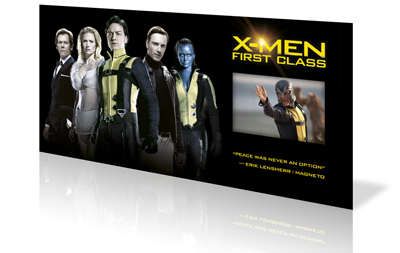 Charles Xavier (McAvoy) and Erik Lensherr (Fassbender) weren't always enemies. Before they took the names Professor X and Magneto, they were two close friends both discovering their mutant powers and capabilities. Soon after forming their alliance they were enlisted by the US government to put their superhuman abilities to use and take down a vicious dictator hell-bent on starting World War III.
Now with a task at hand, the two set out on a frantic mission to find others just like them and create a team of highly skilled mutants in time to stop the malicious villain in his tracks.
From critically acclaimed director Matthew Vaughn (Layer Cake, Kick-Ass) comes this action-packed prequel to the blockbuster X-Men, with a stellar cast including Michael Fassbender (Eden Lake), James McAvoy (Wanted) and Kevin Bacon (Mystic River). -M.F
Special Features:
Cerebro: The Ultimate Mutant Database; replicates what happens when Charles locates mutants through Cerebro and allows you to learn more about various mutants, connect them to key events, decipher connections between them and much more (additional mutants can be unlocked through BD Live)
Children of the Atom: Multi-Part Documentary on the X-Men including the following elements: 'Second Genesis', 'Band of Brothers', 'Transformation', 'Suiting Up', 'New Frontier: a Dose of Style', 'Pulling Off the Impossible', 'Sound and Fury' and 'Untitled Closing'
13 Deleted Scenes

Erik in Argentinean Airport
Shaw with Cuban Generals
Charles and Moira's Tryst, Part 1
Charles and Erik Recruit Angel (extended)
The Russian Truck (extended)
Erik vs Russian Guards (extended)
Shaw's Plan (extended)
Havok Training, Part 1 (extended)
Banshee Training, Part 1 (extended)
Havok Training, Part 2 (extended)
Banshee Training, Part 2 (extended)
Hank and Raven in the Lab (extended)
Charles and Moira's Tryst, Part 2

Digital Copy