A torturous youth Alex Delarge plays by his own rules. Leader of London criminal gang, the Droogs his favourite pass times were theft, assault, murder and listening to Ludwig Van Beethoven. One night whilst carrying out his usual acts Alex was caught and arrested by the police. After two years of his sentence Alex Delarge was offered a fast track to freedom; he must become a subject of a brutal and intense rehabilitation experiment. A Clockwork Orange pushed the boundaries of film, being the first of its kind to portray murder and violence as common hobbies performed by youth subcultures. The sensitive themes included in the film were considered to be so vulgar and brutal it was banned in several countries like Ireland and South Africa. Although the film was banned in multiple countries A Clockwork Orange was still nominated for the Academy Award for best director, best picture and best adapted screenplay.
Female model is 167 cm and wearing a size S. Male model is 185 cm and wearing a size M.
---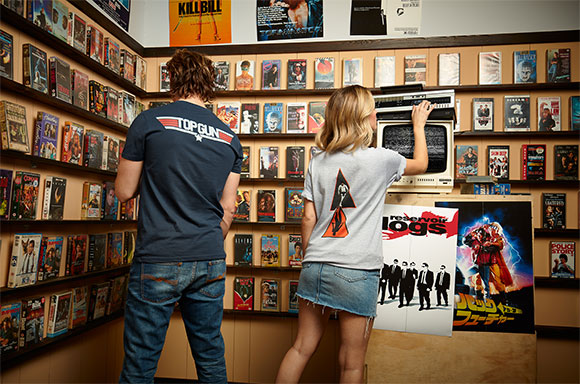 Modern Cult films began to grow during the 1960's when moviegoers began to disregard mainstream Hollywood films for underground films. The rising of underground films and festivals led to the making of midnight movies. These screenings of unorthodox movies late at night began in the 1970's; particularly in New York City and aimed to build up cult film followings. Zavvi's Cult Classic Apparel Range has been carefully chosen to include the very best Cult Classic films. Including big summer blockbusters to home video hits Zavvi's range will make you want to watch all your favourite cult classics on repeat.