"Wait a minute. Doc you're telling me you built a time machine… out of a DeLorean?" Strap yourself in for one hell of a ride with Doc Brown and his companion Marty Mcfly. The pair accidentally travel back in time to 1955 where Marty becomes his own mothers crush; potentially leading to the nonexistence of himself. Back to the Future was originally rejected by film studios until after the financial success of another of director Zemeckis' films, he then approached Steven Spielberg who agreed to produce the project.
Female model is 167 cm and wearing a size S. Male model is 185 cm and wearing a size M.
---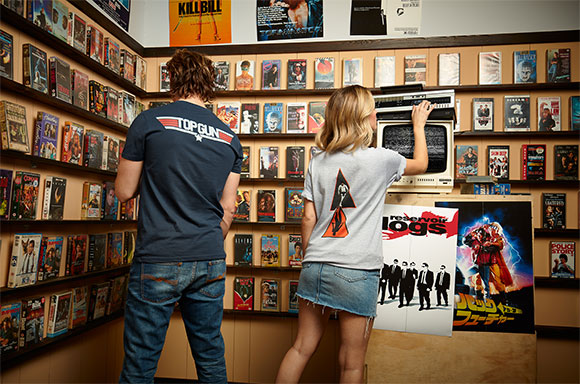 Modern Cult films began to grow during the 1960's when moviegoers began to disregard mainstream Hollywood films for underground films. The rising of underground films and festivals led to the making of midnight movies. These screenings of unorthodox movies late at night began in the 1970's; particularly in New York City and aimed to build up cult film followings. Zavvi's Cult Classic Apparel Range has been carefully chosen to include the very best Cult Classic films. Including big summer blockbusters to home video hits Zavvi's range will make you want to watch all your favourite cult classics on repeat.