From the vaults of the legendary Hammer Film Productions come 21 classic movies, the cream of Hammer's horror, science fiction and fantasy productions, featuring iconic performances from Peter Cushing, Christopher Lee, Bette Davis and many others.
This definitive box set includes such renowned films as Dracula Prince of darkness, The Plague of the Zombies, One Million Years BC, Quatermass and the Pit, Frankenstein Created Woman and the The Devil Rides out. With a legion of extras including audio commentaries, trailers, interviews and the full-length documentary To the Devils... the Death of Hammer, this is a must for any Hammer fan.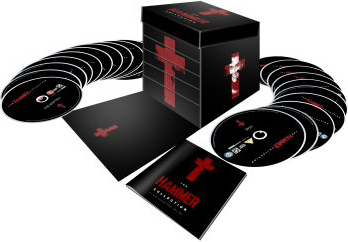 Special Features:
And much more!
Blood from the Mummy's tomb featurette.
Exclusive audio commentary for The Nanny featuring writer/producer Jimmy Sangste
Exclusive illustrated booklet written by Hammer Films historian marcus Hearn.
Five audio commentaries with cast and crew-members, including Christopher Lee, R
Interviews with cast and crew members, including Raquel Welch, Veronica Carlson,
Stills galleries.
To the Devil...The Death of Hammer feature documentary.