No matter how hard today's stars try, the sound they produce in the studio is never truly experienced with the market of sub-standard earphones. With the Monster Beats by Dre Studio HD Over Ear Headphones you can experience sound in a whole new light.
Bringing industry standard studio sound to the portable market, the Studio HD Headphones use dynamic speaker drivers to enhance audio accuracy and remove all distortion. Combined with a high-power digital amplifier, Beats offer an unrivalled listening experience for every genre.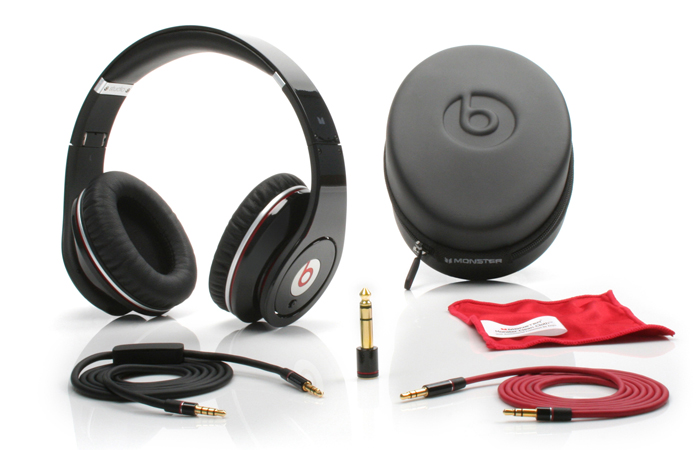 While you're out walking the streets, the noise of the traffic and passers by can be a huge problem. Isolating you from the world, the durable padded earcups lock in your music and allow you to experience true sound. The spacious area inside the earcups is ideal for all year round. During the summer there is enough room for your skin to breathe, while in the winter you can enjoy the warm comfort of the padded cushions.
Complete with an addition Monster iSoniTalk cable, the Studio HD Headphones can be used to make high quality voice calls on your Apple iPhone. A built in answer/drop call button allows you to stop the music and answer the call without the hassle of getting your phone our of your pocket. (MM)
Included Accesories:
Monster Cable 3.5mm Standard Headphone Cable
Monster iSoniTalk 3.5mm Headphone Cable
Rigid Tour Case for Storage and Travel
Anti-Microbial Cleaning Cloth
1/8" (3.5mm) to 1/4" Amplifier Adapter
Two "AAA" Batteries
One Year Limited Manufacturers Warranty
Specifications:
260g Weight (270 with batteries)
1.3m Headphone cable length
1/8" (3.5mm) Gold Plated Connection