Kid Icarus: Uprising for the 3DS has officially been reviewed as faultless. As tried and tested by the four game reviewers of the popular Japanese gaming magazine Famitsu, Kid Icarus gained a whopping 40/40; ten out of ten from each reviewer! This is just the nineteenth title out of the twenty six years the magazine has been in business that has received a perfect score, and it's not hard to see why.
Click Image To Enlarge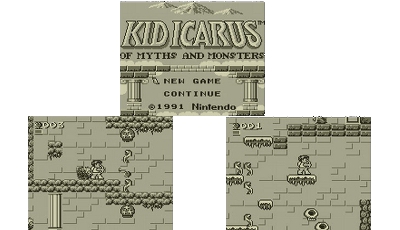 Kid Icarus: Uprising is the feverishly anticipated third game in the legendary saga that has been enjoyed by all for over twenty five years, and is the follow up to the original game Kid Icarus. Uprising was created and designed specifically for the Nintendo 3DS by Masahiro Sakurai (creator of Kirby and Super Smash Bros.), and was developed by his team at Project Sora.

Step once again into the shoes of our angelic protagonist Pit, who finds himself face to face with a reborn Medusa. Hell-bent on exterminating all of mankind, Medusa and her Underworld Army have only one thing standing in their way between world domination: Pit. Knowing he cannot defeat these terrifying monsters on his own, Pit joins forces with Palutena, the Goddess of Light and guardian of the human race. In order to give Pit a helping hand, Palutena grants Pit with the Miracle Of Flight; this allows him to fly for a certain amount of time, and aids him in travelling to all corners of the world, where monsters and an evil doppelgänger by the name of Dark Pit await him...
This copy of Kid Icarus: Uprising includes a free 3DS Stand (3DS Console Sold separately)
Click Image To Enlarge

Kid Icarus: Uprising is perfectly balanced when it comes to fast-paced action and beautiful environments. The game is a visually dazzling and graphically breathtaking creation, completely jam packed with action sequences that are set at incredible breakneck speed. There are two different style of combat; aerial and ground, which gives you two levels to admire the gorgeous scenery and try out all of Pit's new moves and weapons. The air chapters in this story are set as guided on-rail shooting segments, with Palutena guiding Pit's path and leaving him to shoot and dodge the attacks of the flying enemies that pursue you. When on the ground, the combat is set in the style of a third person shooter, with both long range and close quarters combat ready at your fingertips; shoot from a distance, or get up close and personal with melee attacks, as well as various moves at your disposal that will allow you to dodge enemy attacks with style.
When it comes to weapons, there are a wide variety that have been introduced in order to make battle all the more layered, strategic, and exhilarating. There are nine different categories which include bows, claws, blades, and more, each type offering their own special bonuses and ability boosts; improved running speed, for example. Defeated enemies will provide you with weapons and also hearts, which act as the game's currency. These hearts can be used to increase the difficulty of Uprising by betting them against the computer, and proving you are good enough to have the difficulty raised on the game's scalable difficulty meter, otherwise known as the Fiend's Cauldron. When the difficulty is increased, you will earn better weapon drops and rewards when you defeat enemies and complete chapters; the higher the difficulty, the more powerful the equipment. These innovative features within Kid Icarus: Uprising are in abundance, and prove just how exceptional this game truly is. Overall, Uprising was more than worth the wait.(Cat Emerson)