A New Dimension of Kart Racing
The newest installment of the fan-favorite Mario Kart franchise brings Mushroom Kingdom racing fun into glorious 3D. For the first time ever you can customise your karts with a new range of frames and tyres, so it's up to you to get that competitive edge. And Mario Kart 7 even lets you soar through the skies or speed across the sea floor as you battle for top spot.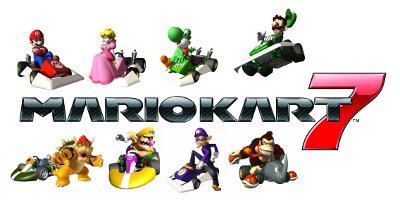 Metal Mario and Lakitu make their Mario Kart™ debuts in Mario Kart 7, and the family-favourite power-ups return to help you take the chequered flag. There's even a new Tanooki tail to whip opponents off the track and protect from incoming shell attacks, as well as the explosive Fire Flower to knock your competitors off course!
You can challenge your friends over a wireless connection, and thanks to StreetPass™ Ghost Data can be shared with other Nintendo 3DS users wherever you are. You can register those you meet to race online, while SpotPass™ lets you download Ghost Data from around the world, so there's always a new challenge waiting.
Featuring 16 classic Mario Kart tracks and a host of new circuits, there's a course for every driving style. With everything from dusty deserts to city streets from around the Mushroom Kingdom, Mario Kart 7 also includes tracks from the amazing Wuhu Island and the jungles of Donkey Kong™ Country Returns.

Whether you're an experienced Mario Kart racer or this is your rookie season, Mario Kart 7 is a fast-paced driving experience like no other that anyone can enjoy.
Explore new competitive kart possibilities, such as soaring through the skies or Plunging into the depths of the sea. New courses, strategic new abilities and customizable karts bring the racing excitement to new heights.
Features:
The Mario Kart franchise continues to evolve. New kart abilities add to the wild fun that the games are known for. On big jumps, a kart deploys a wing to let it glide over the track shortcut. When underwater, a propeller pops out to help the kart cruise across the sea floor.
Players can show their own style by customizing their vehicles with accessories that give them a competitive advantage. For instance, giant tires help a kart drive off-road, while smaller tires accelerate quickly on paved courses.
People can choose to race as one of their favourite Mushroom Kingdom characters or even as their Mii™ character.
New courses take players on wild rides over mountains, on city streets and through a dusty desert. Nintendo fans will recognize new courses on Wuhu Island and in the jungles from Donkey Kong Country™ Returns.
The game supports both SpotPass™ and StreetPass™ features.
Players can compete in local wireless matches or online over a broadband Internet connection.
To enjoy the 3D effect of Nintendo 3DS software, you must experience it from the system itself. All screenshots and videos on this website have been captured in 2D mode.
Different accessories to give you the edge in a race, will can choose big tyres for the off-road advantage or small tyres for the city courses?
New abilities for your karts such as the new glider ability that lets you glide over short cuts after you've caught some big air. But that's not the only new ability in Mario Kart 3DS...
SpotPass and StreetPass features. How can you pass this up?
Battle it out online via wifi or face off against your friends in Mario Kart 3DS multiplayer action. You may lose friends but the glory is worth it!
Click Images to Enlarge