This November, Need for Speed Hot Pursuit will transform online racing by bringing to life the adrenaline and intensity of high speed cop pursuits and changing the way that people connect and compete with their friends.
Need for Speed Hot Pursuit is being developed by Criterion Games, the developers behind the critically-acclaimed Burnout racing series. These renowned innovators are redefining action racing by delivering an experience that connects players through intense competition whether playing online together or taking on friends' challenges.
At the heart of Need for Speed Hot Pursuit is a suite of connected features called Need for Speed Autolog that enables players to connect, compare and compete with their friends effortlessly.
Exotic cars on the open road, the rush of the escape, the thrill of the takedown – this is Need for Speed Hot Pursuit.
Career – For the first time in Need for Speed history, players will experience the gripping and heart-racing action of both cops and racers. Hot Pursuit seamlessly links a tremendously deep and fully-defined single player career with a groundbreaking multiplayer experience across all race modes. In the end, whether playing online with friends, taking on friends challenges or the single player career, players will earn bounty that levels them up and unlocks new cars, weapons and equipment.
Need For Speed Autolog – In Need for Speed Hot Pursuit, your friends drive your gameplay experience. Need for Speed Autolog is a revolutionary system that connects friends directly to each other's games, enabling them to compare and share all their experiences, pictures and challenges. Need for Speed Autolog instinctively delivers challenges based on what your friends have been doing, creating a hugely dynamic, socially competitive experience.
Weapons and Equipment – Enhance the intensity of the pursuit using multiple weapons as the heat level increases during a pursuit. Whether taking down suspects with a variety of cop weapons or using evasion equipment as a racer to outsmart the cops, players will always have a method for gaining an edge over their opponent.
Cars – In Hot Pursuit, the cars go from hot to hotter. Experience the thrill of driving the world's most desirable high performance cars at incredible speeds. Feel the power of busting suspects in supercharged cop interceptors like the Lamborghini Reventon or outsmarting the law as a racer in high performance supercars like the Pagani Zonda Cinque.
Seacrest County – Explore a world as diverse as the California coastline with desert, forest, seaside and mountainous regions. The open world of Seacrest County is designed to create the most intense pursuit experiences ever found in a racing game.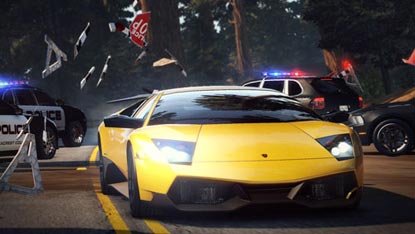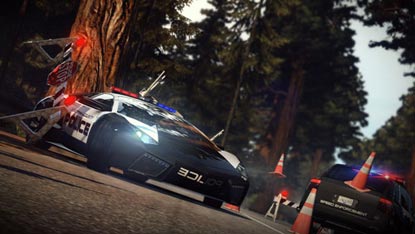 Need For Speed is one of the world's favourite games franchises, but even bearing that in mind, a special buzz surrounds this year's iteration, Hot Pursuit. That's because it's being lovingly crafted, for the first time, by legendary developer Criterion, best known for the mighty Burnout games. Put Need For Speed and Criterion together, and hugeness is bound to ensue.

From what we've seen of Hot Pursuit, to say that you won't be disappointed is something of an understatement. The first thing Criterion decided to do was to take the game back to its roots, so it's all about cops versus racers. Except this time around, both sides are equipped with the finest motors known to mankind – even machines like the Bugatti Veyron and Lamborghini Reventon will appear with flashing lights and black-and-white police car livery. And you'll get to experience both sides of the coin in the single-player campaign, playing as both pursued and pursuer.

So far the only one of the many single-player modes to be unveiled is Interceptor, in which a cop tries to catch a racer, while the racer tries to escape. The action takes place in front of a lush mountain backdrop and, as one expects from Criterion, is extremely cinematic, with zoom-ins and slow-motion sequences at key points, all aided by power-ups that cops can launch, such as tyre-shredding spikes, roadblocks, immobilising EMP blasts and even a tracking helicopter. An Experience Point system called Bounty rewards you for driving into oncoming traffic, hitting top speed and so on, refilling your boost in the process.

Online, Need For Speed: Hot Pursuit is poised to take driving games into new territory, thanks to a hugely innovative system called Autolog. Autolog is best described as an in-game social network, and it constantly monitors what your friends are doing in the game. It has a Wall where you can chat and message your friends, and you can post your performances from within the game. Autolog will generate challenges based on what your friends have been up to, so you can effectively take them on even when they aren't online, and it matters not a jot whether they are playing on the same type of console as you.

If ultra-high-octane, open-world racing with standard-setting graphics, rich and deep single and multiplayer campaigns and the finest machinery known to mankind sounds appealing, then make sure you keep your eyes open for Need For Speed: Hot Pursuit – it's due to arrive with a screech of tyres on 19 November. Which is when you'll be able to discover that the union of Need For Speed and Criterion is truly a marriage made in heaven.