Until February 23rd, 2011, Mass Effect 2 players on Playstation 3 can download the Terminus Armor and M-490 Blackstorm Projector Weapon free of charge from the PSN Store. After Feb 23rd, the Terminus Gear will be available as paid DLC.
Terminus Armor:
Like all modern combat hard-suits, the Terminus Assault Armor is environmentally sealed with an independent air supply for use in space and extreme planetary conditions, with an onboard "micro-frame" computer capable of running a suite of battle management software. To prevent detection by passive thermal sensors, body heat is channeled to the base of the feet, where it can be dispersed into the ground.
Increase storm speed by 10%
+1 magazine of reserve ammo for weapons
+15% shields
Blackstorm Projector Weapon:
The Blackstorm encases a few particles of matter within a high-powered mass-increasing field, elevating them to near-infinite mass and creating a powerful localized gravity well that draws nearby enemies and objects into itself. The rapidly-increasing gravity near the event horizon of the singularity rips the objects apart and then explosively hurls them away.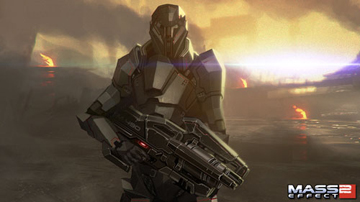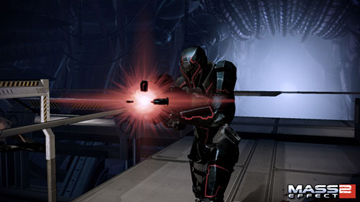 Winner of the 'Ultimate Game of the Year' at the Golden Joystick Awards 2010
Two years after Commander Shepard repelled invading Reapers bent on the destruction of organic life, a mysterious new enemy has emerged. On the fringes of known space, something is silently abducting entire human colonies. Now Shepard must work with Cerberus, a ruthless organization devoted to human survival at any cost, to stop the most terrifying threat mankind has ever faced. To even attempt this perilous mission, Shepard must assemble the galaxy's most elite team and command the most powerful ship ever built. Even then, they say it would be suicide. Commander Shepard intends to prove them wrong.

Features:
Mankind's Future is At Stake
From the makers of Star Wars®: Knights of the Old Republic™, Dragon Age: Origins™, and Mass Effect™ comes the dark second instalment in the thrilling Mass Effect Trilogy!
Command a unique team of amazing characters on a perilous mission in the most dangerous regions of space.
Players of the first Mass Effect can import save games to continue the story of their own Commander Shepard. New players will find a thrilling stand-alone adventure awaits them, a polished and action packed journey that surpasses the first game in nearly every possible way.
Intense Third Person Combat
Take cover, command an elite squad with ease, utilize 19 weapon classes including heavy weapons, and unleash deadly powers against your foes with an all new and improved combat system.
Increased intensity with precision shooter controls to let you control the action and overcome insurmountable odds.
Featuring a new location based damage system: target key weak points, and blast off limbs, ignite enemies, or cripple and disable enemy troops.
An Entire Galaxy to Explore
Travel the distant and deadly reaches of space to assemble your team for the mission at hand. A cast of amazing characters await discovery on a variety of dangerous, visually stunning worlds
Survey unique planets and embark on side missions to uncover more secrets in the Mass Effect universe.
Robust Character Customisation
Choose a player class, customise your appearance, and tailor your own abilities and strengths. As you progress, so do Shepard's abilities.
Control the conversation. Improved conversation system where you can take matters into your own hands – often with the liberal application of force.