Rage is the brilliantly innovative and visually breathtaking game brought to you by Bethesda. In the year 2029 the world was eviscerated by an asteroid and, in order to preserve your life, you were one of the chosen few to be placed in life sustaining pods below the surface of the Earth before the asteroid struck. 106 years later you emerge alone from below the ground, with no memory of who you are, to a ravaged wasteland that you once knew as home. Although you come out alone, there are others left on this planet. Human survivors have created a new order of civilisation and guard their way of life diligently against mutants and bandits who care little for who you are, or your life. You learn that a hostile faction called The Authority, who are responsible for the creation of the mutants, are looking for you, for reasons unknown. You join the Resistance, an anti-Authority group, in order to bring The Authority down and end their reign of terror.

This game combines an incredible storyline with high-adrenaline and high-energy action, primarily based on first person shooting. The sheer amount of firepower and artillery you will possess is astounding, with weapons ranging from sentry bots, remote-controlled bomb cars, wingsticks, and more. However, should you tire of the mayhem you can cause within the campaign, there are plenty of mini-games, side quests, co-op mode and online multiplayer action to investigate and take part in. Driving plays a very important part of the game, and you will get to experience a lot of this third person travel as you drive around the wasteland in your own buggy. This allows you to explore the terrain and maps of this vast and graphically brilliant world as you drive from mission to mission, take on bandits in exhilarating and dangerous car races, and defend yourself during attacks from enemies in their own vehicles. A wide variety of system upgrades are available to you, giving you the ability to apply your own improvements to your weapons and super buggy. Customise your car with weapons and special parts that you can earn when you emerge victorious from these deadly races against the bandits, as well as give it a shiny new paint job.

The action in this game is exceptionally detailed, with the enemies you encounter growing in difficulty as you progress. To combat this, the game lends you a hand by providing you with guns such as sniper rifles, shotguns, rocket launchers, assault rifles and more, all in order to provide you with the best chance of survival. The game also provides you with various types of ammunition littered around the world, and gives you various materials from which you can build your own ammunition and items whenever you please, such as armour piercing ammo and mind control crossbow bolts. Experience the exhilarating action of this post-apocalyptic world that will keep you on the edge of your seat, as you blast your way through mutants and anyone that stands in your way on your quest to uncover the truth. (Cat Emerson)
The Anarchy Edition features four exclusive in-game items to add to your post-apocalyptic arsenal.

What you get:
Fists of Rage
Double Barrel Shotgun
Crimson Elite Armor
Rat Rod Buggy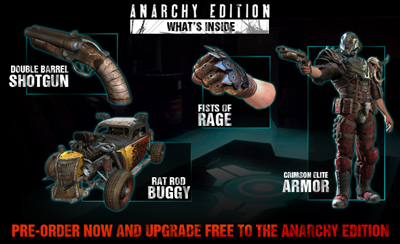 Features:
Visceral 1st-person gunplay and exploration – Take on bandit gangs and hordes of mutants using an arsenal of exotic weapons and special items, such as wingsticks, personal turrets, sentry bots, and remote-controlled bomb cars.
Frenetic 3rd-person vehicular mayhem – Burn rubber across the wasteland in your very own super buggy! Upgrade and customize your car with special parts, paint jobs and weapons, then test your skills as you battle four-wheeling bandit clans and participate in deadly races.
Three ways to play for unlimited action – Immerse yourself in a rich story-driven single-player experience, grab a friend for exclusive co-op modes, or go online for all-out multiplayer mayhem.
An expansive experience – Beyond the first-person action and vehicle combat, RAGE offers a world open to explore, with unique characters, side quests, and a compelling storyline.
Graphics that have to be seen to be believed – Powered by id's cutting-edge new id Tech 5 engine, new Megatexture technology brings the vast wasteland to life in never-before- possible detail with action running at an astounding 60 frames per second.