Deathsmiles is a side-scrolling shoot-em-up that went into arcade operation on October 19th 2007, and was later released on the Japanese Xbox 360 in March 2009.
Unlike other shooting games, Deathsmiles is designed with a left/right shooting mechanic, surrounding you with enemy units and gunfire from both sides of the screen.
The player will need to employ strategy and think about enemy positioning as your shots may be blocked by obstacles. Deathsmiles features a selectable difficulty level that allows you to choose how to proceed through the game, ensuring that newcomers are as welcome as veterans. Different stories and conversations will appear during both single player and two-player cooperative play and depends on the character(s) chosen.

Different Game Modes:
Arcade Mode - featuring the same gameplay and accuracy as the original arcade release
Xbox 360 Mode - a high resolution version of the arcade game
Version 1.1 - an original mode for the Xbox 360
Revamped game system
Revamped scoring system
New ways of obtaining items
Alterations to the difficulty selection system (1 to 4)
Changes to the Power Up feature
Direct your pet with a modified control system
Click Image To Enlarge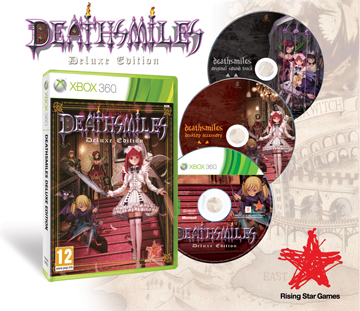 Deathsmiles: Deluxe Edition Includes:
An expanded version of the game with new features included on the disc
New playable character Sakura
New stage Ice Palace
More challenging scoring system
New difficulty setting, level 999
Play with a friend via Xbox LIVE, where the player can also measure up their success by submitting their scores to the online ranking service
Two alternate endings for each character played, leading to 10 possibilities (including Sakura from the Deathsmiles: Deluxe Edition).
The story of Deathsmiles unwinds over the course of four chapters. There are nine stages total in the game which players can choose to traverse: Port Town, Graveyard, Forest of the Lost, Bog Wastes, Lakeside, Volcano, Hades Castle, Gorge and the Ice Palace. The latter two levels are entirely optional (the Ice Palace only appears as an extra level in the Deathsmiles: Deluxe Edition). Choosing the highest setting four times in a row will trigger Death Mode, which ups the difficulty even further but allows more opportunities for earning points.