Saints Row: The Third returns with a bang, as straight away you are dropped in to a mission that places you directly in the enemy's line of fire. Expect much of these high adrenaline situations, as this game transports you back in to the seedy underbelly of gang warfare.
Stilwater is your territory now, and everybody knows it. Third Street Saints brand merchandise is everywhere; from energy drinks to sneakers, and even Johnny Gat bobblehead dolls. However, being this infamous has its risks, and The Syndicate, renowned criminal royalty and rulers of the ravaged city of Steelport, have targeted you. This provides a unique twist, as for the first time in the Saints Row games you leave Stilwater to bring the fight to The Syndicate in Steelport.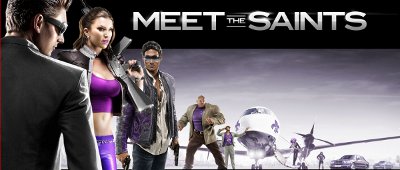 Saints Row: The Third is a well laid out playground for all of your violent and juvenile antics, as you terrorise the new city of Steelport with the full force of the Third Street Saints behind you. New aspects of customisation appear, allowing you to tailor every inch of your character; from body to dress, as well as the ability to customise your vehicles, of which you now have an infinite supply. The gloves are off, and each and every mission in this game throws you a curve ball during the campaign, overflowing with hilarious and fun side missions along the way. Throughout the game play you'll be assigned to drive around with a tiger who only likes it when you're reckless, befriend a pimp with an auto-tuned voice box, use a sex toy as a weapon, and so much more.
This wacky and innovative game has come up with a bazillion additional game play features, such as earning respect for driving like a maniac, or even just for streaking around the neighbourhood. This new build-up of respect points add towards unlocking new and exclusively designed abilities for your character, including "infinite sprint" and "no fall damage", whereas the money you garner can buy you new territory, weapons, and more. With a fun layout and the ability to wreak mayhem with practically no consequences, this game more than delivers on all fronts, and makes you proud to be part of the Third Street Saints. (Cat Emerson)