Villains' shudder at the sight of the Batman logo, whether it is lighting up the sky above Gotham or hurling towards them. This logo means only one thing; Batman is near. Protecting Gotham City from evil, Batman never leaves home without his trusty Batarang. A Batarang is a non-lethal alternative to firearms, something Batman passionately hates due to the murder of his parents.
Zavvi's Officially Licensed, limited edition Batarang is inspired by the Batman logo. A golden take on Batman's signature weapon, commemorating his success as Gotham's guardian, is a unique collectable must have.
Sizing:
Batarang: 100 x 47.5 x 5mm
Metal Plaque: 23 x 8 x 1mm
Box: 69 x 23.9 x 116.5mm
---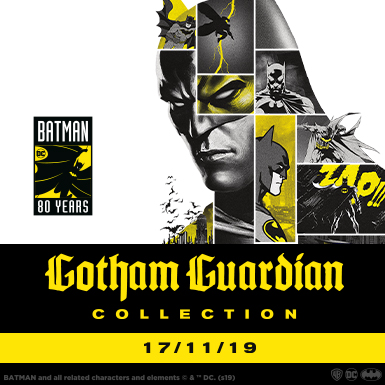 After witnessing the murder of his parents Bruce Wayne swore vengeance on all criminals, as he became Batman, patrolling the cold, dark streets of Gotham City ready to fight crime at any given time. Though he has no supernatural abilities Batman has trained himself vigorously, developing super strengths to become the world's greatest detective and protecting Gotham City from evil. One of DC comics earliest superhero's Batman has been a beloved character for over 80 years, let our range take you into the life of Gotham City, from the dark and eerie streets to the vibrancy and chaos of Batman's arch enemy the Joker.