What's in the box?
The new, slimmer 500GB PS4.
A Jet Black DUALSHOCK 4 Wireless Controller.
A physical copy of Uncharted™ 4: A Thief's End on Blu-ray Disc™.
PlayStation®4 - Play. Redesigned.

Britain's bestselling console has a brand-new look.

Experience epic adventures, battle the best players online and challenge your friends in your living room with the slimmer and lighter new PS4™.

KEY FEATURES

BLOCKBUSTER GAMES AND PS4™ EXCLUSIVES

Looking for the best games? Here's our pick of the big hitters on PlayStation®4… Join Nathan Drake on a perilous hunt for a fabled pirate treasure in Uncharted 4: A Thief's End™. Explore the mystery of our natural earth, 1000 years from now where machines rule the world in Horizon: Zero Dawn. Experience Gran Turismo for the first time on PS4™ with GT Sport. And get 30 days' early access to map packs in Call of Duty: Infinite Warfare only on PlayStation®4.

A STUNNING NEW DESIGN

A slimmer and lighter console with stylish new looks and packed with true PlayStation®4 power.

HIGH DYNAMIC RANGE (HDR) TECHNOLOGY

Visuals are more realistic, strikingly vivid and truer to what the human eye sees in the real world.

SLICK INTERFACE

Fast, personal and easier to share, connect and play with friends.

EXCLUSIVE PS4™ FEATURES

Game-changing innovations and ways to keep playing, like Remote Play and Share Play.

ENDLESS ENTERTAINMENT

A built-in Blu-ray Disc player, plus your favourite movies, TV shows and music, whenever you want. All you need is a Sony Entertainment Network account to get started.

Apps available:

YouTube, PlayStation Music powered by Spotify, Netflix, TV from Sky, Amazon Instant Video, BBC iPlayer, PlayStation Video, Now TV, IGN, BBC Sport, and many more.

You can also play music and video files directly from your home media server or USB storage device with Media Player for PS4™.

LIVE THE GAME

Immerse yourself in extraordinary new worlds, put yourself at the centre of an incredible gaming universe and experience a new way to play with PlayStation VR. Connect the headset to your PS4, add a PlayStation Camera and leave reality behind.

MORE CONNECTIONS

Features 2.4GHz/5GHz Wi-Fi mode options and HDMI 2.0 output.

THE PLAYSTATION®APP

Connect to the PlayStation®App through your smartphone or tablet to stay in touch with your gaming universe 24/7 – from shopping on PlayStation®Store to controlling your PS4™ remotely or comparing your trophy collection with your friends. Download the PlayStation®App today from the App Store or Google Play.

PLAYSTATION®PLUS

Sign up to PlayStation®Plus to join millions of players in action-packed online multiplayer matchups, get exclusive offers at PlayStation®Store, and download 24 games per year that are yours to play for as long as you're a member. As the world's largest new-generation online gaming community, PlayStation®Plus is where friendships are formed and battles are won.

Why we think you'll love PlayStation®Plus:
Join your friends in PS4™ online multiplayer
Download 24 PS4™ games a year
Enjoy exclusive discounts at PlayStation®Store
Get cloud storage for your saved games
Invite your friends to play with Share Play
PlayStation®Plus – it's where the players are.

TWO CONSOLES, ONE PS4™ FAMILY

Connect with friends on PlayStation®4 and PlayStation®4 Pro consoles, and hook up with the biggest online community of players with PlayStation®Plus.

GAMES

All games are fully cross-compatible with PS4™ and PS4™ Pro, and players compete online in the same multiplayer ecosystem.
Powered by Frostbite, FIFA 17 transforms the way you play, compete, and emotionally connect with the game. FIFA 17 immerses you in authentic football experiences by leveraging the sophistication of a new game engine, while introducing you to football players full of depth and emotion, and taking you to brand new worlds accessible only in the game. Complete innovation in the way players think and move, physically interact with opponents, and execute in attack lets you own every moment on the pitch.
What is FIFA Ultimate Team (FUT)?
EA SPORTS FIFA 17 Ultimate Team is a massive online community of fans building, managing, and competing with their ultimate football team from the world's best players in FIFA 17. Join over 15 million fans and take on the challenge of building football squads of the world's best players by earning, buying, selling, and trading players with the Ultimate Team community. Play with your dream team and put them against your friends' teams whenever you want. Create and manage multiple squads and take them into competition in online and solo single-player tournaments, all dynamically updated each week.
What is a FIFA Ultimate Team Loan Player?

Ever wonder what it's like to have a top footballer on your team? You'll be able to try out some of FIFA Ultimate Team's most sought after players for a limited amount of matches.
What is a FIFA Ultimate Team Draft?
FUT Draft is a new way to play FIFA Ultimate Team! Draft a squad and challenge opponents in a tournament to win coins, packs, and more. Test your team building skills and pick the best player for each position from a five player draw. Make key choices based on player quality or team Chemistry. Earn bigger match prizes as you progress – win all four games in a row to earn the best rewards!
What is the EA SPORTS Football Club (EASFC)?
Experience football's social network. Earn rewards, level up, enjoy live Challenges, and connect with friends. Everything within FIFA 17 is measured and communicated through EA SPORTS Football Club. Fans can earn rewards to unlock items from the Football Club Catalogue, and build their status as they climb 100 levels. Real-world storylines drive EA SPORTS Football Club through regular challenges so that FIFA 17 will look, feel and play like the real-world season.
Click Images to Enlarge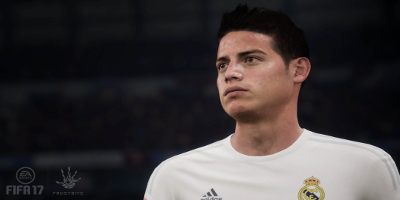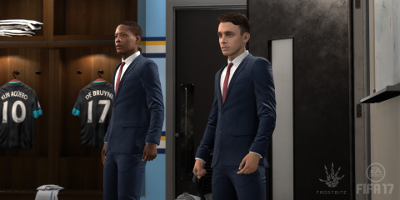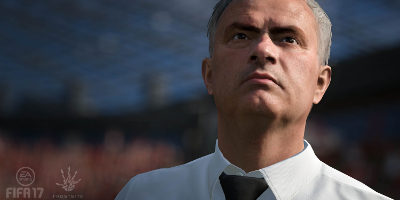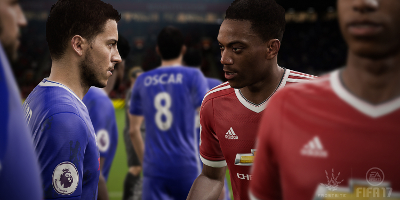 Terms & Conditions:
*ADDED VALUE CALCULATED BASED ON EA'S RRP FOR 1,500 FIFA POINTS AT LAUNCH. FUT DRAFT TOKENS ALSO AVAILABLE FOR COINS. PRICES MAY CHANGE.THIS STANDARD EDITION PRE-ORDER OFFER IS BEING ISSUED TO YOU FOR PROMOTIONAL PURPOSES ONLY AND DOES NOT CONSTITUTE A CREDIT, CHARGE, DEBIT OR GIFT CARD. OFFER EXPIRES SEPTEMBER 27, 2016. GOOD ONLY FOR NEW PURCHASES OF "FIFA 17" ("PRODUCT"). CODE INCLUDED WITH PURCHASE GOOD FOR 1 DRAFT TOKEN ENTITLEMENT EACH WEEK FOR USE IN FIFA ULTIMATE TEAM MODE ("FUT") FOR A TOTAL OF 5 CONSECUTIVE WEEKS. CODE MUST BE REDEEMED BY OCTOBER 16, 2016 TO RECEIVE ALL 5 DRAFT TOKENS AND WILL NO LONGER BE VALID AFTER NOVEMBER 13, 2016. LATE CODE REDEMPTION WILL RESULT IN FORFEITURE OF PREVIOUS WEEKS' DRAFT TOKEN ENTITLEMENT. DRAFT TOKEN WEEKLY OFFER IS VALID FOR 7 DAYS AND MUST BE REDEEMED WITHIN THAT TIME PERIOD. FAILURE TO LOG INTO FUT AND SELECT "MY PACK" TO REDEEM DRAFT TOKEN IN ANY GIVEN WEEK WILL RESULT IN FORFEITURE OF THAT WEEK'S OFFERING. FIRST DRAFT TOKEN, 1 LOAN PLAYER (FOR 8 MATCHES) AND FUT KIT WILL BE ENTITLED IMMEDIATELY UPON CODE REDEMPTION. VALID WHEREVER PRODUCT IS SOLD. OFFER MAY NOT BE SUBSTITUTED, EXCHANGED, SOLD OR REDEEMED FOR CASH OR OTHER GOODS OR SERVICES. MAY NOT BE COMBINED WITH ANY OTHER PROMOTIONAL OR DISCOUNT OFFER, UNLESS EXPRESSLY AUTHORIZED BY EA; MAY NOT BE COMBINED WITH ANY PREPAID CARD REDEEMABLE FOR THE APPLICABLE CONTENT. VOID WHERE PROHIBITED, TAXED OR RESTRICTED BY LAW. SEE FINAL PRODUCT DETAILS, EULA AND CONTENT PROTECTION TECHNOLOGY AT WWW.EA.COM/1/PRODUCT-EULAS, IF AND WHEN AVAILABLE. INTERNET CONNECTION, EA ACCOUNT, ACCEPTANCE OF PRODUCT AND ORIGIN END USER AGREEMENTS (EULAS), EA PRIVACY AND COOKIE POLICY AND TERMS OF SERVICE; INSTALLATION OF THE ORIGIN CLIENT SOFTWARE (WWW.ORIGIN.COM/ABOUT) AND REGISTRATION WITH SERIAL CODE MAY BE REQUIRED TO PLAY. EA PRIVACY AND COOKIE POLICY AND TERMS OF SERVICE CAN BE FOUND AT WWW.EA.COM. YOU MUST BE 13+ TO REGISTER FOR AN EA ACCOUNT. EA MAY RETIRE ONLINE FEATURES AFTER 30 DAYS NOTICE POSTED ON WWW.EA.COM/1/SERVICE-UPDATES.
FIFA 17 © 2016 Electronic Arts Inc. EA, EA SPORTS, the EA SPORTS logo and Ultimate Team are trademarks of Electronic Arts Inc. Official FIFA licensed product. © FIFA and FIFA's Official Licensed Product Logo are copyrights and/or trademarks of FIFA. All rights reserved. Manufactured under license by Electronic Arts Inc. The Premier League Logo © The Football Association Premier League Limited 2006. The Premier League Logo is a trade mark of the Football Association Premier League Limited which is registered in the UK and other jurisdictions. The Premier League Club logos are copyright works and registered trademarks of the respective Clubs. All are used with the kind permission of their respective owners. Manufactured under licence from the Football Association Premier League Limited. No association with nor endorsement of this product by any player is intended or implied by the licence granted by the Football Association Premier League Limited to Electronic Arts.