Infinity Ward, the award-winning studio that helped create the blockbuster Call of Duty® franchise, reaches new heights with Call of Duty®: Infinite Warfare. At its core, Infinite Warfare returns to the roots of the franchise where cinematic, immersive storytelling takes center stage as told through an unfolding large-scale war and epic battles that deliver an authentic Call of Duty experience.
Call of Duty: Infinite Warfare
Call of Duty: Infinite Warfare delivers something for every Call of Duty fan with three unique game modes: Campaign, Multiplayer, and Zombies. Delivering a rich and engaging narrative in a setting unlike anything to date in a Call of Duty game, the campaign is a return to the franchise's gritty, military roots throughout new environments never before seen in the franchise.
The player will embark on a classic war story about grand scale warfare; all set in a grounded future where human conflict has spread throughout our solar system. Multiplayer brings ground-breaking gameplay innovations to deliver the deepest and most engaging Call of Duty experience to date. The title introduces stunning, never before seen, multi-planetary environments, new weaponry, and all-new player abilities to Call of Duty. In addition, the new cooperative zombies experience will thrill players with an original direction featuring fun and unique gameplay, all wrapped into an entertaining narrative sure to excite fans.
Return To Classic, Large-Scale War
Call of Duty: Infinite Warfare will take players on an unforgettable journey as they engage in battles from Earth to beyond our atmosphere against a relentless, enemy faction that threatens our very way of life. It's grand scale war and hallmark Call of Duty action with memorable characters, rich emotional arcs, and stunning new environments, all within an epic new setting.
A Call Of Duty Campaign To Remember
Call of Duty: Infinite Warfare puts storytelling front and center, in a deeply engaging narrative. It features jaw-dropping set-pieces and blockbuster cinematic moments, while also delivering a gripping portrayal of war that harkens back to the roots of the franchise. Infinity Ward also breaks new ground by thrusting the player into wartime leadership as Captain Reyes, a Tier 1 Special Operations pilot, who takes the helm of the Retribution, one of Earth's last remaining warships. In a time of unthinkable hardships, Reyes must lead the remnants of coalition forces against a relentless foe in a war that spans our solar system.
Fighting a Fanatical Enemy
The Settlement Defense Front (SetDef) represents a splinter group of insurgents that broke away from the United Nations Space Alliance during a war of secession, years ago. In the world of Call of Duty: Infinite Warfare, our planet has been stripped of its natural assets through population growth and industrial expansion. The people of Earth now rely upon colonies throughout the solar system to mine planets and asteroids for necessary fuel and other resources. The SetDef is a fascist power, comprised of brutal and militant radicals, toughened by the extreme conditions of offworld environments. They seek to control those outposts and their wealth, putting a stranglehold on the countries of Earth. After years of uneasy stalemate, diplomatic relations are strained, and it will take only the slightest nudge to lead to full-scale war.
Gear Up For Intense Multiplayer
Call of Duty: Infinite Warfare will feature an evolution of Call of Duty's movement system with an emphasis on front-line engagement. Maps are designed to further leverage the movement system and immerse players into fast, fun, and frenetic gameplay that players have come to expect from Call of Duty. With its new approach to play, multiplayer will bring innovative gameplay that challenges players to achieve their goals in creative ways based on their specific play style.
Battle The Living Dead in a Zombies Thriller
Infinity Ward introduces a fresh take on the nightmarish Zombies mode in Call of Duty: Infinite Warfare. With an all-new, immersive zombies storyline for players to uncover and explore, players are thrust into a spine tingling adventure not for the faint of heart. The new zombies experience will take players on a wild ride with a multitude of new features, while thrilling players with the core mechanics that fans have come to expect from the mode.
Call of Duty: Infinite Warfare raises the bar yet again, delivering three stellar experiences in one exceptional package. Pre-order your copy today! Available November 4, 2016.
© 2016 Activision Publishing, Inc. ACTIVISION, CALL OF DUTY, and CALL OF DUTY INFINITE WARFARE are trademarks of Activision Publishing, Inc.
Click Images to Enlarge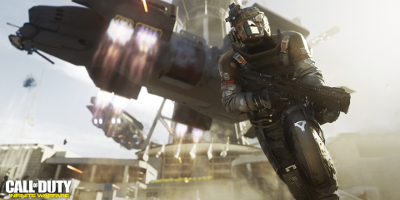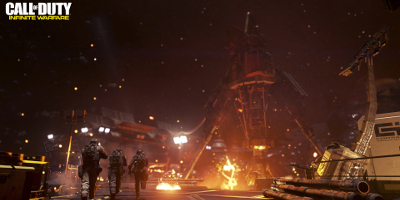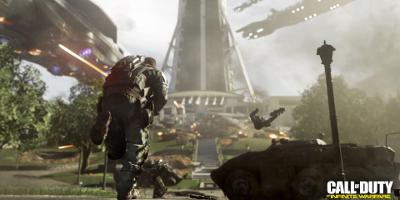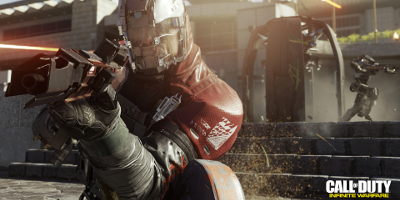 About the PlayStation 4 Console:
The PlayStation®4 system opens the door to an incredible journey through immersive new gaming worlds and a deeply connected gaming community. PS4™ puts gamers first with an astounding launch lineup and over 180 games in development. Play amazing top-tier blockbusters and innovative indie hits on PS4™. Developer Inspired, Gamer Focus.
PlayStation®4. Greatness Awaits™
Gamer Focused, Developer Inspired
The PS4™ system focuses on the gamer, ensuring that the very best games and the most immersive experiences are possible on the platform. The PS4™ system enables the greatest game developers in the world to unlock their creativity and push the boundaries of play through a system that is tuned specifically to their needs. The PS4™ system is centered around a powerful custom chip that contains eight x86-64 cores and a state of the art 1.84 TFLOPS graphics processor with 8 GB of ultra-fast GDDR5 unified system memory, easing game creation and increasing the richness of content achievable on the platform. The end result is new games with rich, high-fidelity graphics and deeply immersive
New DUALSHOCK®4 Wireless Controller
The DUALSHOCK®4 controller features new innovations to deliver more immersive gaming experiences, including a highly sensitive six-axis sensor as well as a touch pad located on the top of the controller, which offers completely new ways to play and interact with games. The new SHARE button puts video streaming and sharing a tap away.
Shared Game Experiences
Engage in endless personal challenges with your community and share your epic triumphs with the press of a button. Simply hit the SHARE button on the controller, scan through the last few minutes of gameplay, tag it and return to the game—the video uploads as you play. The PS4™ system also enhances social spectating by enabling you to broadcast your gameplay in real-time.
Entertainment
PlayStation®4 will provide gamers access to a rich portfolio of applications that feature the hottest movies and television shows, unique specialized content, and live sports programming.
PlayStation®Plus
Introducing the new PlayStation®Plus, the membership service designed to bring games and gamers together, and fuel the next generation of gaming on the PS4™ system. PlayStation®Plus helps you discover a world of extraordinary gaming experiences through the ever-expanding collection of great games that members receive access to as part of their membership. With PlayStation®Plus on the PS4™ system, you'll also discover a world of like-minded gamers to play with and challenge, connected through an all-new multiplayer service worthy of the next generation.
Remote Play
With Remote Play, you can pick up on the PlayStation Vita where you left off on the PS4, to ensure you never stop playing. If you want to continue on another full screen, PlayStation TV (released 14 November 2014) allows you to stream your PS4 games to any TV in your home. If you aren't at home, the PlayStation App allows you to connect and interact with your PS4 via your smartphone, as well as keep up to date with what your friends are playing on their console.
This box contains:
PlayStation 4 Console
DualShock 4 Wireless Controller
Mono Headest
Power Cable
HDMI cable
USB cable