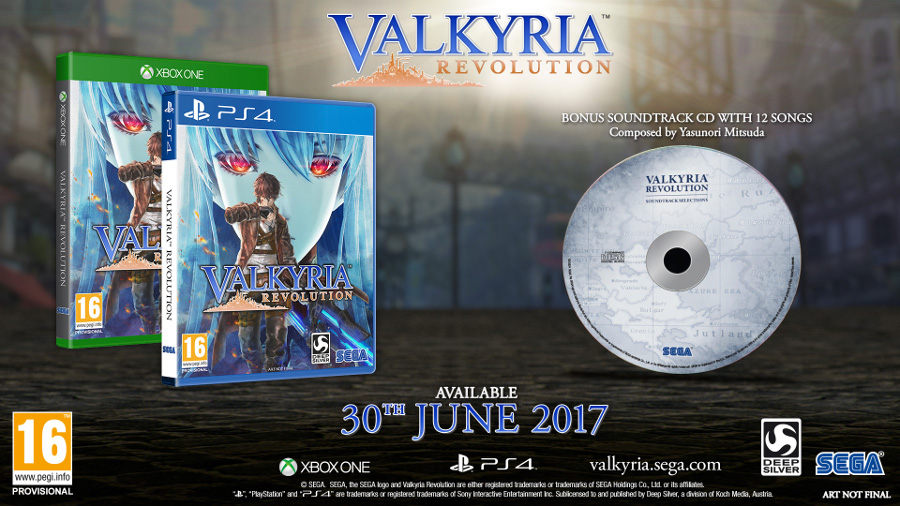 Loyal soldiers are always rewarded for their service, so pre-orders and limited launch copies of the physical PS4 and Xbox One versions in Europe will come packaged with a 12-track soundtrack by the renowned Yasunori Mitsuda (Chrono Trigger, Stella Glow). In the wake of a revolution, Jutland's elite soldiers, the Vanargand, must band together to defeat the Ruzi Empire and stop death itself--the Valkyria. This grizzled anti-Valkyria squad is equipped with advanced mana weaponry and has the powerful ability to wield ragnite spells to combat this terrifying threat. The unit is comprised of soldiers who have a high affinity for ragnite, and even Jutland's own Princess Ophelia has joined the ranks. The princess carries the utmost love for her country and has answered the call of duty to liberate those who are suffering from the Ruzi's tyranny. However, Amleth Grønkjær, the commanding officer of Vanargand hides a terrible secret. Is he friend or foe to the country he has sworn to protect?
Valkyria Revolution Features
A Brush with Death - Turning the tide of battle in Valkyria Revolution is Brunhilde, an ancient and powerful Valkyria, a fearsome being with near limitless power. She's bound by oath to the enemy forces, and players will have to discover how to defeat the incarnation of death itself.
Prepare for Battle - Valkyria Revolution has a brand new battle system that mixes real-time combat and tactical strategy. Players can take control of the battlefield using brazen combos or cunning tactics. Finding a balance between them is the key to excelling in skirmishes.
The Ingenuity of War - Through adversity comes great engineering, and with a besieged homeland, players will be able to upgrade their existing weapons through branching customization paths with ragnite.
A New Painterly Look - Valkyria Revolution has a refined look thanks to the new GOUACHE rendering engine, giving the graphics a unique canvas texture.
Click Images to Enlarge