6 Month Subscription
Discover something geeky each month with the ZBOX 6 month subscription.
When you select your T-shirt size we will make a record of that to ensure we send you the correct size in future. NB this does not mean there will be a T-shirt in every box.
What are you waiting for, come and discover the ZBOX today #ZBOX
*Payment for your ZBOX subscription will be taken upfront and your monthly box will be dispatched in line with the release date communicated on the individual product page.
What is a ZBOX?
The ZBOX is a monthly geek box themed around your favourite geeky interests, from zombies and the undead to retro games and pop culture. Each month you will be sent a box containing over £35 worth of exclusive and licensed merchandise. Perfect as a monthly treat or as gift for your geeky friends, we think that the ZBOX is the best mystery box you can get your hands on!
Click below to view more information about each previous ZBOX




Original Themed Artwork
We want the box to be as much of the experience as the mystery gifts inside it, so every month the interior of your box will have been designed specifically around the theme and include a little Easter-egg, so grab your old boxes and see if you can find it!
Dedicated ZBOX Magazine Each Month
Filled with great news, information and community images and from ZBOX fans around the world! Make sure you tag your images and videos with #zbox when you post them online and check in the next box if you've made it into the magazine!
Mega ZBOX
Each month one lucky ZBOX buyer will receive a Mega ZBOX full of themed goodness, view previous Mega ZBOX prizes below.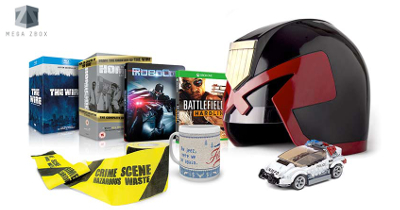 Click here to go to the ZBOX Home Page
View independent unboxing Videos
Take a look at what our customers are saying about ZBOX