One of the biggest power couples around, LEGO and Star Wars have been dominating the galaxy since 1999 and the pair have worked together to produce some sublime creations.
There's been some superb adaptions of these magnificent films from the original trilogy right through to the conclusion of the Skywalker Saga and there's no doubt about it – the Star Wars models are definitely amongst the best Lego sets around.
This super collaboration has made that huge Star Wars universe seem much closer to home, giving fans and followers of all ages the chance to create their favourite Star Wars vehicles, characters and play out iconic battles – what more can you ask for right?
Whether you're a fan of the original trilogy, the prequels or the Disney era, LEGO Star Wars sets tick all boxes and they sure do make a fantastic gift – ideal for kids and those who're looking to add something special to their collection.
From a galaxy far, far away
This partnership may have started over 20 years ago but it's still going strong today. LEGO Star Wars includes the complete saga, going from A New Hope right through to Rise of Skywalker.
The sheer scale of this partnership allows you to play out your dreams from across the galaxy, along with re-creating plenty of cool vehicles and settings from the Star Wars universe.
This means that there's an awful lot of selection when it comes to finding the best LEGO Star Wars sets and fortunately for you all, here at Zavvi we've put together 10 of our favourites which super fans of the franchise will love.
LEGO Star Wars sets come in a range of difficulties and levels, testing the most ferocious of Sith Lords and powerful Jedi Knights.
Suited to both members of the Resistance and the First Order, you can launch battles, showcase your favourite moments or create your best character. A nice treat for yourself or a great present for a friend, the gift of a Star Wars LEGO set is simply out of this world…
We've selected the 10 best LEGO Star Wars sets:
1.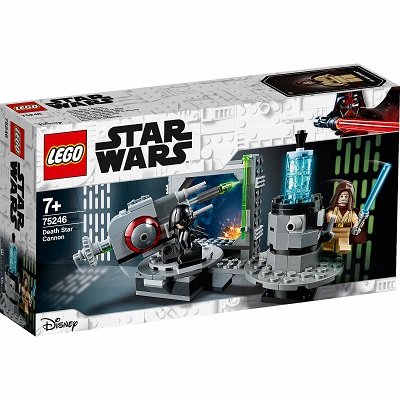 What a place to get started. The most iconic ship to come from the saga and possibly from any space-related movie, the Death Star. This monster was created by the Empire during the Darth Vader-Emperor era and it had the capacity to destroy entire planets, as the rebels cruelly discovered first hand. But before they miraculously defeated it, we saw some iconic scenes played out on it – one of which was Obi-Wan's infiltration of the base in A New Hope. Now with this super LEGO Star Wars Death Star set you can re-create it and it's pretty great. This set includes firing cannons, tractor beams and a Death Star gunner alongside Obi-Wan. Definitely one for lovers of the original trilogy.
2.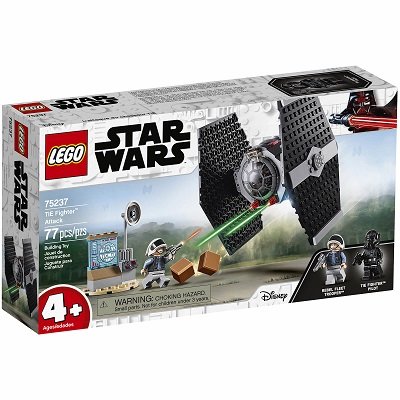 Another iconic ship to come from this legendary saga is the Tie Fighter. Featuring in every film across each era, Tie Fighters are piloted by Empire/Resistance soldiers and they're known for their speed and ability to wreak havoc. Well now you can also do the same by launching an attack on a Rebel command station, as seen in A New Hope. This LEGO set includes the fighter, an Empire pilot and a poor Rebel trooper who really has his work cut out – another great gift for fans of the OG movies.
3.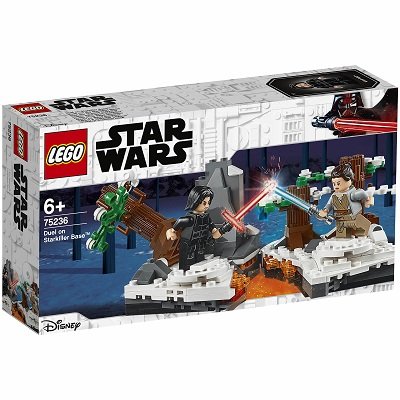 The Force Awakens had huge hype around it but for us, it's definitely up there with the best films of the saga. It provides us with plenty of memorable moments but one of the best was without a doubt the epic battle at the Starkiller Base which resulted in Rey and Kylo Ren facing off in a crazy battle whilst their surroundings were in complete disarray. This LEGO Star Wars set includes the two key characters along with their lightsabers to play out this duel – this isn't one to be missed.
4.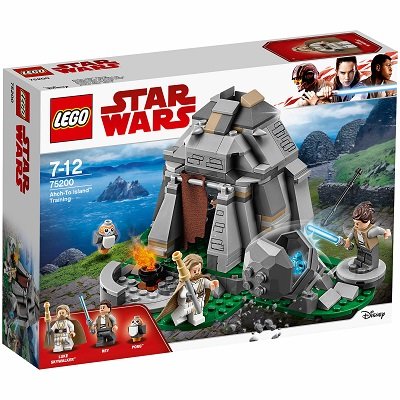 The Last Jedi revealed a lot of Luke Skywalker and Kylo Ren's past to us, whilst Rey really stepped up her Jedi training and learned the ways of the force. It was at Ahch-To island where this unfolded and this LEGO set gives you the chance to do some Jedi training of your own. Featuring Luke and Rey minifigures along with a Porg figure, you can cut through boulders with lightsabers and much more.
5.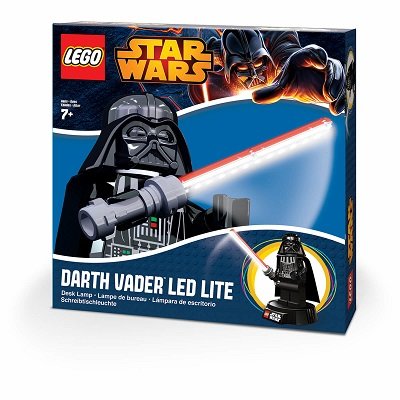 What kind of list would it be without this guy, right? Darth Vader is one of the most influential figures in the Skywalker saga and someone who despite being evil, ended up seeing the light and doing some good. He's many peoples favourite character and all of you budding Sith Lord's out there can now bring him to life with this LEGO figure lamp. Within this he's holding a 12 LED lightsaber light which will make reading those Death Star plans that little more easier.
6.
The Return of the Jedi provided us with some memorable moments and one of which was the battle on Endor. The Rebels and the Ewoks worked together to overthrow the Empire against the odds but it wasn't easy. This set allows you to re-create that Ewok Village assault with a range of weapons along with two LEGO minifigures, a Scout Trooper and an Ewok Warrior. And if that wasn't good enough there's also a speeder bike and for those high octane pursuits – sounds like so much fun. The ultimate in nostalgia.
7.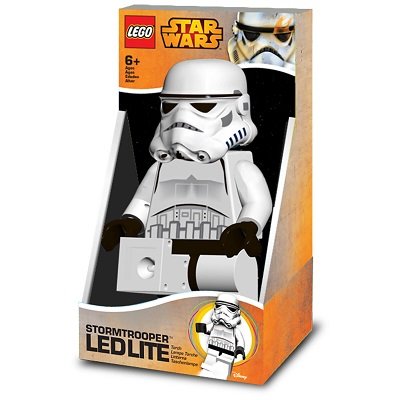 These may be the bad guys across the entirety of the saga, but Stormtroopers are pretty great. They've provided us with some funny situations over the years and they're always on their best behaviour to avoid upsetting Darth Vader & co. But now Stormtroopers have also been given the LEGO treatment, with them available to bring home as a unique figure. Here he's swapped his blaster for a nifty LED light so we're sure he's safer than the real thing.
8.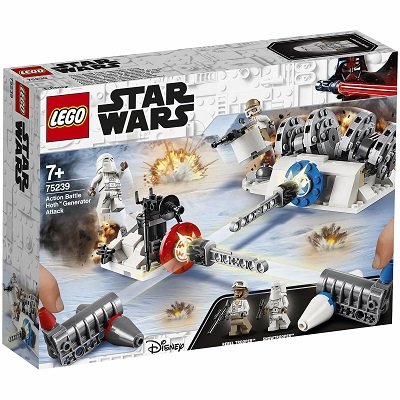 Another one of our favourite films has to be the Empire Strikes Back, which is an absolute masterpiece of cinema. This was full of epic battles and one of which came in the snowy world of Hoth, where the Rebels faced Darth Vader, AT-AT's and hoards of Stormtroopers. This battle has become synonymous with the saga and it's available to re-live through one of the best Star Wars LEGO sets. Featuring Snowtroopers, Rebel Troopers and a load of weapons, this will provide a lot of fun or make a neat addition to your collection.
9.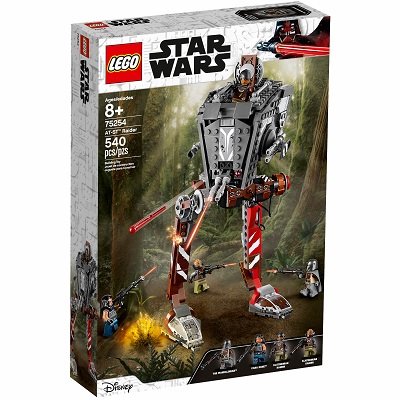 This franchise is known for it's range of crazy intergalactic vehicles and one of the most eye-catching ones is certainly the AT-ST. This steals a march on it's enemies by charging around on foot and causing mayhem with it's turrets. As seen in The Mandalorian, this Lego AT-ST Walker comes with four characters, blasters and it's a pretty cool piece of kit.
10.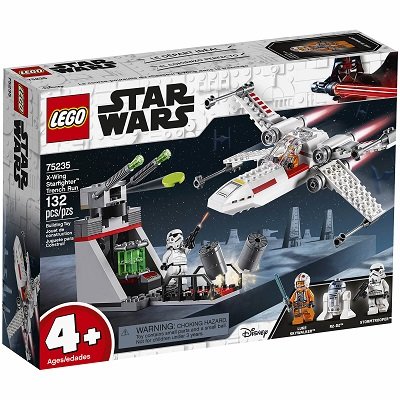 Have you ever dreamed of owning Luke Skywalker's X-wing? Well, now you can. This famous ship played a huge part in taking down the Death Star and this fantastic LEGO Star Wars set gives you the chance to re-create that famous scene when Luke used the force to perfection. This LEGO X-Wing comes with some great accessories including a Stormtrooper and Luke minifigure along with a lightsaber, blaster and more. A set up there with the best, for sure.
Liked this? Check out our full LEGO Star Wars collection.
For all things pop culture and the latest news, follow us on Instagram, Twitter, Facebook and TikTok.