Guild Wars 2: Pre-Purchase Collector's Edition: Pre-Purchase Redemption

Guild Wars 2 is the second instalment in the franchise, and boasts spectacular pre-purchase bonus content, made all the more exclusive due to the limited amount of stock. Interestingly enough, the game is not in disc format; instead, you will be given a serial code with download and activation instructions. This code grants all the pre-purchase bonuses when the game is purchased after the 10th April (the date you will be charged), and gives you a three day head start before the full release of the game (Yet to be announced). You will also be guaranteed entrance to all of the beta weekend events, and be provided with an in-game item; a Hero's Band.

From 10th April, players who pre-purchase the Guild Wars 2 Collector's Edition will receive guaranteed entry into all beta weekend events and a three-day head start prior to launch, giving them the opportunity to be among the first to secure their character and guild names. As a bonus, players who pre-purchase any edition will also receive an exclusive Hero's Band, which will provide their characters with a variety of stat enhancements as they venture into the world of Tyria in Guild Wars 2.
This Collector's Edition is Extremely Limited.
Collector's Edition Includes:

Digital Items:
Summon Mistfire Wolf Elite Skill, Rytlock Miniature, Golem Banker, Chalice of Glory, Tome of Influence.
Physical Items:
Metal box, 25cm figurine of Rytlock, 112-page Making of Guild Wars 2 book, custom art frame, art portfolio and five prints, Best of Guild Wars 2 Soundtrack CD.
Collector's Edition, Click to Enlarge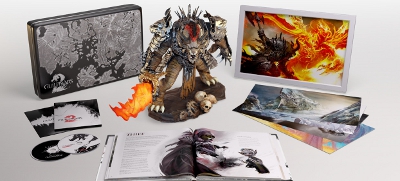 Guild Wars 2:
Heroes from the five great races – charr, asura, norn, sylvari and humans – must set aside their differences and unite against the Elder Dragons who have woken from their slumber, reshaping continents and corrupting the land and its inhabitants. Together these champions are the last, best hope for Tyria.
Click Image To Enlarge

Guild Wars 2 is redefining the future of online role-playing games with intense, action-oriented combat, customisable personal story, innovative dynamic events that have a real and persistent effect on the surroundings, world-class PvP and no subscription fees.

The original Guild Wars® series sold over seven million units across North America and Europe and continues to enjoy an active, loyal player base. Guild Wars 2 builds on the rich lore and groundbreaking gameplay developed in the original games, but takes players 250 years into the future to a radically different world of Tyria.

Guild Wars 2 is developed by ArenaNet™ in Bellevue, Washington, USA. This 250-person-strong game studio has a proven record of innovation and accomplishment creating online worlds.
Click Image To Enlarge

Pre-Purchase Bonuses:
3-Day Headstart Access.
Beta Weekend Event Access. Play in all Guild Wars 2 Beta Weekend Events.
Limited Quantity.
Only a select number of players will enjoy pre-purchase bonuses.
Hero's Band In-Game Item.
Adds: +2 Power, +2 Precision, +2 Toughness, +2 Vitality, +2 Condition Damage, +2 Healing, +2% Critical Damage.

Features:
Dynamic Events. Explore an ever-changing fantasy world where your actions have a real and persistent effect on your surroundings. Dynamic events respond and change based on how you react to them. Will you defend that village from rampaging centaurs or let it burn? The choice is yours!
Personal Stories. Your personal story begins with key decisions you make when creating your character's biography and then evolves with each fateful choice you make in the game. You decide who lives, who dies and what path you'll walk in life, and those choices have a lasting effect on both your personal story and your private home instance.
Action-Oriented Combat. Experience a new kind of high-impact, fastpaced combat. Attack on the move, dodge and roll away from enemy blows, team up with other players for powerful combos, take advantage of handy environmental weapons, and unleash spectacular skills and spells. Guild Wars 2 is putting the fun back into fantasy combat.
Sprawling Dungeons. Only the most experienced groups of adventurers dare enter the dungeons, huge private adventure areas where the risks are immense but the rewards are great. Dungeons take many forms, but in each you follow a gripping plot in story mode and then branch into the even more challenging free-roaming explorable mode.
Competitive PvP. Face off against small teams of other players in intense matches where skill and audacity determine the victor. Battle over key objectives on a wide variety of maps loaded with game-changing secondary objectives like cannons and trebuchets. Make a name for your team during the daily, weekly and annual PvP tournaments.
Worlds Collide. Prepare for battlefield combat on an epic scale! In world vs. world, armies of hundreds of players from competing servers wage war across four sprawling maps, seizing objectives and scoring points for their side. Lay siege to castles, raid enemy supply caravans, build weapons of war and clash with other players in truly massive battles. There's always something to do on the battlefield and new players can start WvW right away!
No Subscription. Get the game and play online for as long as you want. It's that simple.