Risen 2: Dark Waters is the sequel to the critically acclaimed pirate RPG Risen, and is set several years after the events in the previous game. The Gods have abandoned the world, and Titans have ravaged the planet; they are starting to eradicate all of humanity, terrorising the Old Empire.
You play as the Nameless Hero, who now resides in the Crystal Fortress in the harbour town of Caldera. This town is the headquarters of the Inquisition, of which you are a member. Caldera is completely cut off from the world due to a horde of sea monsters destroying any ships and sea traders, and supplies are quickly running out. The game begins with your old friend Carlos requesting your help to investigate a ship wreck off the coast of the island, and amongst the survivors you find a familiar face: Patty. You set out on a mission with Patty, who is searching for her father (an infamous pirate), as you want to put a stop to the sea monsters. The only clue you have to go on are the rumours that the pirates who roam the Southern Islands know how to end their terrorising reign, and so your quest begins.

Along the way you will encounter many challenges you need to overcome, and the game is influenced by the decisions and choices you make throughout, with multiple approaches to every challenge. As in the previous game, you gain experience points for defeating monsters and solving quests. When enough experience has been gained, the Nameless Hero will level up and gain Learning Points, which can be spent with Trainers found throughout the world, allowing you to increase your stats and learn new skills. The map in this game starts out as semi-open, with various islands to explore that unlock as the story within this game unfolds. New features appear in this sequel, including the ability to use firearms, and new skills called Dirty Tricks which can be used whilst in battle, allowing you to confuse and attack your foes.
Risen 2: Dark Waters brings another innovative game to your doorstep. You can shape this incredible pirate world and make it your own. Defy the Gods who have turned their back on you, and defeat the Titans to save your world. It's a pirate's life for you. (Cat Emerson)

Collector's Edition Includes: Click Image To Enlarge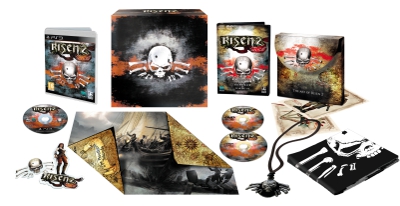 Making of DVD – interviews with the developers from Piranha Bytes who delve deeper into the production of Risen 2
Soundtrack CD – The gripping tunes of the Risen 2 soundtrack will immediately absorb the listener into this fantastic pirate world
Double-sided poster – a large sized map of the game world on one side and an epic artwork featuring the hero and his crew on board their impressive ship
Pirate Flag – with the skull motif from Risen 2
Amulet – a pendant that every pirate and Risen 2 fan will be proud of
The Art of Risen 2: Dark Waters – an exclusive collection of art cards on high quality-paper