David Cronenberg is one of a small handful of filmmakers whose surname can be used to describe a very distinctive type of movie. To this day, the term 'Cronenbergian' still gets thrown around whenever a horror movie makes its audience viscerally uncomfortable.
However, the director becoming a well-known name has been a decades in the making process. His string of body horror films of the 1970s and 1980s may often be referred to as his golden period (despite many excellent films in the years since), but at the time his work struggled to find an audience.
For instance, 1983's Videodrome, most frequently cited as his best film, was a notorious box office flop for Universal, who were the first Hollywood studio to distribute one of his films.
Cronenberg is an iconic director because he never compromises his bold visions – and when he signed on to direct a remake of one of the most famous monster movies of all time, he made sure he didn't water down his style for it.
1986's The Fly is the most mainstream friendly film the director has ever made, but it's by no means a sell-out. In fact, his approach to reinterpreting the material resulted in one of the best horror films of the 1980s, as well as setting out a template for the perfect movie remake.
His take is only loosely adapted from both author George Langelaan's 1957 short story and the original film adaptation released the following year (1958).
Going through years of development hell before making it to the big screen, the remake originated in the early 1980s with co-producer Kip Ohman suggesting the idea to screenwriter Charles Edward Pogue.
20th Century Fox were interested, but after reading the screenplay – which focused on the slow metamorphosis of the main character with monster movie thrills – the studio pulled out.
Mel Brooks was brought on as an uncredited producer (as with his production of The Elephant Man earlier that decade, he didn't want his name listed in the credits in case audiences would mistake it for a comedy), and Cronenberg was brought in as director after departing a failed early attempt at adapting Total Recall.
He rewrote the screenplay almost in its entirety, keeping only one idea from the first draft: the focus on the transformation, and its effect on the tragic love story at the centre of the narrative.
The rest is history, as The Fly remains the director's biggest box office hit to this day, even winning an Oscar for its outstanding makeup effects.
It's by far the most accessible film within the Cronenberg canon, and the most impressive thing about its audience friendliness is how the director didn't adapt his style to fit the needs of a would-be studio blockbuster.
The narrative became infused with his usual explorations of sexuality and bodily decline, here emphasised by practical effects on a scale he'd never attempted before.
For test audiences this proved radical, with two sequences (a joint teleportation of a monkey and a cat that goes horribly wrong, and an alternate ending where Veronica gives birth to a "butterfly baby") provoking such visceral reactions even Cronenberg agreed they should be cut.
In its finished form it doesn't appear compromised, feeling instead like a director smuggling in his usual thematic obsessions and stylistic trademarks into a classic Hollywood monster movie.
And on a pure storytelling level, The Fly is as faultless as horror movies get. In the first scene, Jeff Goldblum's Seth Brundle introduces himself to Geena Davis' Veronica, immediately telling her about the teleportation project he's working on.
From there every subsequent scene is designed to both push the narrative forward and develop their ultimately tragic relationship, cutting to the credits at the very second the story reaches its logical conclusion.
There's not an ounce of fat on this film – and yet it never feels like we're watching endless exposition, designed to keep the story moving and nothing else.
It's the kind of precise screenwriting that's near impossible to get right (it really should be used as a teaching tool more often), and Cronenberg makes it look effortless.
The reason it succeeds where so many other horror remakes fail is because the vast majority seem to focus on simply reimagining horrifying set pieces we've seen before, but on a much larger scale.
And while Cronenberg undeniably improves on the practical effects of the 1958 original, The Fly works because it operates as a haunting story of doomed love first and foremost, using the loose framework of the original narrative to create something with much greater resonance, instead of a carbon copy.
It is, in short, the perfect model for a horror remake. It adds greater depth to its characters in a way that helps the scares around them become all the more effective.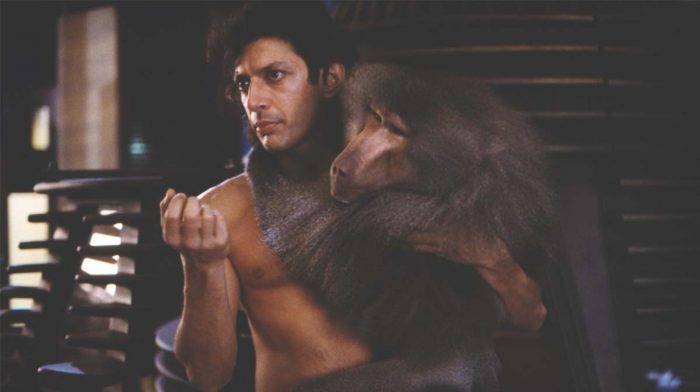 It's an approach to horror storytelling that has rarely been utilised by filmmakers rebooting or remaking the genre's classic films in the years since.
A notable exception is last year's reimagining of The Invisible Man from director Leigh Whannell, which was as much a character study of an abuse victim as it was a story about a monster nobody can see.
Like The Fly, which gained a greater cultural resonance due to how many people viewed it as an allegory for living with cancer or AIDS, it was a much needed dramatisation of a subject matter rarely done justice in mainstream cinema, as well as being an effective nerve wrecking approach to sillier source material.
The Fly has stood the test of time in a way few horror films have managed, let alone remakes of familiar stories.
It's a film that gets under your skin not because of Seth Brundle's disturbing transformation, but because of the heart with which the story is told – it transforms a familiar monster movie into something more powerful than anybody could have predicted.
There's no wonder why it remains one of the most iconic films of its era.
Shop a range of David Cronenberg films here.
Is The Fly the best movie remake of all time? Let us know.
For all things pop culture and the latest news, follow us on Instagram, Twitter, Facebook and TikTok.