I heard you paint houses.
So much more than the great gangster flick you may be expecting, The Irishman is a masterpiece, a word we do not use lightly.
Filmmaking at its very finest, Martin Scorsese has assembled an almighty crew to wave goodbye to the goodfellas in a melancholic musing on growing old, guilt and humanity.
Not only is The Irishman one of the most outstanding films of the year, but it is also one of Scorsese's best. Every single second of its lengthy 209 minute run-time deserves your attention, and it will certainly hold it.
Based on Charles Brandt's bestselling book I Heard You Paint Houses about hit-man Frank Sheeran, director Scorsese of course recruited an astonishing cast from his past works: Robert De Niro, Joe Pesci and Harvey Keitel. Scarface himself, Al Pacino, meanwhile makes his Scorsese debut.
Together they tell a story that is nostalgic towards the celebrated gangster films they made, but one that also reflects on themes including death, time and responsibility.
With Scorsese and co. now all in their 70s, a more mature approach is taken. The violence is minimal, the plot light and the thrills few and far between, but you would be wrong to assume it isn't captivating.
In fact it is completely compelling as Scorsese ensures you become absorbed by Sheeran's world, one which death continually lingers over.
Opening on De Niro's Sheeran looking straight into the camera beginning to tell his story, you instantly become fascinated by the gleam in his eyes, one that shines but has also seen plenty of ghosts.
The Irishman studies the characters that are involved with the Bufalino crime family, analysing the dynamics between them and the value of loyalty.
Billows of smoke from cigarettes fills the screen, steak after steak is consumed and you will have to listen very carefully to the characters' mutterings as they discuss business, shrugging their way through their day-to-day lives. It is simply mesmerising.
The film certainly wouldn't have had this effect on the audience with a different cast, as De Niro, Pacino and Pesci all deliver the performances of their careers.
It is an absolute joy to spend time with these actors as they delve deep into their characters, and all certainly have a solid chance at securing Oscar nominations, and maybe even the golden gongs themselves.
Their chemistry is electrifying, and seeing them on screen together is the exciting event we imagined it would be. It is also clear the cast are having fun, with a witty script delivering many laugh-out-loud moments, many of which chuckle at gangster film tropes.
Seriously though, how many gangsters are called Tony?
The younger cast members are also superb, in particular Stephen Graham, but when is he not brilliant?
In fact the only flaw of The Irishman is that it would have been good to see more from the younger cast (Graham, Anna Paquin and Jesse Plemons) but when the film is this good, it is difficult to be too bothered by this.
Their characters' presence is definitely felt though on the story, especially Paquin's Peggy, Sheeran's daughter, whose discomfort with her dad's work has a huge emotional impact on him, especially as he grows older and addresses his crimes.
Peggy is very much the heart of this cold and composed story, helping ensure the conclusion leaves you heartbroken as a final tracking shot to the haunting song In The Still Of The Night leaves Sheeran's world.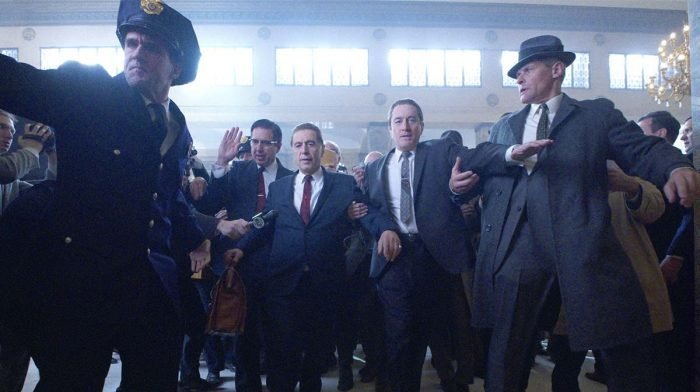 While the film is a Netflix release, it will show in some cinemas and you should take advantage of the opportunity to see it on the big screen.
The cinematography is rich and glorious, and particular gorgeous shots will stay with you (ones featuring flowers and a car wash spring to mind).
Meanwhile the carefully chosen soundtrack is the prefect accompaniment to the classic style Scorsese has gone for, also being equally comforting and chilling, much like the film itself.
Opportunities to see masters at work and films as fine as The Irishman don't come along that often, so make sure you relish every moment of it.
Scorsese, take a bow.
★★★★★
The Irishman opens in UK cinemas on 8th November, and will be released on Netflix on 27th November.