For many decades, cosplay has allowed fans of pop culture to express themselves and show off their passion for their favourite franchises.
Traditionally, you would expect to see a majority of characters from the big names such as DC Comics, Marvel, and Disney; however, recent years have seen a rise in popularity for anime.
By examining the most often used hashtags on Instagram, we have compiled a list of the current biggest franchises in cosplay. Keep reading to find out which ones made the top ten.
1) My Hero Academia – #2,377,476
A surprising front runner on this list, My Hero Academia has become the most popular franchise amongst cosplayers. This demonstrates the recent growth of anime, a growth expected to continue.
Deku, Todoroki, and Bakugou have all made it into the top ten, joining alongside classic heroes like Batman, Spider-Man, and Wonder Woman.
Clow Cosplay (@clow_shirow), a Todoroki cosplayer, explained the reasons behind their love of cosplay and why they choose to portray certain characters: "I started cosplaying to spread love with the world about the series, games, and characters I'm passionate about."
2) DC Comics – #2,359,276
DC Comics have dominated the most popular characters to cosplay, with five of their characters in top-ten positions. Harley Quinn takes the lead at number one, and she is accompanied by the Joker (in third position), Batman (in fourth), Wonder Woman (in eighth), and Poison Ivy (in tenth).
Joker cosplayer James Deeley (@allornothingcosplay) offered their opinion on what makes the Clown Prince Of Crime worthy of cosplaying: "He's a presence in any form of media he's injected into, and I like to think I bring that presence into the cosplay world."
3) Marvel – #2,321,102
Despite the huge success of Marvel in the past few years — largely attributed to the Marvel Cinematic Universe (MCU) — only two characters from the superhero franchise have secured top-ten positions: Spider-Man (in second) and Deadpool (in sixth).
Christian Pillirone (@christianpillirone) talked about the influence of Spider-Man on their choice of costume: "Ever since I was a child, I've always loved the character and grew up becoming a big fan of the superhero."
4) Disney – #1,568,577
Disney remains a strong contender, seeing cosplayers dressing up as Disney Princesses Elsa (in 12th), Ariel (in 15th), and Belle (in 23rd) — amongst others. Over time, the popularity of Disney characters remains high, so let go of any doubts; these well-dressed royals aren't going anywhere.
@amnesia.ha, a frequent cosplayer of Elsa, provided their views on the appeal of Disney Princesses: "Elsa is one of my favourite Disney Princesses, always looking out for herself, a multi-faceted and not at all trivial character. So, in short, I like strong women."
5) Naruto – 1,047,134
Naruto has been around for multiple decades now, debuting as a manga series in the '90s before receiving an anime adaptation. To this day, the franchise remains popular, and cosplayers have been busy using their costume-making skills to bring to life series mainstays such as Hinata (in 11th) and Kakashi (in 20th).
@_streexx_ explained their reasons for portraying Kakashi: "I really love this character because I grew up on Naruto, and I had a similar difficult past, but after that I still smile and help my friends."
6) Star Wars – #977,711
Surprisingly, fans appear less inclined to don the robes of their favourite Jedi and Sith from a galaxy far, far away. Director George Lucas's science-fiction franchise has dipped towards the lower end of the top ten, and the sequel trilogy's Rey (in 19th) is the only character to reach the top 20.
@bex.games said: "To me, Rey represents determination and resilience. She's a symbol of bravery and is teaching girls not to turn back when thrusted into worlds we didn't think we had part in."
7) Attack On Titan – #635,075
Part of the cosplay experience is being able to embody powerful individuals, leaving behind reality for a day (or longer) and capturing the gravitas of their portrayal with an authentic costume.
It is therefore unsurprising that fans enjoy dressing up as Levi Ackerman (from Attack On Titan), who is the 22nd highest-ranking character to cosplay.
8) Demon Slayer – #302,267
One of the biggest anime series of all time, Demon Slayer follows the remaining two members of the Kamado family — Tanjiro and Nezuko — as they seek a cure for the demon curse that ails Nezuko.
The young soon-to-be demon has become a favourite of cosplayers, ranking 27th on the list of characters.
9) Pokémon – #299,687
The world of Pokémon provides tons of opportunities to create unique and interesting costumes. Both the trainers and the Pokémon themselves have instantly recognisable appearances, ensuring that anyone passing by will want to snap a quick picture.
The characters may not rank highly individually, but the amount of variation on offer has made the franchise a go-to choice for cosplayers.
10) Sailor Moon – #287,137
Sailor Moon rides the waves to the tenth spot, capping off the list with another manga and anime entry. This comes as no surprise to anyone who is familiar with the franchise, as the Japanese classic is filled with colour and vibrancy, a guaranteed way to stand out amongst the crowd of Harley Quinns and Spider-Mans at any pop-culture convention.
Methodology
We obtained these results by searching for Instagram hashtags containing character names followed by the term 'cosplay', and franchise names followed by the term 'cosplay'. We subsequently added these totals together and identified which were the most popular.
The Full Breakdown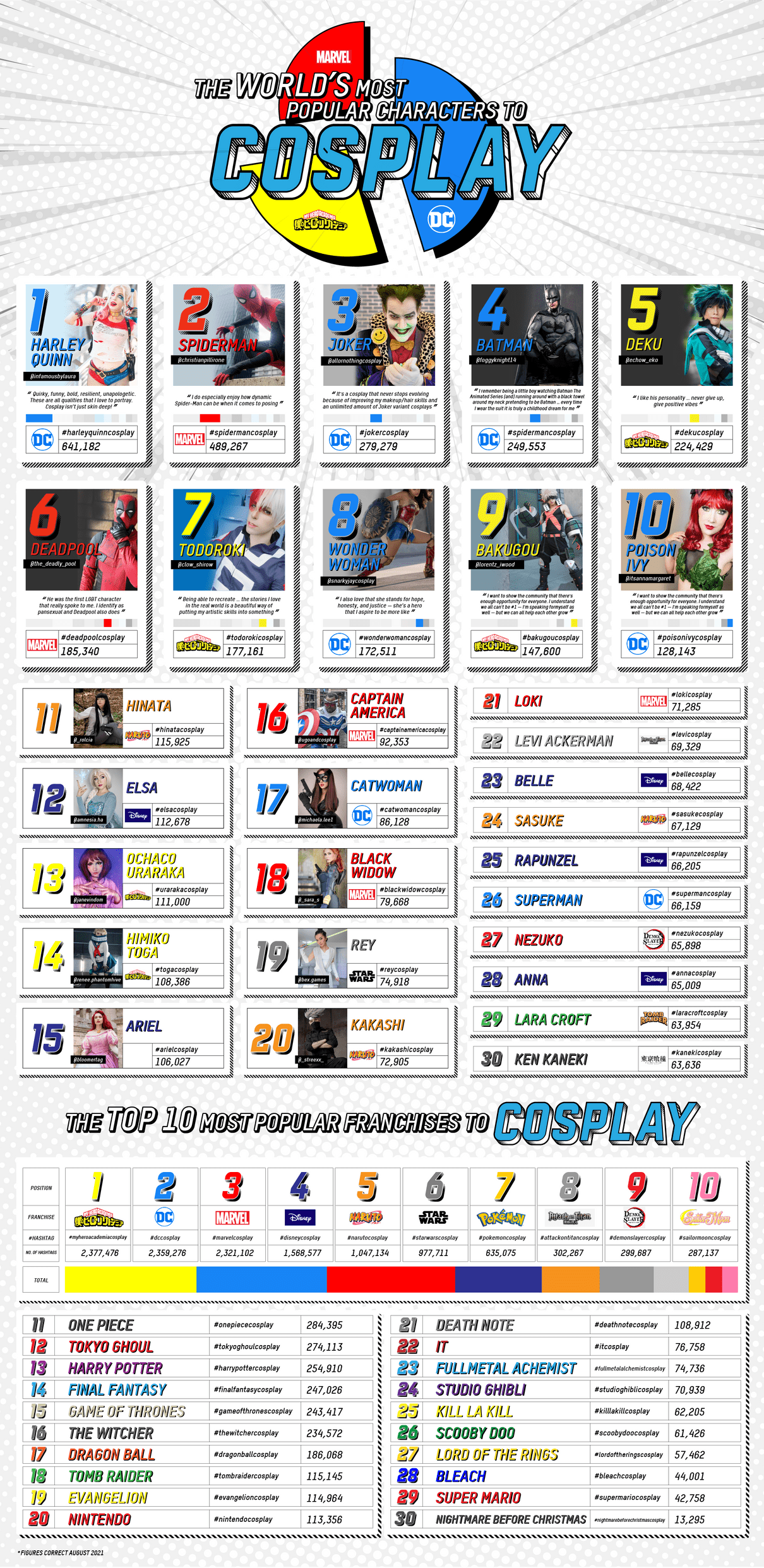 For all things pop culture and the latest news, follow us on Instagram, Twitter, Facebook, YouTube, and TikTok.