In 1993 Steven Spielberg's Jurassic Park was billed as 'an adventure 65 million years in the making'.
Nearly thirty years later that journey is coming to an end with the final chapter in the Jurassic World trilogy, Dominion.
The film may bring back the beloved original trio of Dr. Alan Grant (Sam Neill), Ellie Settler (Laura Dern), and Ian Malcolm (Jeff Goldblum), but don't expect it to follow in the footsteps of countless other 'legacy sequels', only offering fan service to the nineties classic.
Instead, director/co-writer Colin Trevorrow (returning after sitting out on Fallen Kingdom) has fleshed out what a world where humans and dinosaurs co-exist could look like – finding something eerily like our own.
From the opening scenes, we're introduced to a landscape where mankind is increasingly facing extinction due to drastic changes in nature, all furthered by the greed and destructive tendencies of the rich.
As Trevorrow explained to Zavvi, the story isn't exclusively about climate change, but is designed to reflect on the current state of the world and our anxieties surrounding that.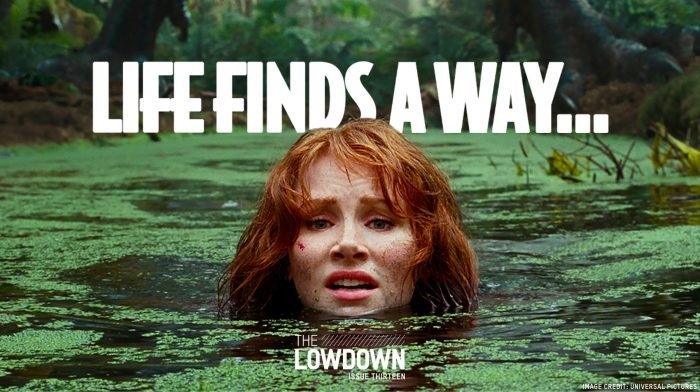 "I think the story is a little bit broader than a climate change allegory. To me, the use of genetic power in this film represents all the decisions mankind has made over time, ones we're now facing the consequences for.
"We make choices and meddle with nature, which comes back to bite us. But it's still a fun movie for families, so I hope the message of not just this film, but all of them, is that we're only going to figure out how to solve these problems we've created by working together."
The J.A. Bayona directed Fallen Kingdom pushed that "fun movie for families" billing to breaking point, offering the most horror inspired story in the already quite terrifying franchise. Returning after that, did Trevorrow feel a need to up the ante for one final fright fest?
"Right out the gate, I'll tell you this is much less scary than Bayona's film! For me, when it comes to structuring a trilogy, it's intentional that the middle film is a much darker story and one that has the distinctive voice of a different filmmaker. That's something which was always important to me.
"So, for this film, I wanted it to have more warmth as this is the last chapter in the story. I wanted to make the movie equivalent of sitting down by a fire, having a grilled cheese sandwich and a tomato soup with your family."
Quality time with the family is maybe a strange analogy for a film where the characters are facing the constant threat of being chomped on, but it makes perfect sense when it comes to the return of the beloved original trio. Neill, Dern, and Goldblum have maintained their dynamic even as their characters have transformed in the 29 years since we last saw them together on-screen.
Trevorrow admits he was initially nervous about bringing them back into the fold, until he realised the actors were "authorities on their own characters", who could help shape the way they've evolved since 1993.
"I think it's really crucial for me, as a storyteller, not to tell an actor how they should be when it comes to a character that's existed for 30 years. It was a constant conversation about how their characters might see the world now, especially with Laura Dern.
"We'd created a plot where a paleobotanist was the centre of the story: she cares deeply about the planet and what happens to us, so Dern's expertise on how the character has changed really helped the film evolve from that first draft.
"And as we'd rehearse, the script kept changing – lines in the finished movie came from what the actors felt was right for the characters. It's the same method I've used since (2012 directorial debut) Safety Not Guaranteed, and what I love about it is that it doesn't feel like just one person wrote it – there's a variety of living, breathing voices in there.
"Me and [co-screenwriter] Emily Carmichael really just collated it – the way these characters talk is rooted entirely in how the actors perceive their identities."
But Dominion isn't just about the return of the legacy cast. It also sees the introduction of Mamoudou Athie's character Ramsay, head of communications at shady company BioSyn Genetics, who are doing much more than just reviving dinosaurs – something Ian Malcolm realises when tapped to work there.
For Athie, sharing an adventure with a cast he's long admired was a dream come true. "You couldn't ask for a better situation", he told Zavvi.
"Also working with Colin – we talked a lot about this character, he initially was a completely different guy. He was way more flustered, not quite a comedy sidekick but you could tell there was something more to him than was first there."
Athie is more vocal than Trevorrow when it comes to seeing the film as a climate change metaphor, noting that during production there were several ecological disasters and scientific experiments in the news that were alarming parables. We're not yet at the stage where scientifically engineered dinosaurs are roaming our cities and a plague of locusts are destroying our land – but we're not far off the early parts that would lead us down that road either.
"Of course it's a reflection of our world", Athie laughed. "Earlier this year, I saw an article about scientists creating genetically modified mosquitos in Florida. It's not quite dinosaurs, but come on guys, have you really not learned anything from Jurassic Park? We know the trajectory  this will go down!"
Shortly after directing 2015's Jurassic World, Trevorrow was hired to helm the final entry in the Star Wars sequel trilogy, initially entitled Duel Of The Fates. Things didn't go to plan, with the director fired by producers in a surprise move he has previously described as "traumatic".
But now, he's been given the chance to close out another beloved trilogy, and he certainly wasn't apprehensive about the opportunity.
"I was thrilled! I was given another shot at telling the end of a saga we've all cared about so deeply since childhood. But closing out a trilogy that has existed in two generations is a really challenging thing to do.
"It's not like any other film – we were constantly considering both the needs of the adults who grew up with Jurassic Park, and the children of today whose first experience was likely with Jurassic World. I think it's come together in a really satisfying way and I'm glad I didn't make this journey alone."
It may conclude the saga, but Trevorrow's franchise finale is a bold step forward instead of a victory lap that could easily play it safe. It's an intense ride, but one that will be embraced by two generations of fans as a fitting farewell.
This article originally appeared in the June 2022 edition of The Lowdown. Read the full issue here.