It's one of the year's most star-studded TV shows, and by far one of the timeliest.
But for its creator, Dopesick proved to be one of his biggest challenges to date, as he had to wrestle a decades-spanning scandal into an eight-part limited series.
The show, premiering on Disney+ this Friday (12th November), takes a look at the opioid crisis from several points of view, from the malicious businessmen who made OxyContin widely available in America, to the prosecutors investigating the case, and the families affected by it.
The latter are represented by Michael Keaton as Dr. Samuel Finnix, a man wracked with guilt over prescribing drugs deemed to be safe, and Kaitlyn Dever as Betsy Mallum, one of his patients who he prescribed them to.
Other big names in the A-list ensemble include Will Poulter, Rosario Dawson, and Michael Stuhlbarg as the ghoulish Richard Sackler.
It's the first series created solely by Danny Strong, best known for co-creating Empire with Lee Daniels, and for recurring acting roles in the likes of Buffy, Gilmore Girls and Billions.
After being approached about making a movie on the opioid crisis, he embarked upon extensive research, and realised there was no way this scandal could easily fit into a single film.
"The project originated from a meeting with producer John Goldwyn", Strong said, "he came to me after this New Yorker article about the Sackler family exploded and asked if I would be interested in developing a movie about the opioid crisis.
"I'd read the article so I knew what he was talking about, and started to do a deep dive further into this subject matter – I was stunned by the actions of Purdue Pharma, this company micromanaged by a family who repeatedly lied about their involvement with it.
"Once I'd started diving into this, I ended up falling down the Purdue Pharma rabbit hole. It's hard to believe what this company did, so I was naturally committed to turning this into a drama. The problem is that a movie is just not big enough to tell this story."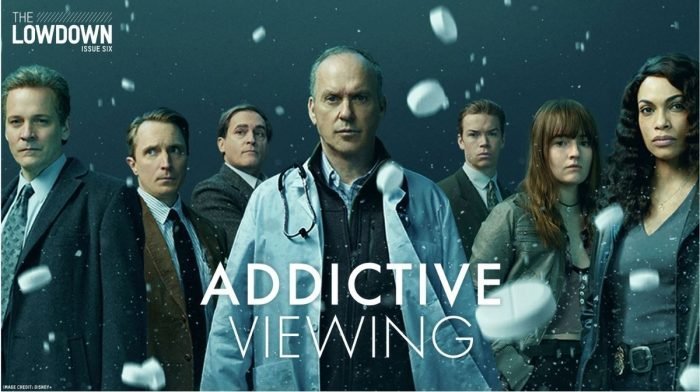 In this month's issue of our free digital magazine The Lowdown, Strong told us about transforming the real-life story into a series, working with Michael Keaton, and his unusual approach to getting into the headspace of his main villain.
Dopesick airs on Disney+ from Friday 12th November.