The dust may have settled on that explosive final season of Game of Thrones, but we have plenty of fiery gifts that are perfect for super-fans of this mega franchise.
This epic 73-episode series reached its dramatic conclusion earlier this year, and if you're like us, then you're really missing it (still not over it).
Those huge battle scenes, fights for power, awe-inspiring dragons, trips beyond the wall and everyone's favourites, White Walkers, were just some of the factors that made this show so bloody brilliant.
So if you have a Davos-shaped hole in your heart or know someone who does, then Zavvi are at your beck and call to fill that void.
As much as we'd like to resurrect the Night King and get the show re-booted, it isn't going to happen. But you can bring a Song of Ice and Fire to life with our great selection of Game of Thrones gifts – perfect for Lannisters, Starks, Tarley's, the faceless men, you name it.
Below, we've selected 20 of our favourite gifts from this George R.R. Martin-inspired masterpiece and they're more than fit for the Iron Throne. We love these more than Hot Pie loves… pie.
Perfect for any gift-giving occasion, the lucky recipient will be rushing to thank you quicker than Gendry ran for the wall to get Daenerys and her dragons in season seven.
Best Game of Thrones Gifts Ideas:
1.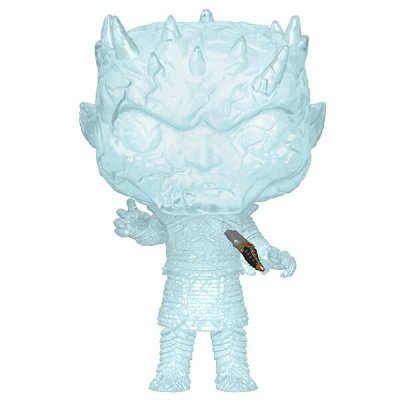 He may have been the very definition of evil, but what a character this guy was. The Night King was never too far away from the action over the course of the 8 seasons and he was a terrifying figure. But not to worry, you're much safer around this Pop! Vinyl version of him. This would make a neat addition to any collection.
2.
Show your support for House Targaryen and look the part with this stein that's perfect for toasting those victories in battle. As we know, members of this house can tend to go a bit mad so please don't drink and ride your dragon irresponsibly.
3.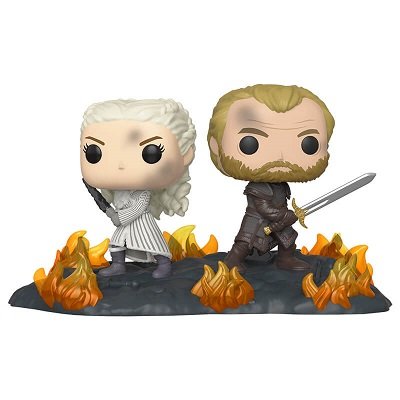 We think we speak for everyone when we say that Jorah was one of the best and most loved characters to come from GoT. This guy had been through it all to protect his beloved Khaleesi and died by her side during that mega battle of Winterfell in season 8 – but he lives in on this special Funko Pop! Vinyl figure!
4.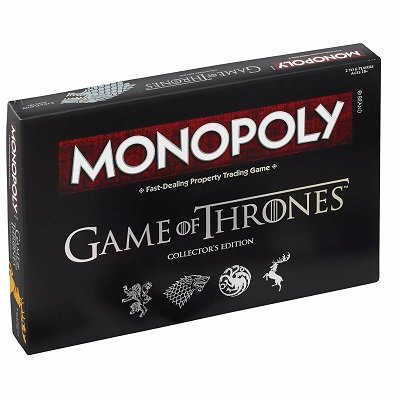 A real power couple. Imagine combining the group fun of Monopoly and the huge world of GoT together? Well now you can. This collectors edition of Monopoly will provide plenty of entertainment for you and your friends.
5.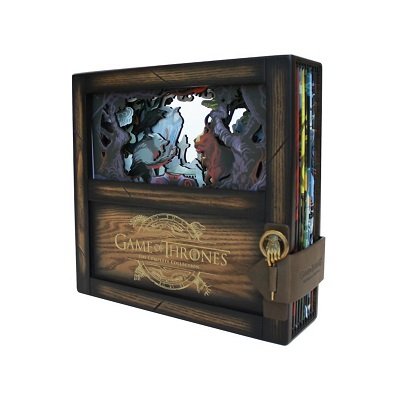 Call yourself a huge GoT fan or know someone who does? Then this is it. This is the ultimate gift for super GoT followers which includes all 73 episodes from the eight seasons along with 15 hours of bonus content and never seen before footage. Wow. Binge incoming.
6.
Most of us have our favourite house in GoT, but if you can't decide, then this may be the thing for you. Featuring Houses Stark, Lannister, Targaryen and Baratheon, this will bring some Westeros fashion to your wardrobe, and it's a pretty slick design. Also available in women's fit here.
7.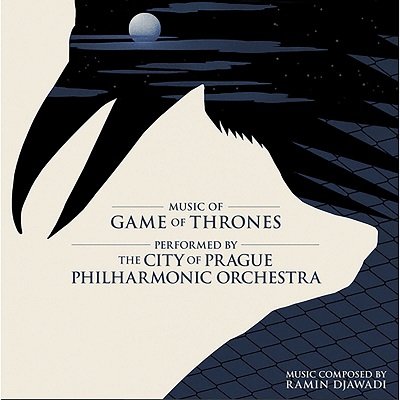 This is a franchise that can do everything. George R.R. Martin's a Song of Ice and Fire book series is magnificent, the TV series of GoT is a masterpiece and the soundtrack is also pretty special. Composed by Ramin Djawadi, this will transport you back to Westeros and have you feeling plenty of Thrones nostalgia. Available on 2x LP's, this is definitely one of the best presents for any fan.
8.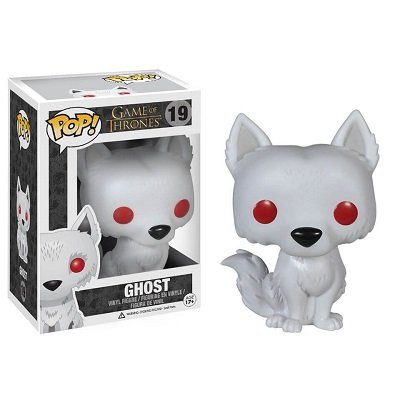 We think we speak for everyone when we say that Ghost is THE best direwolf in GoT. This fella stood by Jon Snow's side through thick-and-thin throughout all eight seasons and with the show over for some time now, we're missing him (cry x). But collectors, rejoice! You can now add him to collection with this unique Funko Pop (or should we say Funko Pup) which is a must for all Ghost lovers.
9.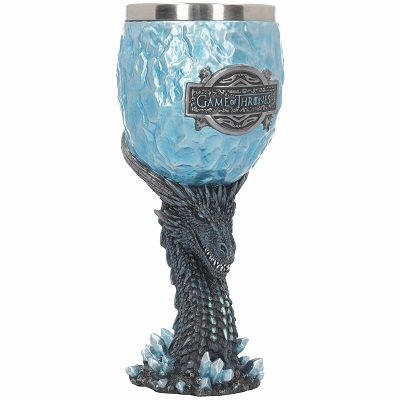 We can't say we've ever wondered too much how White Walker's like to enjoy the occasional glass of wine, but this godly creation has given us the answer to that conundrum. This badass Dragon Goblet is one of the coolest GoT gifts we've seen and you're going to look the part when using it. Can just picture the Night King sipping his Merlot out of it now. Majestic.
10.
The King of the North, re-invented into a tiki mug. Just when you thought you had seen it all. This quirky mug will make those Winterfell beverages taste that little more sweeter. However there's just one thing to note, you may find yourself saying 'you know nothing Jon Snow' as he unfortunately doesn't speak.
11.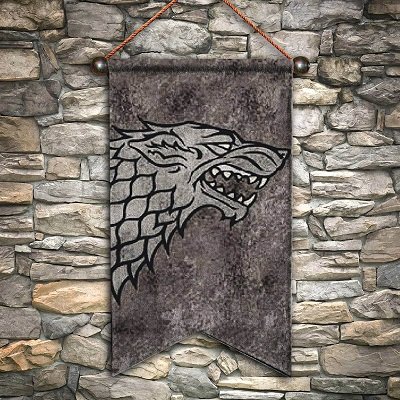 Turn your home into a castle and support the Starks with this wall tapestry. Seen everywhere around the North and Winterfell, this would make a great gift for any fan of Jon, Arya, Ned & co.
12.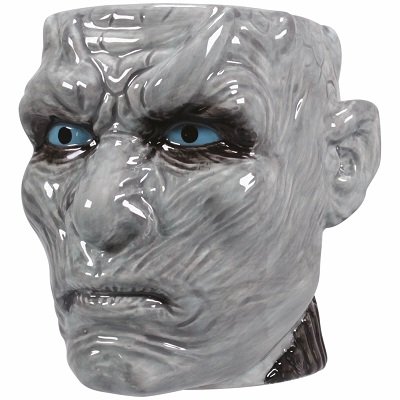 Do mugs get anymore scarier than this? The Night King may have been killed off (weep) but you can now bring him to your home or office with this truly one of a kind mug. We all know how scary the White Walkers can be and we're sure that the NK will grab plenty of attention from your friends.
13.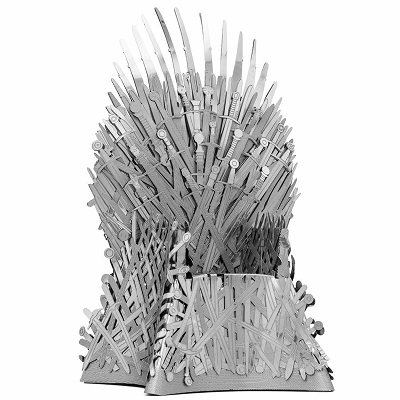 Drogon may have burned down the Iron Throne but don't worry, all is not lost just yet. With this kit you can re-struct this iconic item and hopefully once you've completed it, you won't have houses from around the world fighting to claim it (we're sure you won't).
14.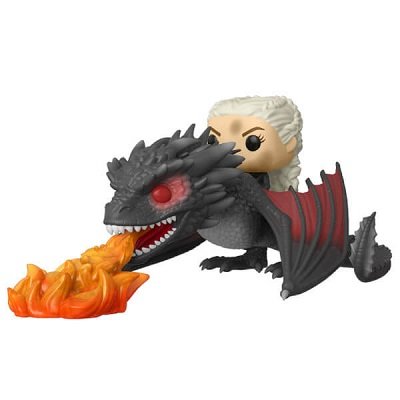 There's not many mothers around who can say that their child can breathe fire, but Daenerys Targaryen, the Mother of Dragons is certainly one of them. Drogon was the biggest of her three dragon babies and he developed into a dangerous, but extremely loyal companion. His brutality became a theme of GoT and you can now add the pair to your Pop! Vinyl collection!
15.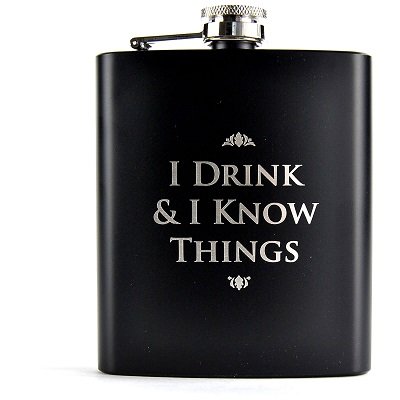 Tyrion Lannister is a character who experienced just about everything throughout this series. He evolved from an underappreciated drunk into a master tactician and politician, winning plenty of fans in the process. His no nonsense attitude and iconic one liners made him really popular, one of which was 'I drink & I know things'. A man of such wisdom.
16.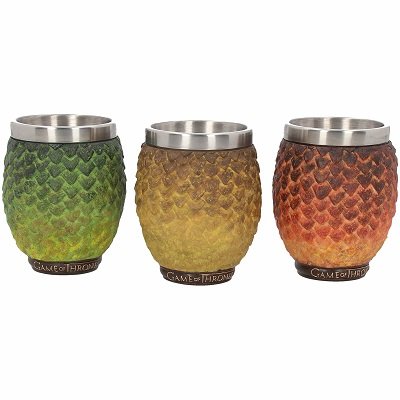 Make your Khaleesi's day with these incredible dragon egg shot glasses. Coming in three different colours having been modelled on the eggs that Drogon, Viserion and Rhaegal hatched from, presents don't get much better than this for fans of the franchise.
17.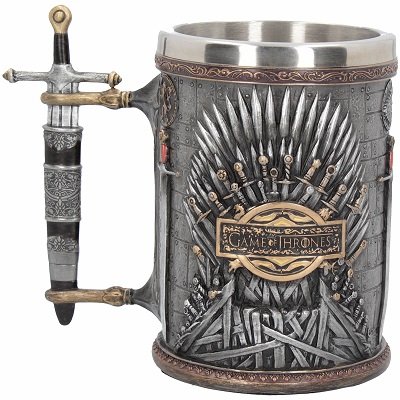 If you're a king or queen, you need to be eating, drinking and living like one. So you're bound to look the part when drinking from this Iron Throne tankard that's a Zavvi exclusive. Featuring a load of swords and the iconic Game of Thrones logo, you'll be commanding plenty of respect once you're seen with it.
18.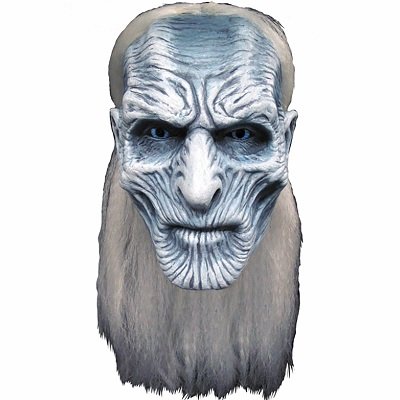 Now this is certainly up there with the best gifts. Bring the White Walkers back to life with this scarily accurate mask that is going to terrify the life out of your friends and family! Perfect for Halloween or a fancy dress parties, we're sure that this will go down a huge hit.
19.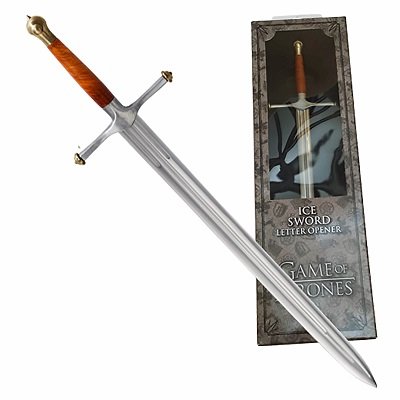 Opening your post will never be the same again. Get to those bills, cards and delivers in no time with this House Stark letter opener. This is the ancestral blade of the Starks and it would make a great small gift for any GoT fan (assuming they're not a Lannister).
20.

Complete this and you'll certainly be ruling Westeros in no time. This 3D puzzle contains 1400 pieces, including Kings Landing, Winterfell, the Wall and much more. This isn't for the faint-hearted.
Check out our Game of Thrones Merchandise for more great gift ideas.
For all things pop culture and the latest news, follow us on Instagram, Twitter, Facebook and TikTok.