Zavvi Gallery is home to prints and posters from the best designers and illustrators in the business, becoming a part of the growing alternative movie poster scene.
Popular franchises it has featured includes Star Wars, Stranger Things and Predator, as well as Alien.
Digital and graphic artist Chris Christodoulou spoke to us about his Alien vs. Predator print which celebrates the film's 15th anniversary, and is the latest to join the Zavvi Gallery.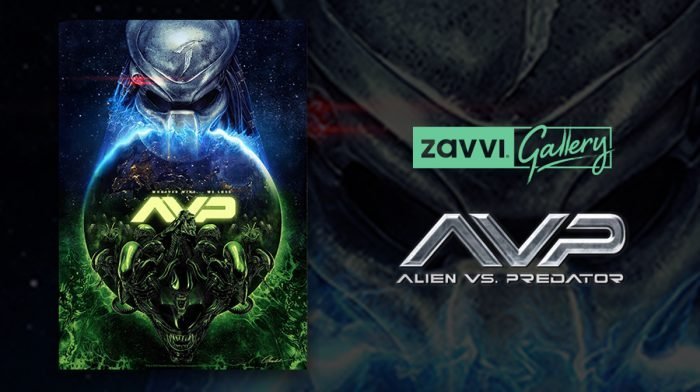 I watched the film back in 2004 at the cinema when it first came out, with my brother and my dad as they have always been big fans of the original Alien and Predator. I absolutely loved that film. Alien and Predator in one film, kicking each others' asses, it was a no-brainer and obviously a win-win situation. Also, I am a such Sanaa Lathan fan, since her Love & Basketball years, and seeing her portraying a bad-ass heroine protagonist, was also a massive plus.
Alexa Woods (Lathan) was my ultimate favourite character. Growing up I was fascinated by strong female heroines, and back then there were not so many of them on the big screen. So seeing a female protagonist playing such an iconic, brave and strong character, and especially an African American, I was immediately hooked. The scene where the Hunter Predator marks her cheek, to show that she's now considered a Blooded warrior among the Yautja, was purely breathtaking.
Part of the inspiration for my piece was the battle scene between Hunter Predators and the Xenomorphs. I loved that they were so many Xenomorphs and instantly I wanted to do something with the idea of using more than just one Xenomorph. As far as I recall, AVP was the first movie that places the Alien Xenomorphs on earth, so it's something that I wanted to showcase in my art. Earth plays a significant setting, so I felt that I should definitely use that to my advantage. In a way, I was planning to create a storytelling piece, and I hope I managed to capture that through my composition. Inside the pyramid, I noticed that everything is very beautifully crafted and sculpted, thus I thought, it would be ideal to use that as inspiration and create kind of like an alien framing device that wraps around Earth.
The design process wasn't very long to be honest. I got the green light for my concept fairly quickly, so I started illustrating the final piece and had it finished with a week. Not much changed at all during that process. I have been very fortunate because all the art pieces I worked with 20th Century Fox on have been easily approved with no or just a few alterations. So I am very pleased with the smooth design process.
The print is live now and is only available for a limited time so hurry and secure yours today.